Around the Shop - March 19th, 2023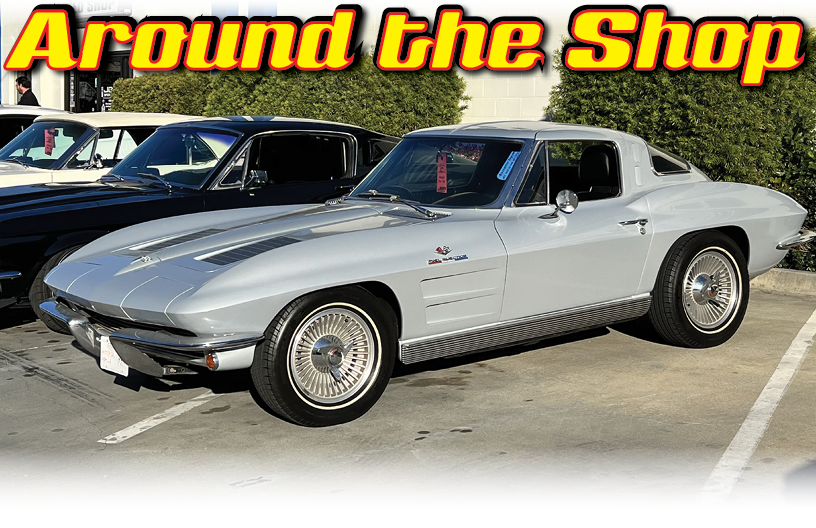 With four of them here, representing four generations,
it's Corvette week at JBA Speed Shop!
One of JBA Speed Shop's esteemed service writers and our friend Paul Crutcher pretty much hit the nail on the head when he texted, "it's apparently Corvette week." And he wasn't kidding when he sent us photos of four Corvettes all of different generations here in the shop at the same time.
First up from the malaise era is a '74 coupe, while now nearly 50 years old, is still rolling down the road and giving its owner good times with its warmed-up 350 small-block making way more power than it did in 1974 in base L-48 350 trim.
Corvettes in 1974 had a number of unique elements including both firsts and lasts on the historical front. The main first was the incorporation of a body-color front and rear bumper cover/fascia eliminating the steel rear bumpers last used on the '73s. The steel front bumpers were last used on the '72s, making the '73s unique in the era of shark-body C3 Corvettes with steel bumpers on the rear of the car and a body-color cover on the front. So for the '74s on up through the last C3 shark-body cars in 1982, everything was uniform with body-color bumpers front and rear. In fact, after 1973, Corvettes (and just about all cars now) have had body-color bumpers ever since. Chrome is long ancient history.
The main last for '74 Vettes was the big-block 454 engine. First introduced in 1965 as a 396, big-blocks had a glorious 10-year run in Corvettes with 427s from 1966-1969 and 454s from 1970-1974. Big-blocks became more and more scarce as time went on, so it's safe to say that '74 big-block cars are fairly rare in their own right.
The '74 here at the shop is in for some upgrades, including installation of a set of Doug's headers, an oil change and a four-wheel alignment.
For the C6 generation, we have a 2010 Z06 on shop grounds and these cars are a favorite of ours among all the C5, C6 and C7 generations. First introduced as a 2005, the base C6 was also the first Corvette to get the LS2, 6.0-liter engine with 400 horsepower, upgrading the 5.7-liter LS1 used in all C5s from 1997-2004. For 2008, the base C6 was then equipped with the LS3, 6.2-liter engine with 430 horsepower. All LS2s and LS3s were available with either a six-speed automatic (four-speed auto for '05-'07 cars) or a six-speed manual transaxle.
While the LS2 and LS3 are great LS motors in their own right, it's the 2006-2013 C6 Z06's 7.0-liter LS7 (also a true 427, by the way) that is still as exciting today as it was in 2006 on debut now 17 years ago. In fact, it was the most powerful naturally-aspirated Corvette engine at 505 horsepower, squeaking by the C8's 6.2-liter LT2 and its 495-horsepower rating. Not until now, has the NA LS7 been eclipsed by the 2023 C8 Z06's naturally-aspirated, flat-plane-crank LT6 with 670 horsepower.
Note also the Z06 from 2006-2013 was also only available with a six-speed manual transmission--no slush boxes here in these getting-collectible C6 Z06s. For more power in a C6, you have to step up to the 2009-2013 ZR1 and its supercharged 6.2-liter LS9 with 638 horsepower.
As for our customer car, it's here for the installation of a 50-state-legal MSD Atomic EFI intake manifold (part number 2701) and a 103mm throttle body (part number 2945). With 505 horsepower to begin with, its LS7 will be even stronger and make our favorite LS engine all the better.
Moving to the vintage side of the Corvette orbit, you'll see one of our favorites is back for some maintenance work. No matter what, we just love having this epic Roman Red '62 with its 340-horsepower 327 on the property. You can read all about this total gem as well as some historical facts on all solid-axle '53-'62 Vettes here:
https://jbaspeedshop.com/n-12667-around-the-shop-october-13th-2022.html
Finally, for one of the most epic collectible Corvettes of all time--and any make and model for that matter--we come to the silver '63 Split-Window coupe, which on top of that is a "fuelie", meaning it has the L-84 327/360-horsepower 327 small-block with Rochester mechanical fuel-injection and a four-gear manual trans. No dumpy two-speed Powerglide automatics here with a snarling fuelie solid-lifter-cammed 327.
What can we say about one-year-only '63 Split Windows that hasn't already been said? With, to our minds, the only other car that comes close to it in terms of pure outright beauty being a '60s-era Jaguar E-type coupe, we'll opine that the '63 Split Window Corvette coupe is easily one of the most downright gorgeous cars ever built, if not THE most.
With the E-type certainly up there along with Italian and Japanese standouts like the Lamborghini Muira (or maybe a '62 Ferrari 250 GTO?) and Toyota 2000 GT, respectively, you could reasonably say these four cars from a pure visual and design standpoint, are the most beautiful ever produced by their respective nations.
But for us? As cool as the Muira, E-type and 2000 GT are, we'll take the Split-Window, here at JBA for some routine maintenance, pretty much every time. For other historical info on all '63-'67 Mid-Year Corvettes and their small- and big- block engines (327, 396 and 427) you can check out these links:
('65-'67) BIG-BLOCK CORVETTE HISTORY
https://jbaspeedshop.com/n-12645-around-the-shop-august-9th-2022.html
Tune in next week here for more informative content about cars "around the shop" at JBA Speed Shop! -Miles Cook
Corvette Day at JBA