Around the shop, July 29th, 2022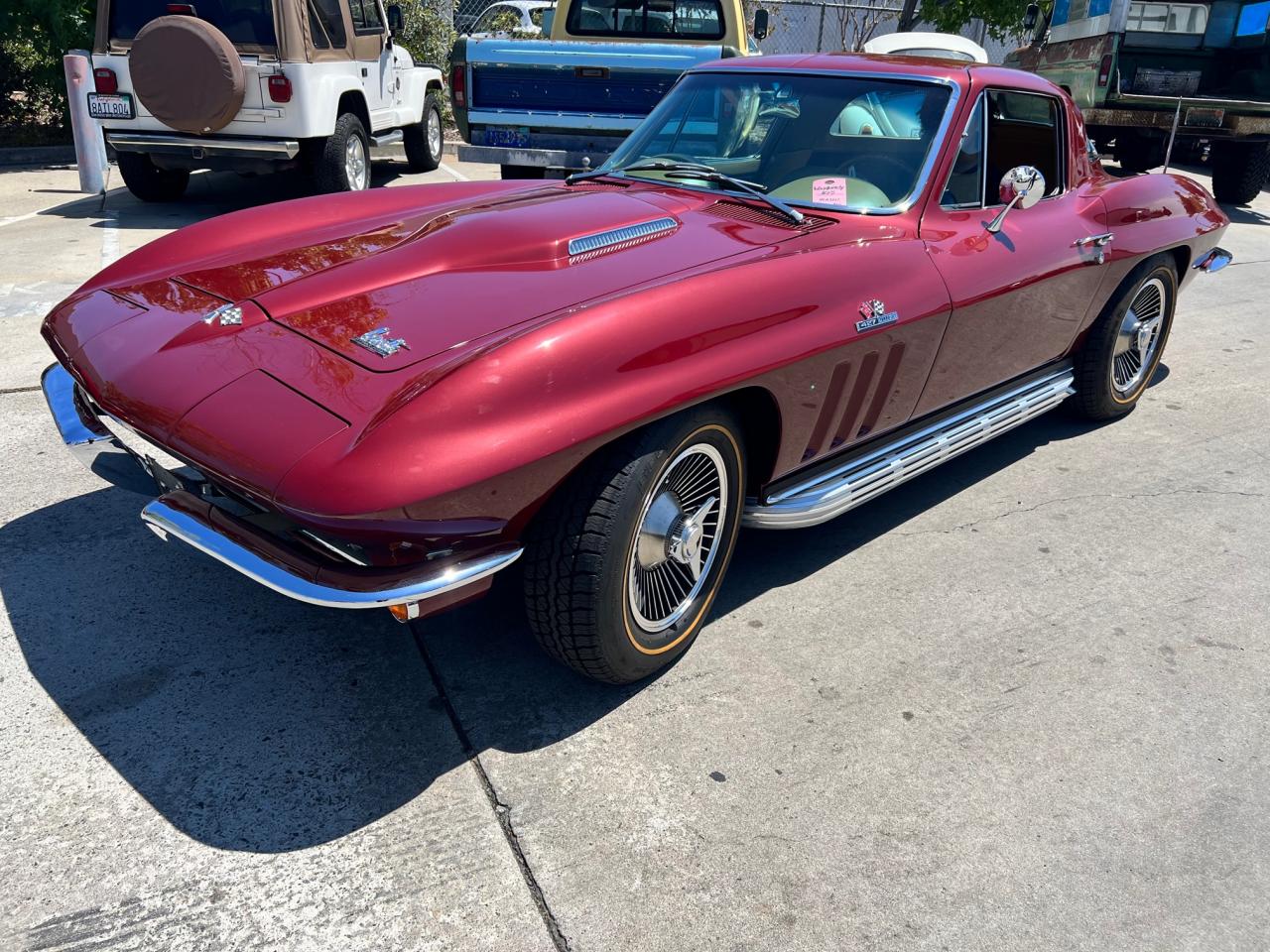 A Brief Mid-Year ('65-'67) Big-Block Corvette History Lesson
As we have been showing in the last month or so, in our "Around the Shop" JBA Speed Shop News column, we work on plenty of cool cars here at our San Diego, California campus. A good portion of our customer cars are vintage and late-model GM and Ford models, with probably about half of those being many widely-beloved vintage and late-model Ford Mustangs.
But in the past month or two, this particular car is a bit more of an unusual visitor than many others. In all its resplendent glory it is none other than a '66 Corvette Sting Ray coupe powered by the hairiest motor available that year, which was a big-block 425-horsepower 427. This spectacular Mid-Year (C2) is an NCRS (National Corvette Restorers Society) show winner and has all the bells and whistles that come with the L-72 427/425 including the required Muncie four-speed manual gearbox.
In for a little maintenance and repair work--including a new correct original-style battery and a radiator repair--this car inspired us to cook up some Mid-Year, big-block Vette factoids for you.
Note we said only Mid-Year big-block Stingrays. Though the '63-'64s are clearly great, those cars were all 327-small-block-powered as the 396 didn't debut until 1965. We'll also save the shark-body (C3) big-block cars from '68-'74 that we also love with their 427s and 454s for another look down the road.
With that, we'll note that the first Corvettes to receive the vaunted Mark IV big-block Chevy were the as-mentioned '65 models. Those engines were a one-year-only-for-Corvettes 396 cubic-inch displacement. Assigned GM RPO (regular production option) number L-78, these 396s were total beasts with a 425-horspower rating. Available with only a Muncie four-speed manual trans (and no A/C), '65 big-block Corvettes are certainly epic in the realm of our discussion here.
For 1966 (like our super-sweet Milano-Maroon-colored car) the big-blocks were enlarged to a 427 and two variations were offered. The L-36 was a 390-horsepower version with a hydraulic cam and lots of low- and mid-range torque. These milder big-blocks were available with a two-speed Powerglide slush box, but most were luckily equipped with Muncie four-speeds.
As the car here in the shop is equipped, the L-72 was the higher-performance version of the two and the earlier '66 L-72 cars were actually rated at 450 horsepower, but for insurance purposes were subsequently scaled back to the 425-horse rating. And as we mentioned with the '65 L-78 the L-72 was also not available with an automatic or A/C.
For 1967, the big-block menu was substantially expanded to basically five different options, with the 390-horsepower L-36 427 carried over from the '66s. The big news was the introduction of a Tri-Power induction system that consisted of three Holley two-barrel carburetors. Sitting under a super-cool triangular air cleaner, there were basically two versions of this 427 starting with the L-68. Rated at 400 horsepower, these were pretty much identical to the L-36 except for the 3x2s in place of the single Holley four-barrel. As with all the mid-level big-block cars (L-36 and L-68) these were available with A/C and a Powerglide two-speed automatic transmission.
Sort of replacing the L-72 in the '66 427 Sting Rays, the '67 435-horse 427 was the new big-dog on the block and dubbed the L-71. This engine had all the goodies such as a four-bolt-main block (like the L-72 427), a solid-lifter cam (like the L-78 396 and L-72 427), the three Holley carburetors and a higher 11:1 compression compared to the lesser 427s at 10.25:1.
Additionally, the L-71 was available with considerably lighter aluminum cylinder heads which turned it into an L-89. Both the L-71 and L-89 were also available in shark-body '68-'69 Corvettes, but when the LS-5 454 came out for 1970, that was the end of these legendary 427s. Also for the '67 L-89, these cars are extremely rare with allegedly only 16 examples produced.
Finally, at the pinnacle of '65-'67 big-block Corvettes, we come to the L-88. With only 20 produced these super-special 427s were pretty much all-out race engines with the L-71's four-bolt block, special aluminum heads, 12.5:1 compression, a big solid-lifter cam, a giant Holley 850cfm carb and a hood-mounted air filter in the unique one-year-only '67 "stinger" big-block hood among many other pieces.
Crazily underrated at 430 horsepower to make seem it somewhat "lesser" than the 435-horse L-71, the L-88 at full song up to its 6500-rpm redline really made more like 550 horsepower--especially if long-tube aftermarket headers and a race-oriented exhaust system were added. As with the milder '66 L-36 427, the '67 390- and '67 400- horsepower 427s were available with an automatic and A/C, but the L-71 and L-88 were most definitely not. In fact the L-88 wasn't even available with a radio or a heater--they were mandatory radio-and-heater delete.
Tons of words (both in print and on digital) have been written about L-88s (also installed in '68-'69 Corvettes) so we'll wrap up by saying some consider the '67 L-88 to be the American '62 Ferrari 250 GTO. And they are now worth well into the mid-seven-figure range (https://robbreport.com/motors/cars/1967-l88-corvette-sale-4-million-2886525/).
Circling back to the '66 Sting Ray coupe in our shop, it shows that besides many of the cars we work on that are modified mild-to-wild, we also repair and maintain older 1960s era GMs, Fords and Mopars that are 100% stock restored or unrestored originals that require extra-special care and feeding. And we'd be happy to maintain and/or repair your collectible classic as well. --Miles Cook
'65-'67 Corvette 396 and 427 Engines
'65 396/425hp L-78
'65-'67 427/390hp L-36
'66 427/425hp L-72
'67 427/400hp L-68 3x2
'67 427/435hp L-71 3x2
'67 427/435hp L-89 3x2, aluminum heads
'67 427/430hp L-88, aluminum heads