Historic Trans Am
Historic Trans AM
Considered by many fans to be the ultimate American road racing series. The early years of the SCCA's Trans Am pitted true production cars, race prepared with factory technology, championship competitiveness and world class professional drivers racing against local hero's. Watkins Glen, Daytona, Mid-Ohio, Sears Point, Laguna, Lime Rock, Bridgehampton. The race tracks where the Trans Am competed during the late 60's and the early 70's hosted a time in American racing history many consider to be the Camelot of factory muscle car competition.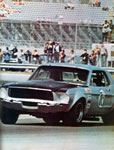 This rare color photograph of Ed Hinchliff was the lead shot from the 1968 T/A season recap article in the 1969 Wolverine Trans Am Program, page 43.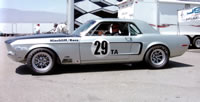 On its maiden voyage at Fontana, J. Bittle thumbs up his crew and friends that shared the 5 year jouney to bring back the Hinchliff/Ross Mustang to its glorious history.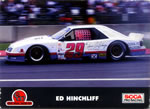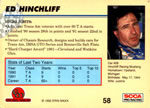 Ed's #29 from 1992 season, all competitors of the T/A series that year were featured in these baseball sized hero cards. At this point Ed Hinchliff had over 60 starts as an independent professional competitor in the SCCA Trans am series.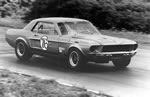 Ed Hinchliff Mustang on his way during his first Trans Am race to 8th at Watkins Glen, August 11, 1968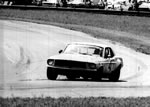 Steve Ross' Mustang on its way to 14th at Mid Ohio Trans Am June 7th 1970.