Photo Gallery - Featured Builds
Featured Builds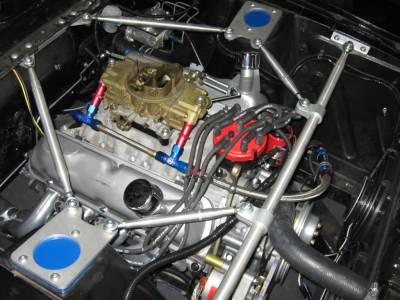 54 photos

'67 TRANS AM REPLICA
1967 Mustang Trans Am Replica Finished at JBA Performance
Garcia's '67 Notchback
By: D. Brian Smith
Photography: JBA Performance
SCCA President John Bishop created the Trans-American Sedan Championship in 1966. Two divisions comprised the race series, the over two-liter class and the under two-liter class. Both classes ran together in the series, which included the Ford Mustang, Chevrolet Camaro, Plymouth Barracuda, Mercury Cougar, AMC Javelin, Pontiac Firebird and Dodge Challenger in the over two-liter class. Marques comprising the under two-liter class included Porsche, Alfa Romeo, Datsun, Mini-Cooper, Saab, and Volkswagen. During its seven-year run from 1966 through 1972 it was the most popular race series of its era. Not so coincidentally, it's now one of the most popular race series at historic racing events across the United States and in other countries as well.
There is something quite spectacular about watching wide body Challengers doing battle against Mustangs, Camaros, diminutive Mini-Coopers, Saabs, and big old Mercury Cougars on twisty road circuits. Race fans can relate to these cars going at it, as these muscle machines are the same cars many of us owned in our collective well-spent youths. Some of us are fortunate to have a vintage pony or muscle car now, or perhaps a vintage 912 Porsche. JBA's owner, J. Bittle, has a '67 Trans Am Ford Mustang notchback, in addition to a very sweet '67 Shelby Mustang GT500, both of which he campaigns at vintage racing venues within California. While J. was ripping up the tarmac at the Coronado Naval Air Base in his Trans-Am notchback during the Coronado Speed Week held every October, spectator (first name) Garcia had an epiphany; he would build himself a 1967 Trans-Am Ford Mustang notchback replica to enjoy on the streets of Los Angeles where he calls home.
Mr. Garcia's so smart; he decided to hire JBA Performance to help in re-creating such a racecar. Building up the suspension, fitting disc brakes at each corner and performing the engine and transmission install for JBA Performance was a snap. The talented crew has vast experience from working with J. on his '67 notchback, not to mention the '67 Shelby.
We might as well give you fair warning right now. If you happen to ever be driving around the streets of L.A., and you see some guy with a huge smile on his face cruising the city in a racy Trans-Am Mustang, don't challenge him to any stoplight acceleration runs. You'll lose, and you might get a ticket for your foolishness. On the other hand, if JBA Performance helps you to build your dream machine, you could win. But, you may still get the exhibition of horsepower ticket. Save the real fun for the racetrack, Jack.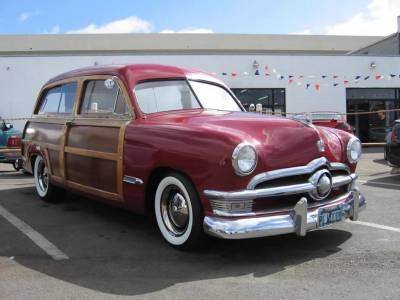 9 photos

'50 FORD WOODIE
1950 Woodie Surf's Up Shoebox Ford - Rejuvenated by JBA Performance
By: D. Brian Smith
Photography: JBA Performance
Most woodie lovers have been to or at least heard of a woodie only event, held in Encinitas, California called Wavecrest. Appropriately, Encinitas is a quiet beach community just south of Carlsbad in Southern California. For goofy footed shortboarders or those masters of the longboards and hanging ten off the nose, Encinitas offers some most excellent surf year-round. Every third Saturday in September, there's a magnificent collection of GM, Ford, Packard, etc. woodie wagons, Ford Sportsman convertibles and Chrysler Town and Country ragtops that all vie for the best spot in two big parking lots overlooking those gnarly dudes and dudettes catching the tastiest waves.
Given JBA Performance's great reputation for customizing and restoring almost any kind of vehicle and the company's close proximity to Encinitas, it's not surprising how many woodies JBA Performance has renovated over the years. John Casey is one such happy customer. He currently owns a couple wood wagons as of this writing.
There must have been no surf on the morning that John drove his 1950 Ford woodie into JBA Performance's speed shop and customization facility. He wanted JBA's crew to remove the sweet old original Ford flathead V-8 mill and three-speed manual trans and swap in a '90 Ford Mustang 5.0L EFI engine and Ford AOD trans from a donor car that John had recently acquired for the woodie's rejuvenation.
When JBA Performance cherry picked the flatty and manual trans, they noticed some rust in the woodie's floorboards. The JBA team made quick work of welding in new floorboards. They preserved the new floor with primer and paint, and then installed a Fatman Fabrications independent front suspension system. Fitting the 5.0 EFI V-8 and Ford AOD transmission was a piece of cake for the master mechanics at JBA Performance.
Bruce Tucker, JBA Performance General Manager, saw John and his '50 Ford surfmobile at the 2008 Wavecrest. Bruce learned that the original flathead mill and trans are safely tucked away in John's garage, and the woodie gets occasional cruising and show duty. Of course, those cruises only take place when there's no surf. Otherwise, you'll see John bombing down to the beach in the racy red wagon to catch the tastiest tube rides.
Seeing a woodie anywhere, you can almost smell the salt and hear the crash of the waves on the shore. That's how tied to surfing and the beach scene these iconic station wagons have become, thanks to The Beach Boys and professional car builders like JBA Performance.
Installing the Ford Mustang 5.0 HO engine and Ford AOD trans in the woodie, gave the wagon more than twice the horsepower than the original Ford flathead V-8.
Thanks to precise planning by JBA Performance, there is just enough clearance from the Ford 5.0 engine to the firewall.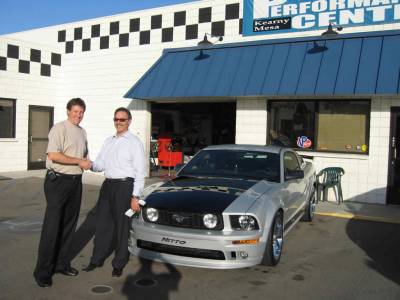 52 photos

2005 STEEDA Q MUSTANG
by JBA Performance
Howard the Accountant's Getaway Car
By: D. Brian Smith
Photography: D. Brian Smith
The outside CPA to JBA Performance might as well roll strong to the speed shop. Howard Silberman needed a new ride that would befit his sense of style and interest in getting from point A to B even quicker than he could number crunch a client's balance sheet. For their part, JBA Performance wished to create a modern and sleek GT car from Steeda's vast array of performance and appearance products and the new model Mustang GT. The parties collaborated to build a '05 Steeda Q Mustang that wound up getting the code name of Satin for its shiny silver with satin black accents all about the exterior.
The Mustang GT received a full Steeda/JBA makeover, which included Steeda's 140mm cold air kit, performance suspension, short-throw shifter, and chin spoiler, in addition to some custom JBA Performance timing work under the hood. Nitto radials wrapped the oversize five-spoke Steeda performance wheels. The Nitto Tire Company was so pleased with how the Q turned out they used Satin in much of the company's print advertising.
Howard, Steeda and the crew at JBA Performance were so impressed with the way the car looked they hooked Satin up to the chassis dyno to perform some shakedown pulls. Producing 340-horsepower at the rear wheels is quite an improvement considering the somewhat conservative modifications to the Mustang's mill. After doing so well on the chassis dynamometer, JBA Performance received Howard's acquiescence to take the Q out for a track day event. The souped up pony car galloped about the circuit without missing an apex, thanks in large measure to the professionally installed Steeda performance components and the driving abilities of the pilot in the go seat.
It's no small wonder there have been quite a large number of Steeda Mustang Q GTs created after JBA Performance built Howard's Q. We imagine even Howard would have to break out his scientific notation calculator to add up all the Steeda hotted up Mustangs since the Q's release.
The Steeda competition front facia and blacked-out cowl induction hood add a serious look to the JBA-built Steeda 2005 Mustang Signature Series Satin Q Sitting an inch closer to the ground than stock doesn't mean the Steeda extended front airdam will take a nosedive. Howard is careful driving in or out of driveways, as most auto enthusiasts are. Notice also the satin-sleek Steeda cowl induction-style fiberglass hood.
JThe 18-inch Steeda Ultralight wheels are wrapped in Nitto NT555 P275/40ZR18 radial rubber and can take all the extra cornering and handling that the Steeda suspension modifications allow The Steeda Ultralite I 18-inch wheels are wrapped in Nitto NT555 P275/40ZR18 radial rubber and can take all the extra cornering and handling that the Steeda suspension modifications allow.
The upgraded Steeda rear swaybar, adjustable Panhard bar, driver-side sport spring and billet lower trailing arm are visible in this shot From viewing the beefy Steeda chassis link/rear anti-sway bar installed on Howard's Steeda Q, it's easy to imagine how much of an improvement can be made to the Mustang GT's handling capabilities. Of course, the best way to find out is to take the stallion out on the track. Giddy up!
This picture was taken before JBA added the Steeda cold air kit, underdrive pulleys, JBA long-tube headers and custom tuningThe Steeda mods to the 4.6L Ford Mustang GT engine include a cold air induction system, underdrive pulleys, charge-motion plates, an aluminum fuse box cover and a stainless steel exhaust system. These enhancements gave this Q 340-horsepower, measured at the rear wheels on the JBA Performance chassis dyno. Can't you just hear that rumble?
The Steeda Sidewinder Color-Keyed Graphics Package and 18-inch Steeda chrome Ultralight wheels enhance the looks of the 2005 Mustang Satin QThe Steeda low rear wing, blacked-out rear valance and JBA stainless steel exhaust tips highlight the backside of the Satin QThe Steeda rear spoiler looks cool and helps stabilize the Q at speed.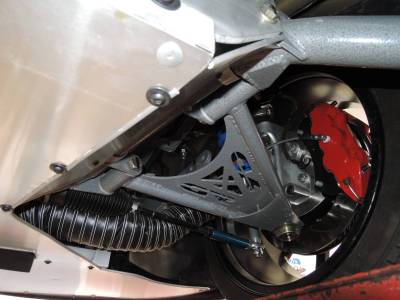 34 photos

'2009 Super Snake 1000
2009 Mustang GT500/GT1000 Finished at JBA Performance
JBA Speed Shop/Carlson Mustang
By: Justin Fort
Photography: JBA Performance
It's thanks to JBA Speed Shop that the four-year build of Edgar Carlson's highly evolved Super Snake came to its conclusion. Having made his money in the restaurant business in Houston, Texas, Carlson understood that patience and focus were essential if his Mustang was going to be right, and he developed a clear set of expectations for JBA to pursue. "Jay understood what I wanted – something advanced, technical and black, full of detail, dripping with power. I have lots of friends who own nice European cars, so I wanted a domestic that was built to that level, like AMG had built a Mustang. Plus, it had to be capable of running 200mph at the Texas Mile."
Carlson had originally intended for Shelby to build him a Super Snake, their turn-key 600-horse up-rated GT500. However, thanks to some business "challenges" and an uncooperative economy, the Dallas based Shelby mod shop, Quantum, was unable to finish the car. The buildup of Carlson's Shelby (which had only 100 miles on it at the time) had stalled. Tick-tock, tick-tock. Fortunately, Shelby's shop in Las Vegas stepped in at Carlson's behest and got the project back underway. Meanwhile, 2010 had become 2012.
If you've ever done a buildup that stops and starts then stops and starts, you know – the devil is in the details. This 2009 GT500 is full of details, and they took time: imagine planning out a racecar suspension to be used on the street, which commonly translates into a nightmare to set up and drive. Every detail of it needed to be sorted out. Carlson's Super Snake (which had become a hybrid or at least certainly early Super Snake/Shelby 1000 prototype, by the time it was finished), was this sort of project when he shipped it from 'Vegas to JBA Speed Shop in San Diego.
JBA's part in the custom-built Carlson Mustang was not unlike connecting dots. The car was there, but it needed to work. The 1200hp-capable 5.4-liter modular engine had been bored and stroked to 5.8 liters (351 cubic inches) and was breathing 16psi through the finest in Kenne Bell blowers, but the parts combo had a production tune, and would flash lean on JBA's dyno. JBA has been building and racing modular Ford engines since the platform's introduction in 1996, so when Carlson insisted on two distinct maps that provided pump-gas drivability and 200mph-capability on race gas, they knew what to do, re-engineering and replumbing the entire fuel system on the car, and mapping it extensively on the dyno.
A Griggs Racing complete torque-arm rear suspension for Carlson's Shelby (which was originally installed at Shelby) was bolted in at the Las Vegas facility. Since JBA is a certified Griggs installer, setting up proper adjustments and corner-weighting the car was a another order of business. It now sits almost perfectly 50/50 corner bias, and the Griggs hardware works as well as Bruce Griggs said it would. These details were in addition to countless others that JBA sorted out: custom painted (car color) roll cage with back seat delete, custom bodywork and aero, fire control, safety harnesses equipment, augmented cooling, special exhaust parts and custom interior parts (down to the stitching on the Recaros).
There was an upside to the extended build-time that had affected the creation of Ed Carlson's Mustang – what had been a brand new Mustang is now five years old, and in that time, the parts available for it had expanded exponentially (as Mustang fans would expect). This time provided "soak" for Carlson and JBA, who were able to come to grips with exactly what the Shelby's owner wanted it to be. JBA's advanced understanding of the SN-197 platform Mustang meant that they could turn a very expensive collection of performance parts into a standout Shelby 1000 Super Snake.
Sidebar: Providing adequate fuel delivery to support the Carlson Shelby's blown 5.8-liter engine on 200MPH runs, became one of the principal goals for Bruce Tucker and the JBA team. The car arrived from Shelby with a tune that maxed out the mass-air meter and the fuel pump duty cycle. On the JBA dyno Edgar's GT500 was going dangerously lean over 5300rpm (which can be instant death for a supercharged motor). In the case of the Carlson combination, the owner also wanted a dual-map solution for the car so he could run pump gas on the street and race gas for his planned 200mph pass at the Texas Mile – the system had to work right for both. JBA's redesign included a return-style fuel system boosted by two Walbro 465s, Division X rails and return plumbing, an Aeromotive regulator and a Diablosport MAFia Mass-Air Extender, all of which were followed by more tuning and dyno time.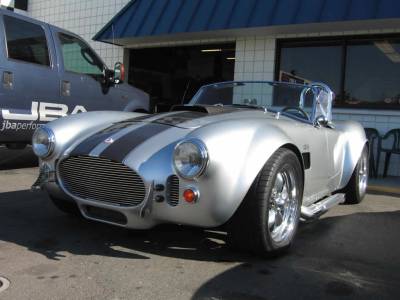 16 photos

FACTORY FIVE RACING ROADSTER
FFR Roadster Receives Supercharger by JBA Performance
By: D. Brian Smith
Photography: JBA Performance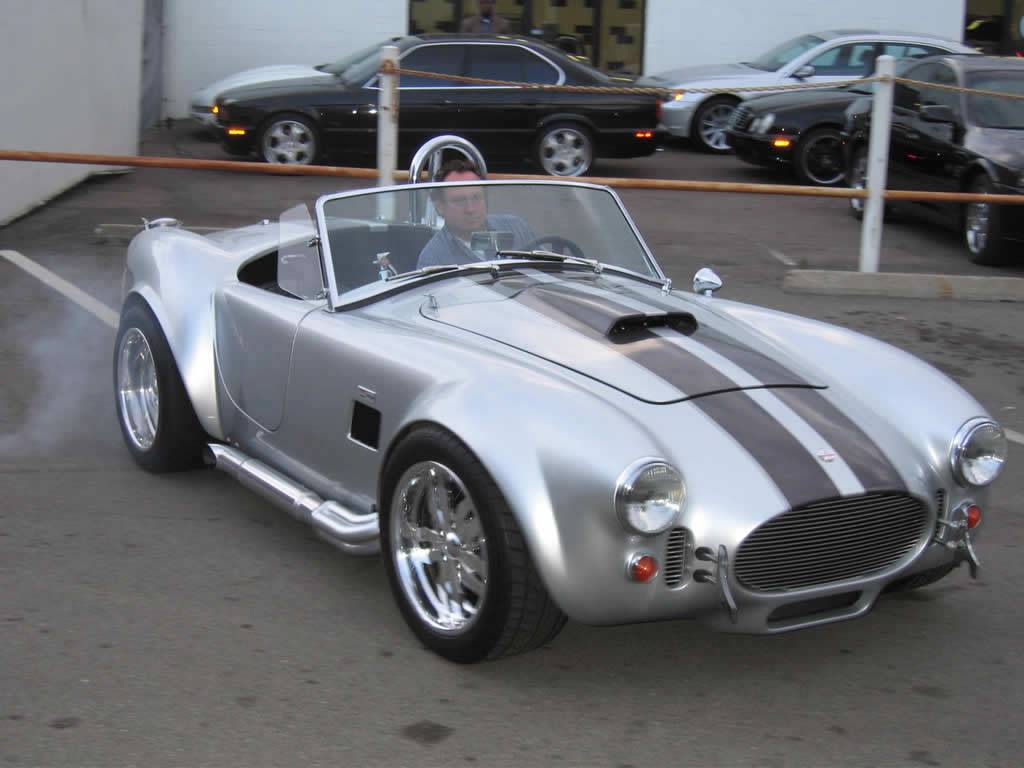 Some guys are always in a quest for more power. Jeff Gaines built a very nice Factory Five Racing roadster kit and motivated it with a Ford five-liter V-8 engine. The 2,000-pound Cobra replica could get out of its' own way with ease. Somehow though, there just wasn't quite enough propulsion for the 90-inch wheelbase land rocket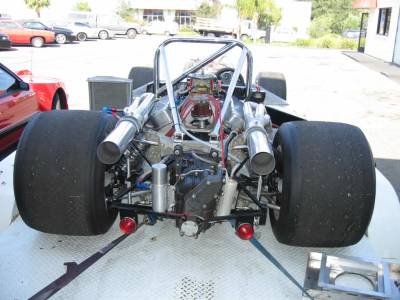 6 photos

HISTORIC CAN-AM CAR
Historic 1968 Can-Am Car -- Engine by JBA Performance
By: D. Brian Smith
Photography: JBA Performance
Imagine being at full bore around Laguna Seca's road course, in a big-block Chevy V-8 powered Can-Am car. Surrounded by nothing more than massive fuel tanks, an ultra-lightweight aluminum monocoque racing chassis and razor-thin fiberglass skin forming the basis of the body of your late '60s era sports car can be a thrilling experience. All around you are similarly crafted racing machines with as little driver protection as you have. Remember, you're not just out for some Sunday lope to the local Starbuck's. You're racing these guys, and they want to win every bit as much as you do, if not more. Well, yes, there is a very minimalist roll bar behind your head somewhere. But whether it's going to protect you in the case of a rollover is anybody's guess.
In 1966, the Canadian Automobile Sports Club (CASC) and the Sports Car Club of America (SCCA) founded the Can-Am series for Group 7 type racecars. Nick Smith owns several vintage racecars that he campaigns at various significant historic racetracks across the U.S. One of his favorites is his big-block Chevy V-8 powered Can-Am car that he enjoys at vintage racing events all over North America. In fact, he piloted his Can-Am beast so much that it wasn't scaring him as much he thought it should. Nick did what any smart gearhead would do. He trailered the car over to JBA Performance, in San Diego, California to get that big-block Chevy roaring again. JBA's engine masters replaced the camshaft and all the worn items in the valvetrain and brought that old and now new Chevy powerplant back to life.
Word has it that Nick is back to terrorizing all those historic racing venues across the land. He has several high place finishes to his credit. When you have a team of talented technicians at the ready like the crew at JBA Performance, there's quite a good chance that your racing skills might improve. Wouldn't you like to find out? You already know where to find JBA Performance.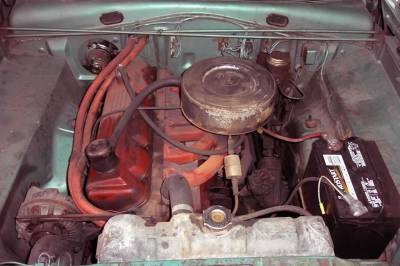 4 photos

PLYMOUTH SLANT SIX SLEEPER
1964 Plymouth Valiant Convertible, Rebuilt by JBA Performance
By: D. Brian Smith
Photography: JBA Performance
Dave brought his rather tired 225 cubic inch slant-six 1964 Plymouth Valiant Convertible into JBA Performance to transform it from a its faithful duty as a reliable runabout vehicle, to a full-on performance hot-rod. Dave reckoned that he owed the ragtop some thoughtful restomodding for all its trouble-free service. Furthermore, not many car guys can lay claim to having their same ride from high school, especially when some years have passed and the many commitments in life take center stage.
Those who have owned the slant-six powered Plymouth Valiants of the mid-'60s know how tough these engines are. So long as you change the oil at the recommended intervals and keep them tuned up, they'll give the Energizer Bunny a run for its money.
Of course, the easy road to hot rodding many a vehicle is to drop in an all-new small-block V-8 crate mill, renew the rest of the drivetrain and call it good. But, if you still had your high school sweetheart, is that how you would treat her? Our man Dave conferred with J. Bittle and the master mechanics at JBA and determined that a righteous rebuild of the 225ci slant-six was the only way to go. So, JBA ordered every available engine component for the Mopar mill from Clifford Performance in Wildomar, California including the rotating assembly, the cylinder head, the intake, the exhaust header, and a Weber Redline electronic fuel-injection system.
All of these considerable engine improvements meant that the manual transmission required a full rebuild to handle all that extra torque and horsepower. JBA Performance thus renewed the original trans, installed a new steering rack and heavy-duty torsion bars, and fitted Wilwood disc brakes in the front. For the rearend, a narrowed 8.75-inch Chrysler differential provided the perfect sort of stout pumpkin to get all that extra power to the pavement.
Before dropping the renewed mill in the engine bay, JBA had Tri City supply a custom mix of paint for the compartment, which JBA artfully applied via spray cans and a careful masking job to the Valiant's surrounding exterior sheetmetal.
With the power and underpinnings all good, Dave and JBA selected the just right sort of old school performance American Racing five-spoke rolling stock and modern radial rubber to make the Valiant a much better corner carver than in its youth. They then installed a custom aluminum dash bezel replete with a new gauge cluster and finished off the interior with period-correct three-inch lap safety/seat belts.
Thanks to Dave's vigilance in keeping the Valiant through the years and the talented crew at JBA Performance restomodding it, there is one more four-wheeled high school sweetheart that has an all-new lease on life.
The American Racing Torq-Thrust II's and BFGoodrich Radial T/A rubber give this slant-six sleeper an authentic old school look. Notice JBA Performance also welded in a full-cage roll bar, just in case Dave wants to really get his foot in that inline-six.
Here's the original 225 cubic inch slant-six in all its original glory, still running fine, but in need of some sweet rebuilding and hot rodding.
JBA Performance selected every imaginable 225 slant-six trick component from Clifford Performance and fully rebuilt the Plymouth mill for plenty of show and even more go. Check out the Griffin aluminum radiator for making sure this hotted engine keeps its cool.
Period correct lap racing belts, a brushed aluminum dash bezel, new gauges and billet go, stop and clutch pedals add the tasteful finishing touches to Dave's slant-six sleeper.