Custom Dyno Tuning
Bring your car into JBA to find out if your car is achieving maximum performance!
---
If you can't get rid of that off-idle stumble, or if your factory EFI computer can't handle a cold air intake or new gears without a hiccup, look to the professionals at JBA Speed Shop to assist you with custom dyno tuning services. JBA houses a 160-mph Dyno Dynamics chassis dyno as well as a 2500-hp DTS engine dyno to help you get the most performance out of your engine either before or after it is bolted in.
Call (858) 495-3395 or send us a message to schedule an appointment.
---
CHASSIS DYNO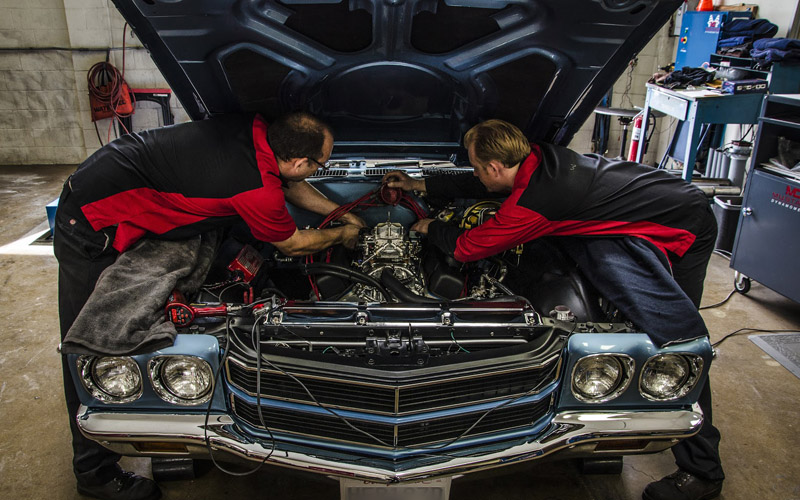 JBA Speed Shop has dyno'd and tuned thousands of vehicles. Carbureted muscle cars, hot rods and race cars as well as late-model cars and trucks with factory EFI or standalone engine management systems (DFI, Emerald, FAST, MegaSquirt, Holley Commander and Edelbrock Pro-Jection) are within our specialty. Naturally aspirated, supercharged, turbo'd or nitrous-enhanced? We've got you covered! Whether you just want to calibrate your speedometer, verify your horsepower and torque, or custom tune your ride for optimum drivability and power, JBA is here.
JBA Speed Shop proudly uses "state of the art" Mustang Dyno MD-500 and Dyno Dynamics load-bearing eddy-current Chassis Dynamometers. Results are weather-corrected, and our dyno reliably handles everything from 50-hp grocery-getters to 1,000 hp racecars. For every power verification, you receive a color graph that charts your hp and torque curves, along with a printout that includes mph, rpm, hp, torque, ambient temp, air/fuel ratio and vacuum/boost readings throughout the rpm band.
With years of experience in achieving optimum results with both carbureted and fuel injected vehicles, our technicians have developed intensive procedures for preparing a car for dyno tuning. Vehicle inspections road testing, leak checks, sensor adjustments, and verifying proper installation of mechanical components are key to ensuring accurate results and safe operation during tuning.
Visit our Facebook page to see recent dyno runs!
---
ENGINE DYNO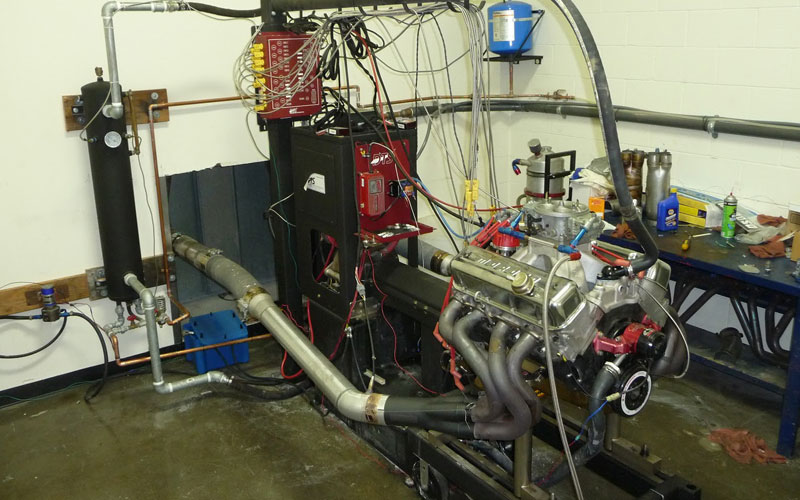 JBA's full service engine shop features a state-of-the-art DTS Powermark engine dyno. Designed to handle up to 2,500-hp and 1,800-ft/lbs of torque, our dyno facility provides advanced high performance engine dyno testing and tuning for street performance, drag, circle track, road racing, off-road and marine race engines. JBA's dyno cell is designed and manufactured for maximum performance and durability, as well as unequalled data acquisition capabilities. The data acquisition is computer controlled with all critical engine functions monitored, including air/fuel ratio, exhaust gas temperatures and brake specific fuel consumption. JBA's engine dyno cell and trained staff are available for half-day, full-day, or weekly rentals.