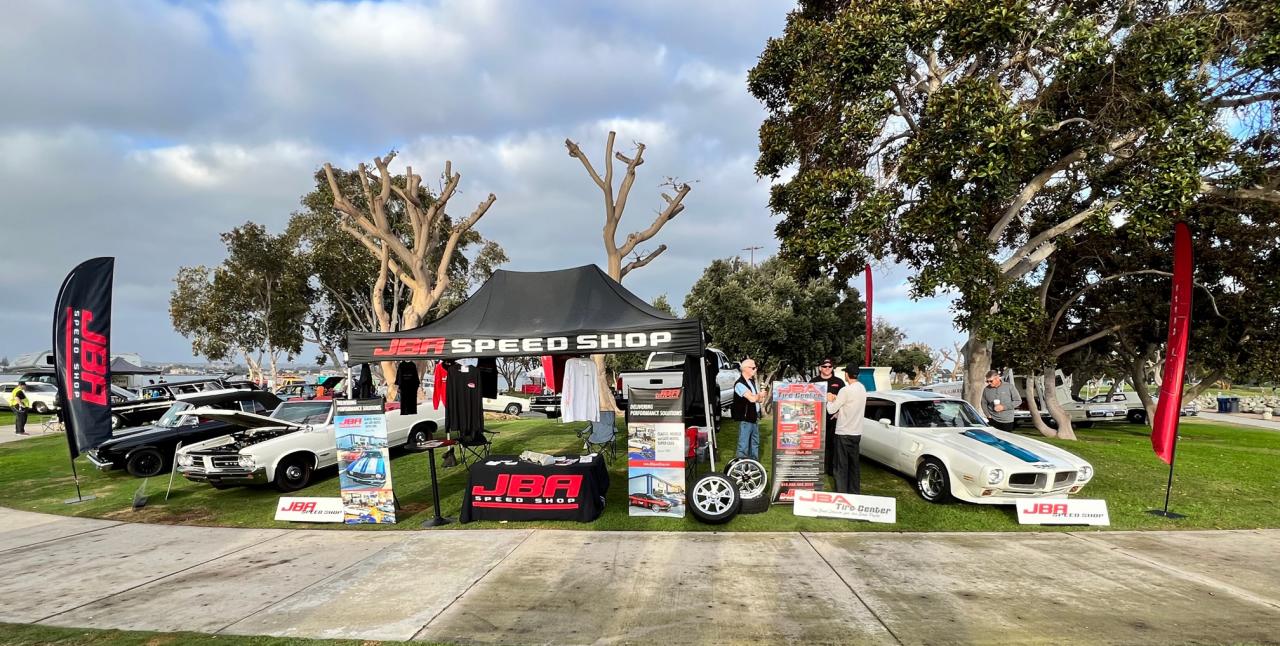 The San Diego Pontiac Club's Cops and Rodders Show Focused on Something a Little Different
Over the past few months, we have sponsored, been to and covered numerous car-related functions around the San Diego area. A couple of the more recent shows include the Mustang Club of San Diego's annual show:
https://jbaspeedshop.com/n-12665-jba-at-mustangs-by-the-bay-22.html
As well as the San Diego Mopar Club event:
https://jbaspeedshop.com/n-12642-all-american-car-show-2022.html
We enjoy a good variety of all American makes here at JBA Speed Shop, so we were looking forward to the what you see here, which was a look at Pontiacs this time around.
Billed as the Cops and Rodders Fall Pow Wow, the event was put on by the San Diego Pontiac Club (sdpoci.com) as well as the San Diego Police Museum. We, of course, were also in attendance with a couple of great cars of our own along with the shop's display tent.
In the gallery, you'll see both of those cars one of which is JBA's ace engine builder and Pontiac fan John Elderhorst who has owned his '72 Firebird Trans Am for more than 40 years. It's powered by its original 455 HO and freshly rebuilt Muncie four-gear with three pedals.
The other car is none other than marketing manager Greg Raymond's '64 GTO convertible, which was bought new by his father when he was an electrical engineering cadet at West Point Military Academy in upstate New York. This car has been restored to as-new condition with its flawless Cameo Ivory finish and original 389 Tri-Power/Super T-10 four-speed drivetrain still in place.
In addition to John's and Greg's F- and A- body Pontiacs, respectively, there were numerous other Firebirds, GTOs and LeMans' on the San Diego Seaport Village property that day and you can check all those out below.
The day before the show, we also hosted the Desert Renegades Pontiac Club (pontiacclubofphoenix.org) for an open house at JBA Speed Shop. One of the club members had a super-nice '72 Firebird Formula also with 455 HO power. It had developed an ignition issue on the way from Phoenix to San Diego, so expert shop tech Randy Alldredge stepped in and fixed the car in a few minutes.
All in all its was a great weekend for Pontiac enthusiasts here in the San Diego area, and we look forward to being a part of it again next year with our local Pontiac club. --Miles Cook
Arizona Pontiac Club Open House at JBA Photo Gallery
Car Show Photo Gallery