Mopar Club of San Diego - All American Car Show 2022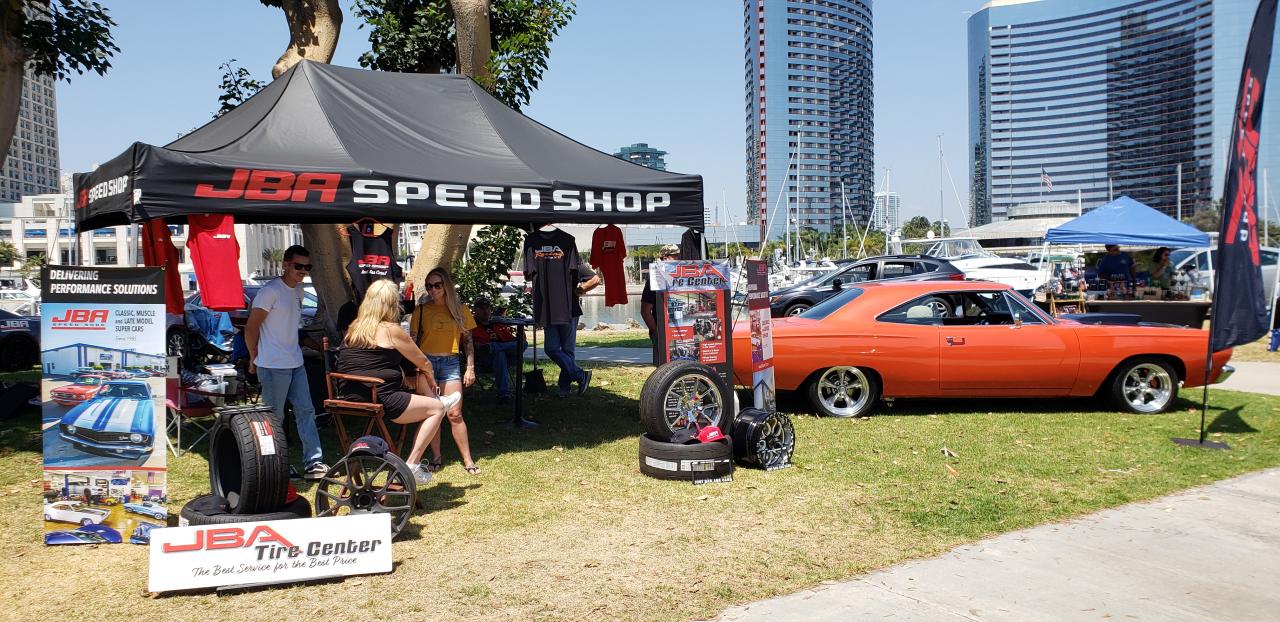 The Mopar Club of San Diego's All American car show was a Great Day for all Mopar, GM and Ford fans
Everything aligned perfectly for the July 2022, Mopar Club of San Diego (MCSD) All American car show. The location at San Diego's spectacular Seaport Village was ideal as was the city's coastal-climate summer weather.
Most importantly, however, was the quality of the cars in attendance. Besides all the fantastic Dodges, Plymouths and Chryslers that club members brought out, the club also welcomed--as we do at JBA Speed Shop--all the other makes and models we know and love that include a good helping of GMs and Fords as well.
In addition, there were also several AMC cars on hand, including one of our favorites of the show in the form of Larry Eddy's '68 AMX. Powered by an AMC 390, this car is just a total creampuff that you can see by looking at the accompanying photo gallery. And it also won the Best AMC award at the show.
There were, of course, numerous Mopars at the show that you can see in the gallery. One each of a Plymouth and a Dodge, respectively, and both 440-powered include Milton Karahadian's super-nice E-body '70 Cuda and George Reneau's equally sweet B-body '67 Coronet.
If you continue to study the photo gallery a little more you will also notice a number of very nice Fords that include Jerry Bennett's '07 GT500, Michael Loftus' '64 Falcon convertible and JBA customer Jerry Scott's pristine '70 Ranchero that's powered by a JBA-built (and we mean built) 429W stroker motor. Jerry also won the Best Rockin '70s award for 1970s era cars. You can see that trophy and Jerry's Ranchero at the bottom of the photo gallery.
In addition to the Mopars and Fords, there were a number of great Chevrolets also on the grounds including a pair C8 Corvettes, a trio of super-sweet El Camino's in one gallery pic showing '67, '68 and '70 versions as well as JBA customer couple Mark and Elaine Regan's absolute show-quality Rallye Green '69 Camaro SS396.
Powered by the relatively rare mid-level 350hp 396 in front of a Muncie M21 close-ratio four-speed (there were also 325hp and 375hp 396s) this car is literally perfect and is clearly among the nicest restored-to-stock '69 Camaros we've ever seen.
If you're anything like us and have a liking for all the nameplates from the American big-three automakers, then the MCSD (moparclubsandiego.net) show is a very worthwhile event to check out. We are already looking forward to next year. --Miles Cook
JBA-Speed-Shop-Sponsored Awards
Best Corvette: Craig Moya, '17 Corvette C7 LT1
Best Mustang: Walter Woods, '18 Mustang GT Coyote 5.0
Best Race Car: Craig and Lisa Andrews, '64 Chevelle SS
Best Custom: Jason Martinez, '05 Corvette C6 LS2