Around the Shop - February 8th, 2023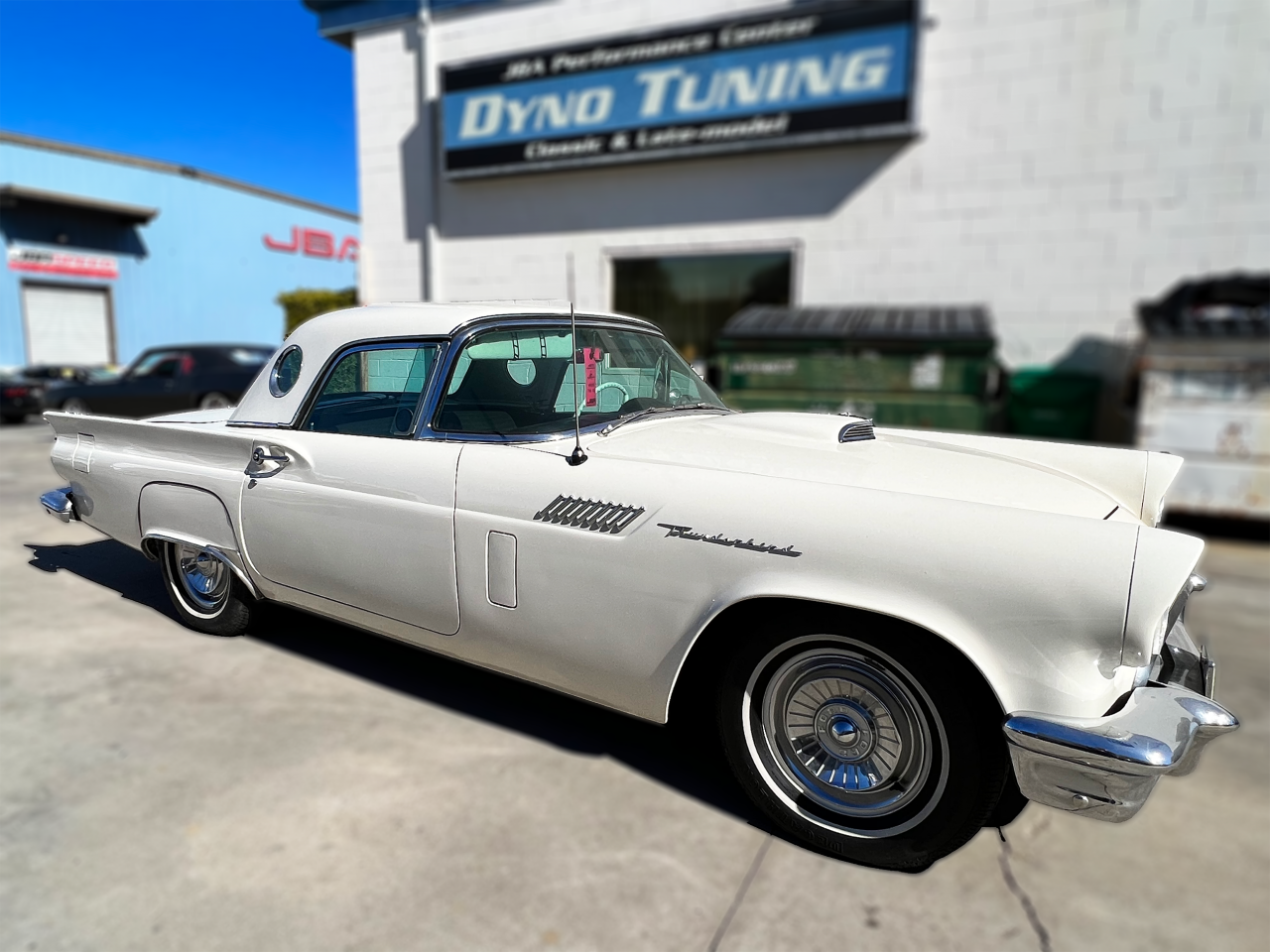 Thunderbirds from the '55-'57 era
are unique two-seater roadsters
and the "Baby Bird" nickname adds to their appeal
There are numerous Ford cars from the '50s and '60s that JBA Speed Shop appreciates and we work on just about any of them. This includes those classic two-seater Thunderbirds that were only produced for three short years from 1955 to 1957. This T-Bird era was before the later generations gained weight, a rear seat and in the process lost a level of charm that was not regained.
This particular '57 'Bird is in for a few upgrades like a set a Wilwood front disc brakes. Similar to what we installed in a '65 Mustang convertible a while back, (https://jbaspeedshop.com/n-12652-around-the-shop-september-8th-2022.html) it is, as usual, a massive safety upgrade on any car that's now more than 50-65 years old.
Besides the brakes, many new parts have been added to this '57 to make it both look better and be more roadworthy. For starters, the optional 312 cubic-inch Y-block engine (292s were the standard Ford V-8 in T-Birds) has been rebuilt and topped with a Holley 600cfm four-barrel carburetor.
Components that have been replaced, include the car's fuel tank, radiator, power-steering ram and hoses, heater core, generator, voltage regulator and ignition coil. The original four-blade cooling fan has also been upgraded with a more effective six-blade version, while the headlights have been upgraded to much better halogen units.
The drum brakes have also been gone through with new shoes, a rebuilt power-brake booster, a new master cylinder as well as new front and rear hoses. And as mentioned, the brakes will be further improved with a front-disc setup.
Moving to interior cosmetic items, the seat upholstery has been replaced as well as the dash pad, the hardtop's headliner and weatherstripping, the door panels, sun visors and trunk mat. The gauge cluster has been rebuilt including the speedometer and tach. A Kenwood stereo head unit has been added as well as a pair of speakers and the car's original clock has also been rebuilt and fitted with a quartz movement. Another nod to safety is the addition of a pair of seatbelts as back in the '50s, they were at best optional if available at all.
The exterior of the 'Bird has been further enhanced with re-chromed bumpers as well as re-chroming the inside trim around the windshield and shifter bezel.
Though not the exact same year car as the American Graffiti '56 T-Bird used in the movie and driven by the mystery girl played by Suzanne Somers (https://unofficialamericangraffiti.weebly.com/the-1956-thunderbird.html), the '57 we are working on here at JBA Speed Shop is the same color and certainly exudes the same vibe and for that we are definitely getting a little fun out of having it here
at the shop. -- Miles Cook
1957 Ford Thunderbird (Baby Bird)