Around the shop, September 8th, 2022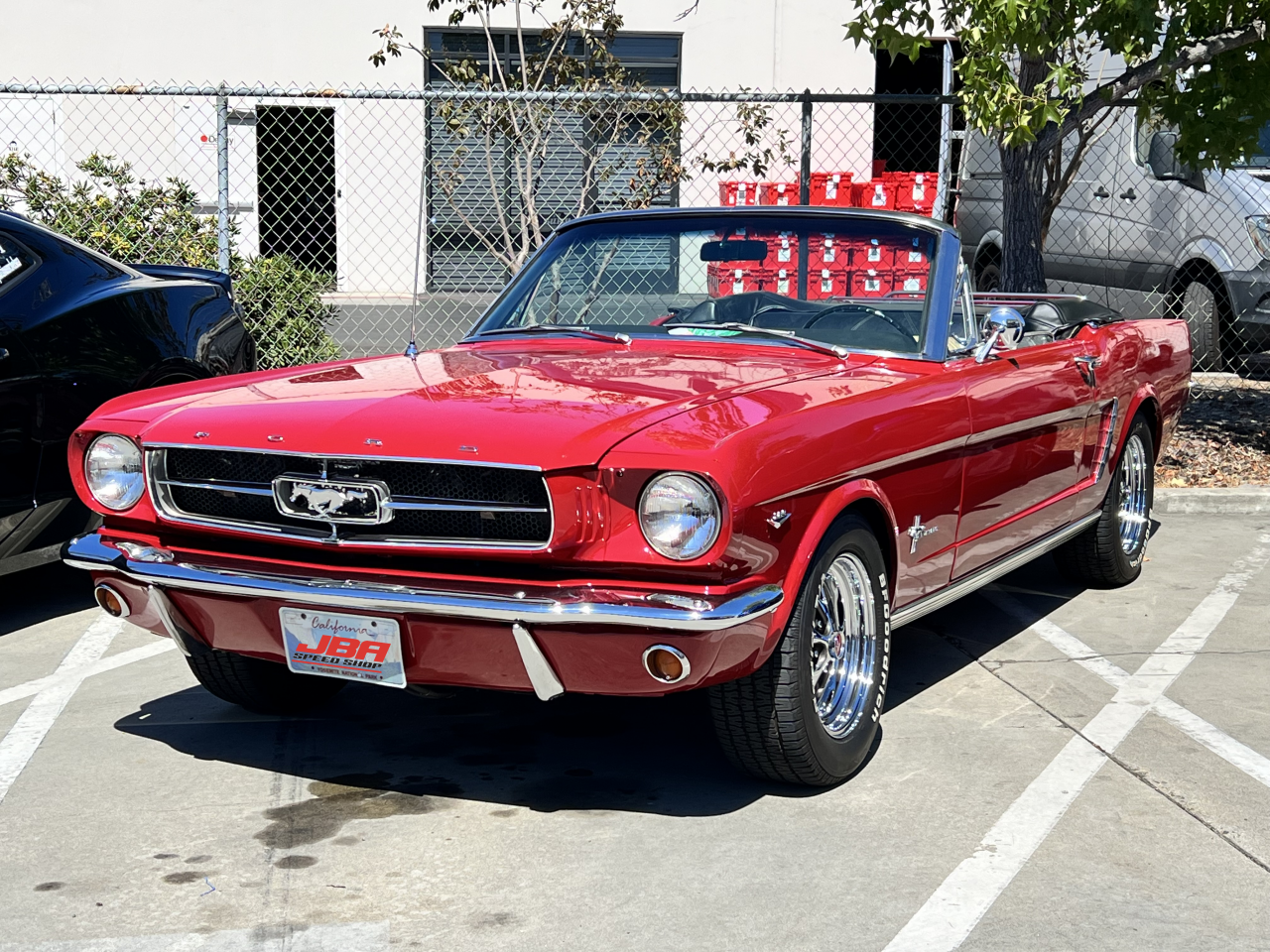 High-quality front-disc brakes are the most important
safety upgrade for any 1950s-1970s-era collectible car
The cool factor on all the vintage cars we work on at JBA Speed Shop is most certainly undeniable. Whether it's a classic Mustang like the minty-fresh '65 convertible shown here with its 15-inch styled-steel wheels, or any other Ford, GM or Dodge/Plymouth model that comes under our care on a daily basis, they often have one major safety shortcoming in common--if it has not been previously addressed.
And what that might be? About 95 percent of the time, it's, by today's standards, downright unsafe drum brakes all around. With a few exceptions, such as 1965-and-newer Corvettes that were all equipped with four-wheel discs (other than a few hundred that, for some silly reason, were a disc-brake delete for a credit of less than $100) and some vintage Mustangs and Camaros that were optioned with front discs, the vast majority of these cars were fitted with decidedly scary drum brakes that on a good day would give you one good stop before fading into oblivion.
And if you were lucky, that one stop might come without the car wandering all around, which would mean you'd also have to steer at the same time while stopping--or try to.
Here, with this one car we are fixing that once and for all in the form of a Wilwood Dynalite front-disc-brake upgrade that's an ideal fit for any '65-'69 Mustang that has drum-brake front spindles. Carrying part number 140-13476 (https://www.wilwood.com/BrakeKits/BrakeKitsProdFront?itemno=140-13476) this super-sweet front-disc setup includes everything listed below for installation.
Wilwood says: "Wilwood's Classic Series front disc brake kit for 1965-1969 Ford Mustangs offer a disc-brake upgrade solution and fits OEM drum or disc spindles. The kit features the FDL-M four piston forged aluminum caliper and 11.30-inch diameter x 0.94-inch thick one-piece rotors. The FDL-M caliper is a modified version of the time-tested Forged Dynalite caliper, and provides the greatest amount of wheel clearance of any four piston caliper in its size class. The OEM-style one-piece cast-iron rotors with integrated hubs simplifies installation while providing optimal dimensional stability and wear resistance. These versatile kits are easily optioned to suit the braking requirements and style preferences for a daily driver or for the show enthusiast. The intended vehicle application requires no modifications for installation, and clears most 14- and 15- inch OEM disc-brake wheels. Classic Series FDL-M kits can be used with either manual or power-boosted master cylinders, and come complete with calipers, rotors, mounting brackets, hardware, flex lines and detailed installation instructions."
Take a look at the accompanying photo gallery to see the high-lights of the installation, as our resident suspension-and-brake-expert, shop tech Ray Klimas quickly tossed the crappy front drum brakes in the dumpster and added the worlds-better Wilwoods to makes this droptop Pony even better--and much safer as well.
If you have just about any 1950s-1970s GM, Ford or Mopar classic car that still has ancient, archaic and dangerous front-drum brakes, there is absolutely no other safer and more comprehensive improvement you can do to any of these cars than a front-disc-brake upgrade from a company as well-known and renowned as Wilwood. They have coverage for just about any car from the 1950s to the present. We suggest you get your car to our shop ASAP for this most-critically important safety upgrade. --Miles Cook