Racing Byrds AutoCross - AAA Speedway Fontana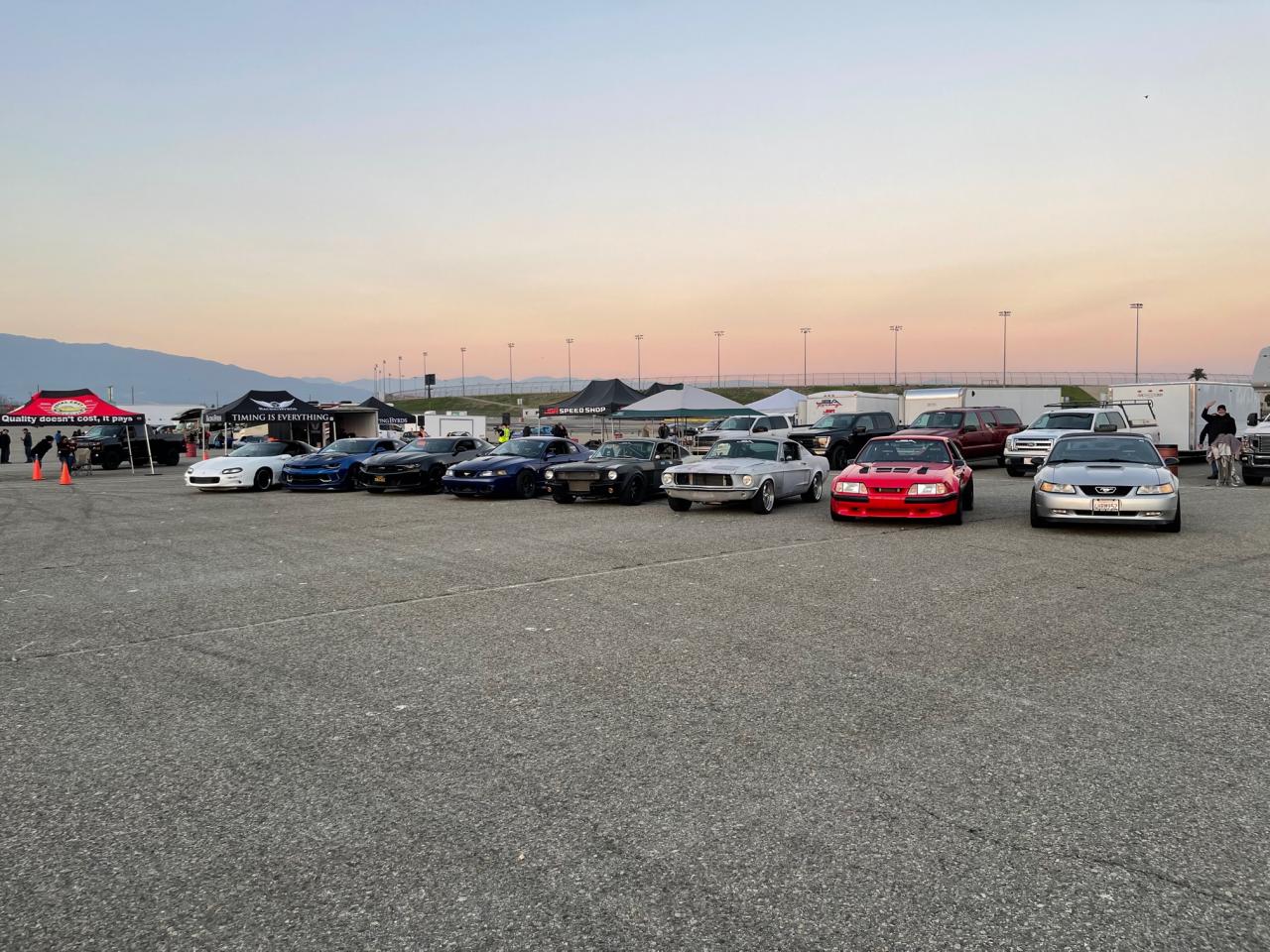 Racing the Clock was Big Fun at the Racing Byrds Auto X Event with Team JBA's Vintage and Late-Model Mustangs Mixing it Up
The Falken Tire Auto-X Showdown was the final event at the Auto Club Speedway Lot 6 and Racing Byrds went big with an all out Auto-X.
With the status of the track uncertain, this may have been the last ever autocross event at Auto Club Speedway in Fontana, California, so Racing Byrds just raced and fastest laps in each class received daily awards. Classes were determined by registration and included Classic Muscle, Modern Muscle, Truck, Sports Car, and others, such as Classic Sports Car.
Two days of racing determined Class Champions based on a fastest lap from each day with awards being given for 1st-3rd in each class. On Sunday, the Top eight fastest cars based on two days combined time raced for the title of Grand Champion in the final round.
It was clearly all about the fun as Racing Byrds had the cones, the course workers, and the passion to provide a place to drive the cars the way they were meant to be driven in a safe and competitive environment. There's never a charge for spectators or friends, and ride-alongs were encouraged.
As for the JBA team cars, the late-model contingent included Austin Bittle's Whipple-supercharged Terminator '03 Cobra and Peter Pelekis's super nice '92 LX hatch. Peter's JBA-built, 331-powered Fox is a fully-prepped autocross pylon racer that he has been running with JBA for more than 20 years and the car's meticulous setup is the ideal way to build a seriously fast Fox 5.0 autocross car.
On the vintage side, David Ropp's '65 fastback and Jeff Carrol's '68 fastback (https://jbaspeedshop.com/n-12662-around-the-shop-october-6th-2022.html) were both well in the mix. To keep pace with the late-model cars, both also have well-prepped, JBA-built 331 small-blocks, Termec five-speed transmissions, built-to-the-hilt suspension systems and big Wilwood brakes.
The event set the stage for the who's who of 2023 so whether you wanted to race or watch coming out to the Auto Club Speedway was the way to be a part of this historic event. Everyone hopes that other autocross-types of races will take place at Fontana in the future. We will simply have to wait and see how it plays out. --Miles Cook
JBA and Crew