Around the Shop - November 10th 2022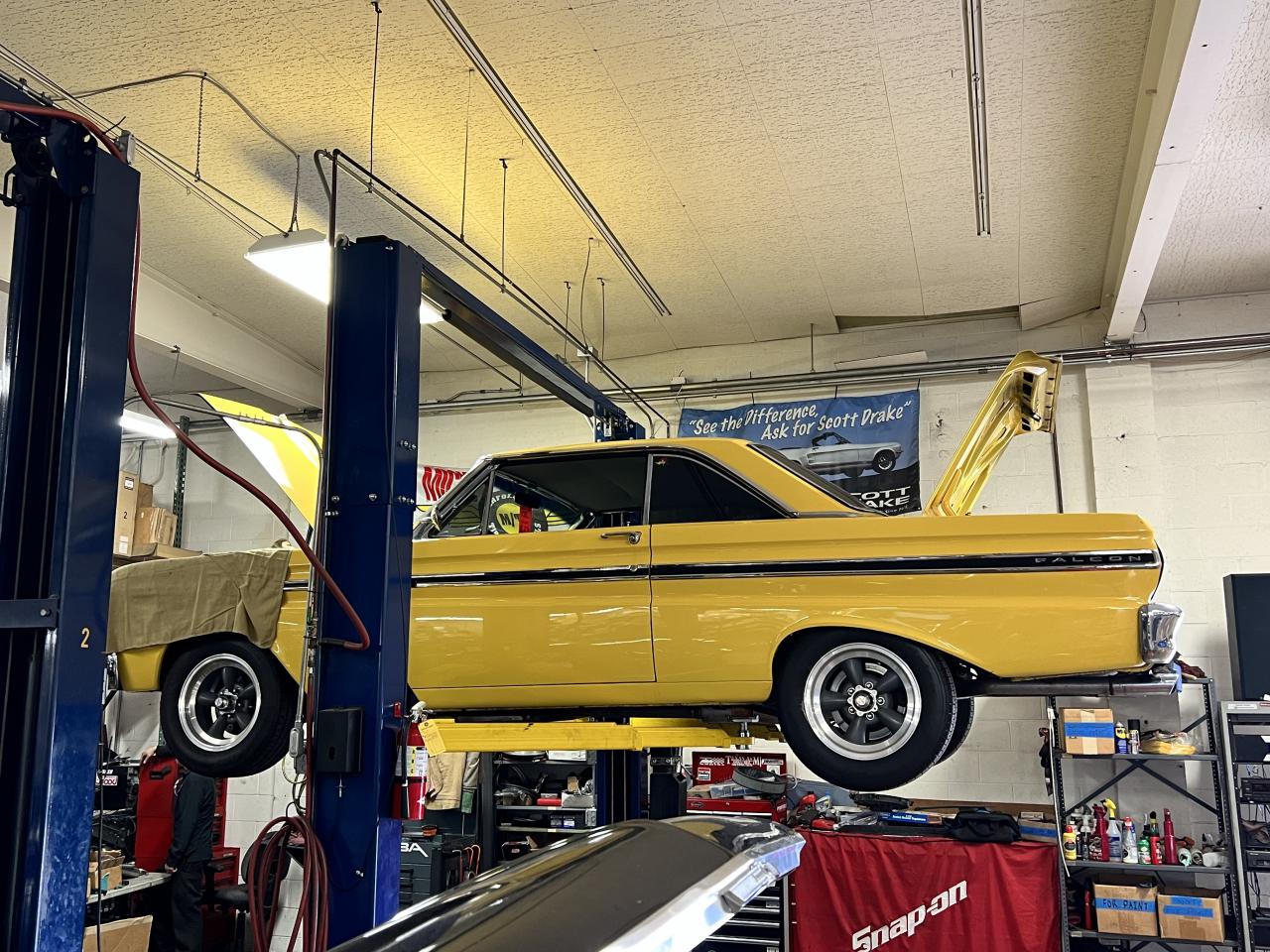 As Super-Cool Mustang alternatives, Falcon, Fairlane and Galaxie
two-door hardtops are increasingly high up on the desirability scale
We love all kinds of Ford cars around JBA Speed Shop that are something besides a Mustang. Those favorites include 1960s Falcons, Fairlanes and Galaxies among others.
Just recently, we also featured a mint '70 Mercury Cougar with 428 Cobra Jet power:
https://jbaspeedshop.com/n-12672-around-the-shop-november-2nd-2022.html
And while the Cougar (Mercury's Mustang sibling) is great in its own right, here we're focusing on the above-mentioned Ford models in specific model years due to their dramatically beautiful rooflines and styling.
Starting with the big cars, we believe the prettiest Galaxies are those produced for the '63 1/2 and '64 model years. The first '63 Galaxie hardtops had a more formal roofline known as a "boxtop." The '63 1/2 came out mid-year in order to compete in the NASCAR aero wars of the era and the new roof certainly made a difference on the super speedways being raced on in those days.
Almost a fastback of sorts, there are three in the below gallery, one a '63 1/2 dropped down on 18-inch-or-so wheels and two '64s--a black one on stock-style steelies with dog-dish hubcaps and a blue one on Torque-Thrust-style mags. These cars are certainly the cream-of-the-crop when it come to full-size Fords.
Scaling down slightly to the mid-size body, we come to the Fairlane--specifically, the '66 and '67 model years. Almost a bubble top of sorts, these two-door hardtop Fairlanes are to us about the coolest Ford car produced in the 1960s outside of a fastback Mustang. Similar in size and vibe to a GM A-body car like a Chevy Malibu/Chevelle or Pontiac LeMans/GTO, these Fairlanes are the quintessential Ford muscle car in shape and style.
And not only that, as some may not know, when Mario Andretti won the 1967 Daytona 500, he was driving...what else? A '67 Fairlane, of course! You can see a photo of that car in the gallery, as well as the Antique Bronze '66 two-door hardtop once owned by your humble scribe. With its dog-dish hubcaps and hot 306 small-block, it was a fun car to be sure and it's missed every day. Also shown is a super-nice red '67 GTA S-code 390 car that was also in possession of this writer for a short time about 10 years ago.
Which brings us to Falcons, like the yellow car shown here that's in our shop. And we're talking specifically those produced from 1963 1/2-1965, with their similar roofline as the '63 1/2-'64 Galaxies, except on a smaller scale. Also similar to the Galaxie, is that the '63 1/2 Falcon also came out mid-year in 1963 in the round-body cars such as the blue '63 1/2 Sprint at the bottom of the gallery. These were something of a one-year-only design. The second-generation '64s and '65s were more of a square-body design, but used the same roof as the '63 1/2, all of which were offered in Futura and Sprint trim levels.
As for engines in these cars, the gamut is far and wide from 170 cubic-inch straight six sewing machines, to 260 and 289 small-blocks, to FE 352s and 390s, to bad-to-the-bone dual-quad 427s in a scant few Fairlanes and Galaxies.
Many of the Falcons were six-cylinder-equipped with the F-code (the fifth character in all Ford 11-character VINs) two-barrel 260s being optional in the '63s and '64s. The C-code two-barrel 289 first became available in the '65 Falcon and we'll also note that the A-code four-barrel 289 that was optional in '65-'67 Mustangs was not offered in any '63-'65 Falcon or '66-'67 Fairlane.
As for the rare Hi-Po K-code 289 also offered in '65-'67 Mustangs, that engine was also not offered in any U.S.-sold '63-'65 Falcon or '66-'67 Fairlane. The only exception looks to be seven super-rare K-code '65 Falcons built and sold in Canada (https://www.hemmings.com/stories/2021/12/30/ford-of-canada-dropped-the-271-hp-289-v-8-into-a-compact-sedan).
When the freshly-designed '66 Fairlane came out the 200-cube straight-six was the base engine and the C-code 289 two-barrel was first optional V-8. With no K-code '66 or '67 Fairlanes produced, the difference was made up with two 390s, one an H-code 390 two-barrel and the other an S-code 390 four-barrel. The ultimate '66 Fairlanes were the 57 R-code dual-quad 427 cars built. All were Fairlane 500 bench-seat cars and all were painted Wimbledon White.
For the '67s, the engine line-up was pretty much the same from the straight sixes to the R-code dual-quad 427. One exception was the super-rare W-code single four-barrel 427, of which only 11 were produced (https://www.hemmings.com/stories/article/southern-migration-1967-ford-fairlane-500). Also for the '67s, the R-code cars were built in 500XL trim (which added bucket seats and a console) as well as bench-seat 500s.
Finally, the '63-'64 Galaxies were similarly equipped as the Fairlanes from the 289, several 390 variations, and the R-code, dual-quad 427 engines. One Galaxie addition was the mid-level 352 that was available in '63s and '64s.
Circling back to Falcons, the white and yellow cars in the gallery are both '65s, with the white car being a recent purchase, again, by your author as a replacement of sorts for the gold '66 Fairlane.
The yellow Falcon is here for a number of maintenance, repair and upgrade procedures, including repair on the car's Mustang II front suspension as well as a wheel alignment and some wiring improvements. A set of ceramic-coated full-length Doug's headers were also installed.
So there you have it. Falcons like the yellow '65 two-door hardtop we've been working on, is to our minds about the coolest Falcon of all in terms of year and body style ('64s are basically identical except for the side trim). Factor in those equally great body styles of the '63 1/2-'64 Galaxies and '66-'67 Fairlanes and you have a trio of classic Ford shapes that are about on par with '65-'70 fastback Mustangs. We love them all and we always enjoy having them here at JBA Speed Shop. --Miles Cook
'65 Ford Falcon