Around the Shop - November 2nd 2022

A Close Cousin to '69-'70 Boss Mustangs, a
'70 Mercury Cougar Eliminator 428 CJ Stands Tall on its Own
Several American automotive nameplates have unfortunately been discontinued in the last two decades. Starting in 2004 it was Oldsmobile and Plymouth that were dropped for GM and Chrysler, respectively. In 2009, GM sunsetted the Pontiac brand, which to many was quite a downer.

Ford got into the downsizing thing with the retirement of Mercury in 2011. While the loss of all of these makes was, and still is, somewhat of a drag, they live on with the love and presevervation of cars like the '70 Mercury Cougar Eliminator we're showing you here.

Mercury equivalents like Cougars and Comets are often just as appealing as Ford's Mustangs and Falcons/Fairlanes and some of the best of all Cougars are the '69 and '70 Eliminators that were sort of the Boss Mustang of the Mercury side of the Ford corporate portfolio. Given that the Eliminator could be equipped with same engine as the '69 and '70 Boss 302 Mustang, means they are clearly desirable collectibles in their own right.

But this '70 Eliminator has the also-available 428 Cobra Jet, rather than the small-block Boss 302, so if FE big-block power is your thing, then this car has special meaning to be sure.

A quick historical look at '69 and '70 Eliminators reveals that for 1969, the Q-code is the same as an R-code 428 CJ, as the only difference is the R-code cars were equipped with a ram-air shaker induction setup. Q-code cars were a non-ram-air arrangement with an underhood air cleaner and no shaker protruding through the hood. For 1970, all 428CJ Cougars were Q-codes, with or without ram air, which explains why this '70 has ram air, even though it's still a Q-code.

Eliminators were also available with the Boss 302 engine, which is the same as equipped in '69-'70 Boss 302 Mustangs. The G-code (same as Mustang) Boss 302 was only available in the Eliminator cars.

Available with either a C-6 automatic like this car, or a Toploader four-speed manual (Boss 302s were all four-speed-manual equipped), this car also has standard power front-disc brakes, power steering, Eliminator graphics, front-and-rear spoilers and a blacked-out grill for the Cougar's hideaway headlights.

Not only is this particular example of a 428CJ Eliminator pretty sweet in its own right, the engine is quite special as well. That's because it has been completely gone through by none other than JBA Speed Shop's engine department--an operation that has decades of experience with Ford FE 390s and 428s.

No longer a stock CJ on the inside, the cars's torque-laden 428 has been fitted with Edelbrock aluminum heads, a Comp solid-lifter cam and a set of 0.030-over TRW pistons that now net an 11:1 compression ratio. The now 433-cubic-inch FE cranked out 423 horsepower at 5,300 rpm on JBA's in-house engine dyno. The boat loads of torque peaked at 472 lb.-ft. at 3,900 rpm.

Whether cruising LA's Van Nuys Blvd. or Detroit's Woodward Ave., back in those late-'60s and early-'70s good old days, a Cougar Eliminator with 428 Cobra Jet power like this pristine example was sure to make the owners of sibling Mustangs as well as others, like 'Cudas and Challengers as well as Camaros, Firebirds and AMXs take notice of this way cool Mercury musclecar from Dearborn. --Miles Cook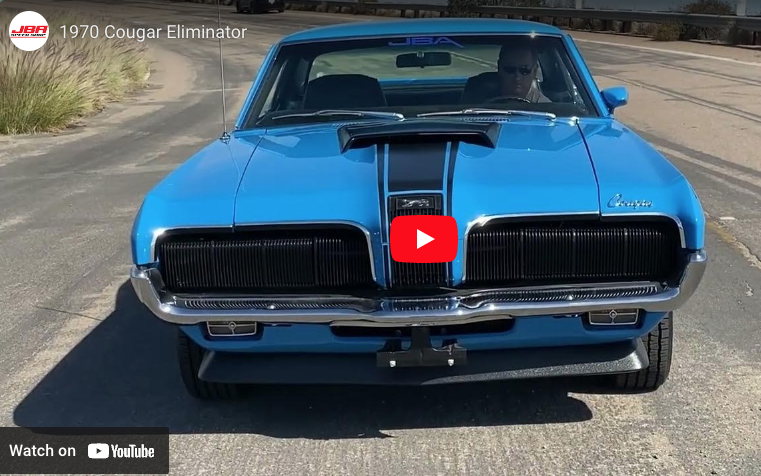 '70 Mercury Cougar Eliminator Cobra Jet