61st Antique Drags at Barona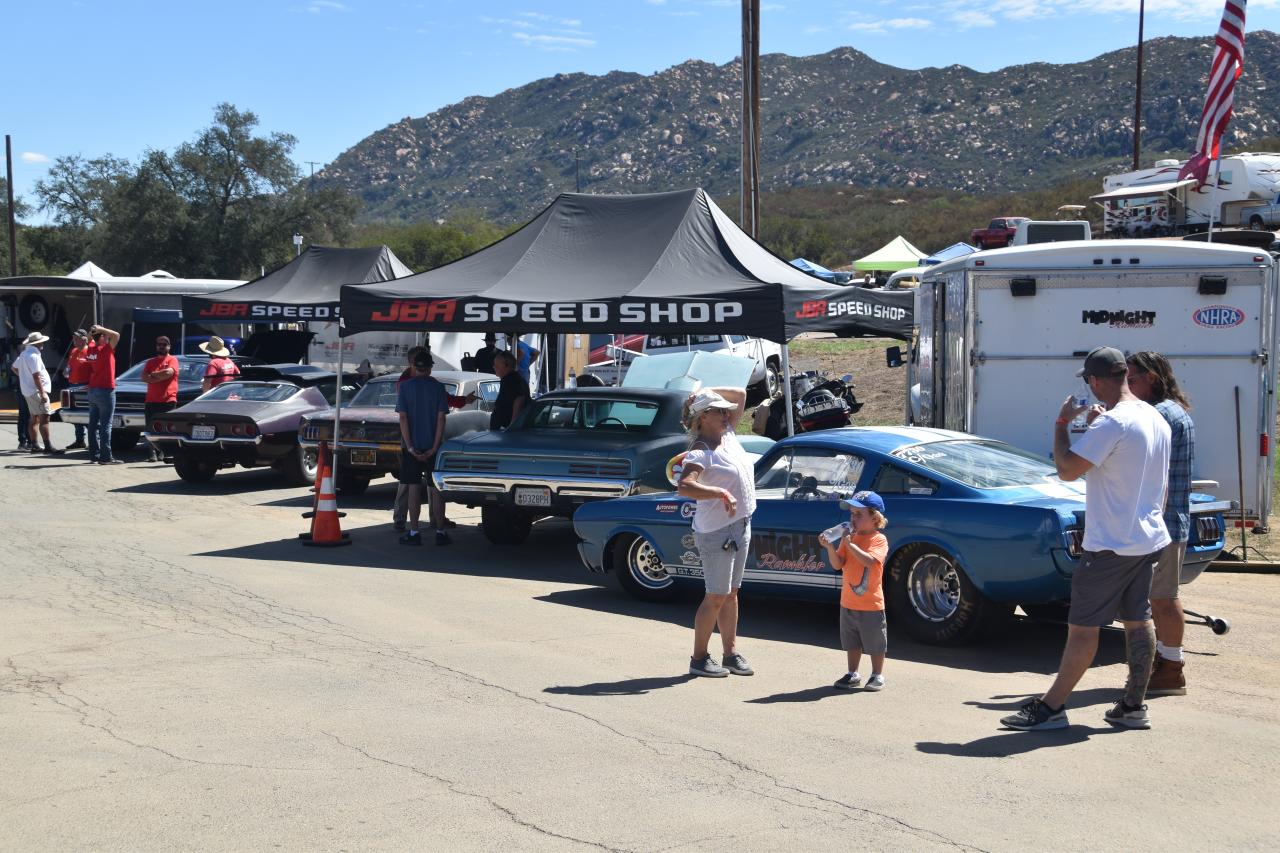 Antique Drags
The 61st annual San Diego Antique Drags took place in September, 2022 and several JBA Speed Shop crew were in attendance with five cars to run down the Barona Drag Strip 1/8-mile track.
As you will see in the photo gallery, J Bittle's C/Gas-style '66 Shelby was good fun that day and is powered by a built 393 Cleveland. It was running in the low 6s in the 1/8-mile with one clean pass being a 6.20-second run at 110 mph.
Our sentimental favorite is son Austin's '66 Fairlane hardtop with a built 427 tunnel-port and the car was brought out to the track for the first time in a good while. It ran a 7.29-second pass at 95 mph.
Having known the Bittle family for well more than two decades and being a major '66-'67 Fairlane fanatic ourselves, your humble shop editor has often asked, "Do you still have the black Fairlane?" J's reply has always been, "Yup, we still do!" So given that, we are happy to hear the good news that this special car will remain around these parts for the continued long-term.
Next up is shop machinist Ethan Moradzadeh's '65 Mustang hardtop that he brought to the track for some test-n-tune passes. We did an extensive close-up on this car (https://jbaspeedshop.com/n-12657-around-the-shop-september-15th-2022.html) and he made a pass or two before fragging a driveshaft U-joint. No worries though, as breaking stuff is often a part of making these old cars go fast.
Also at the track was Pamela Park with her '70 1/2 Camaro Z/28. This car is a real-deal Z/28 sporting its original LT-1 350-cube small-block and Muncie four-speed trans.
Finally, Randy Duncan's '66 GTO with its legit Pontiac 389 that was put together here at JBA Speed Shop (of many real Pontiacs V-8s we've built) was also in the mix with us having fun at the Barona 1/8-mile track.
There are often events going at the Barona Drag Strip and Speedway. Check out baronadrags.com and baronaspeedway.com to see what's happening in the future. Our calendar also lists what's happening at Barona. You can look around on there at jbaspeedshop.com/calendar.html. --Miles Cook
Photo Gallery