Around the shop, September 15th, 2022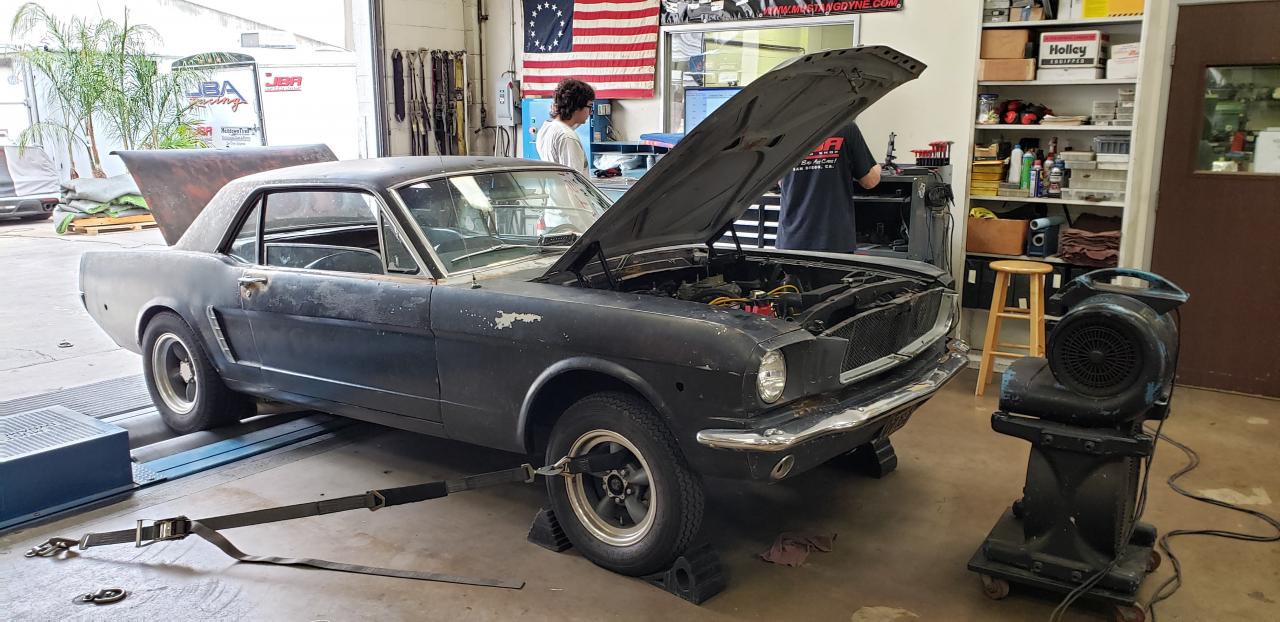 Goldwater doesn't have a chance
against this built 289
Were you to ask all of the 30-plus people who work here at JBA Speed Shop if they are car enthusiasts, we'd wager just about all of them would say emphatically "yes."
From the 10 or so shop techs, to our three service writers, to our machinists, to our marketing guys, (which includes your humble author who has been writing about all this fun stuff for more than 30 years) and all the other hats worn around here, we are car people (both younger and older) to be sure and that's one of many reasons why we like to work here.
And so this week, we're turning the spotlight from customer cars to a good old-fashioned noisy hot rod built by one of our own--shop machinist and youthful San Diego State University Engineering major, Ethan Moradzadeh, who has built this '65 Mustang into a street/strip warrior with an old-school look that we oldsters also love.
Definitely more go than show, Ethan and ourselves don't really care what this car looks like. Or maybe we do, because its patina all-business street-racer vibe is 100% on point and it's a great change up from some of the super-shiny iron we see that some of is plenty show, but not much go.
This one is the opposite and two main elements make it so. First is the lightweight '65-'66 Mustang coupe body style that certainly "adds lightness" to the tune of well under 3,000 pounds--probably around 2,800 or so for this car all in and ready to rock.
The second part of the equation and somewhat of the main spotlight here, is the engine. Ethan related, "I wanted to build an old-school, high-revving stock-stroke 289 for this car." He also said, "today's high-torque 331, 347 and 363 stroker motors are great and all that, but I wanted to instead go with high-rpm power and see what myself and the guys in our machine shop could squeeze out of a modest but high-compression 289 short-block with a big cam and top-level AFR cylinder heads."
The result of the build is certainly a high-revving buzz bomb that spun the dyno at upwards of 7,000 rpm with a mix of high-quality parts, but in the end, not super exotic. And that's the beauty of 8.2-inch short-deck small-block Fords--you can build a lot of high-rpm power (or stroker-motor torque) without having to go unobtainium in the process.
Beginning with a 302 roller-cam block bored 0.040-inch over, the rotating assembly (crank and rods) is pretty much stock 289, which means a stock 2.87-inch 289 stroke. A set of forged-aluminum Icon pistons complete the basic around 294-or-so-cube short-block picture and they net an 11:1 compression ratio with a pair of CNC-ported AFR 165cc aluminum heads on top.
The cam is an Anderson Ford Motorsport (AFM) N-71 hydraulic roller with a .576-inch lift and 232/240-degree duration at 0.050-inch tappet lift. It moves Ford Racing lifters and Comp Cams roller rockers in the stock 1.6:1 Ford ratio.
Topping off the high-revving 289 is an Edelbrock Victor Jr. single-plane intake and a Holley 750 double-pumper with mechanical secondaries. On the exhaust side are a set of JBA full-length headers with 1 3/4-inch primary tubes.
Other pieces related to fuel, spark and lubrication are a Holley high-flow fuel pump; an MSD pro-billet distributor, a 6AL ignition box and a blaster coil; and a Milodon eight-quart oil pan with a Melling high-volume oil pump.
As for the car, power is put to the ground through a wide-ratio Toploader four-speed with a McLeod Super Street Pro clutch and a Hurst shifter. Going a little bit to the later-model side of Ford rearends instead of a 8- or 9 -inch, Ethan opted for 8.8 out of an Explorer SUV that's basically as strong as a 9-inch in the vast majority of cases.
It's fitted with shortened 31-spline axles, 4.10 gears and a limited slip differential. There are also Mr. Gasket slapper bars and a Hurst Line Loc to get the stock-style Ford/Kelsey Hayes front disc brakes to be of assistance in the burnout box.
The mimimalist bent continues with manual brakes and steering, and a set of timeless American Racing Torq-Thrust D wheels--15x8s in back and 15x4 skinnies in front.
So back to the engine. What does the combo make? As you can see in the photo gallery's dyno numbers, this little bullet knocked out almost 430 horsepower on JBA's engine dyno with a peak of 428.7 at 6,500 rpm. An equally impressive 358 lb.-ft. of torque was also produced, even though the build was meant to be a high-revving combo rather than a low- to mid- level rpm torque maker.
Now that Ethan has gotten the engine in the car and up and running, he is doing a fair amount of test-and-tune work by running around the side streets nearby JBA's headquarters.
The next step will be getting the car on the shop's Mustang chassis dyno in preparation for a trip to the Duct Tape Drags (ducttapedrags.com), set to take place at Tucson Dragway, September 30th and October 1st, 2022.
We'd wager Ethan will have good fun running his dragstrip track rat down the Arizona desert's 1320 and we will update the results here. --Miles Cook