Around the Shop - February 16th, 2023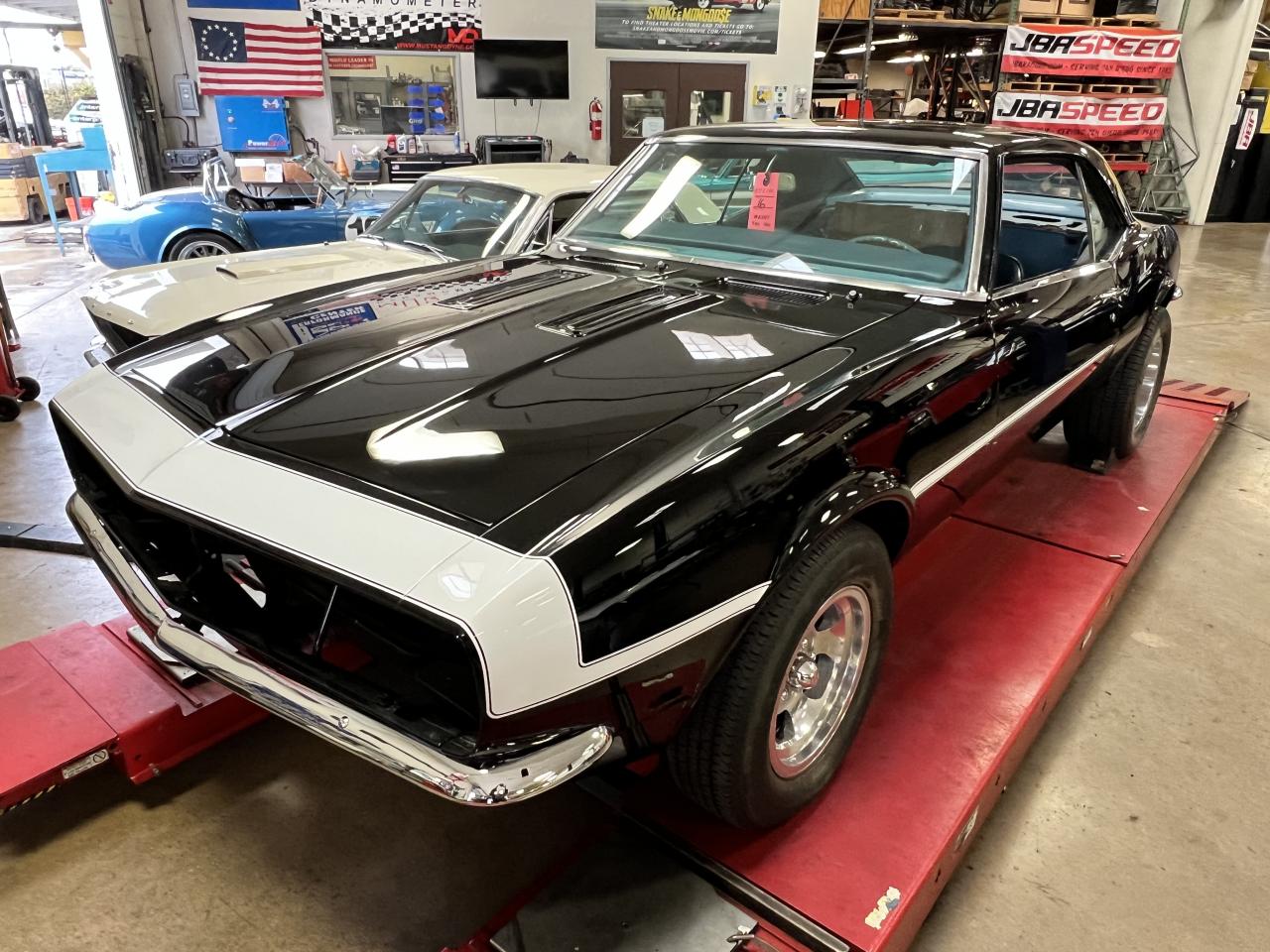 First-Gen '67-'69 big-block-powered Camaros
are always Badass. You'll see what we mean with
this freshly built '68!
We love '67-'69 Camaros here at JBA Speed Shop. These First-Generation classics are red-hot collectibles and are universally loved by almost all Chevrolet guys, including your faithful JBA Speed Shop editor. I have owned no less than 10 Corvettes, two First-Gen Camaro convertibles and a '67 Chevelle, so I know and love Chevy muscle as much as most of my fellow Bowtie fans.
So given all that, the shop has been fairly excited to see this black '68 come together in the three-or-so months the car has been here. Arriving basically as a roller--with flawless new body-and-paint work--we have been working away on the car with its knuckle-dragging, street-racer vibe being at the forefront of the build.
First up on the docket, was the Camaro's 468-cubic-inch big-block that the owner had on hand. Though it was built about 10 years ago, it was still new on the wood pallet and hadn't been installed when the car and engine arrived here. So that gave us the chance to put it on our engine dyno, before we installed it in the car.
The 454 block's rotating assembly specs out with a 4.250-inch stroke and the stock bore was taken 0.060-inch over. On top is an Edelbrock Peformer RPM Air Gap intake and a Holley Black Diamond 850cfm carb. Ceramic-coated Doug's headers are also part of the under hood landscape and they connect to a new 2 1/2-inch exhaust system with Flowmaster mufflers. There is also an MSD Pro Billet distributor and a Blaster II coil. Underneath is a Milodon oil pan
With a mild 9:1 compression ratio, and a nice mid-level flat-tappet cam that has a 230-/236- degree duration at 0.050-inch tappet lift, providing stout torque-laden street performance, the engine was no dog on the horsepower side either. Rated to make about 440 horsepower by its engine builder, it actually made a fair amount more than that. That being 461 horsepower at 5,000 rpm and 498 lb.-ft. of torque at 4600 rpm--call it an even 500 if you'd like.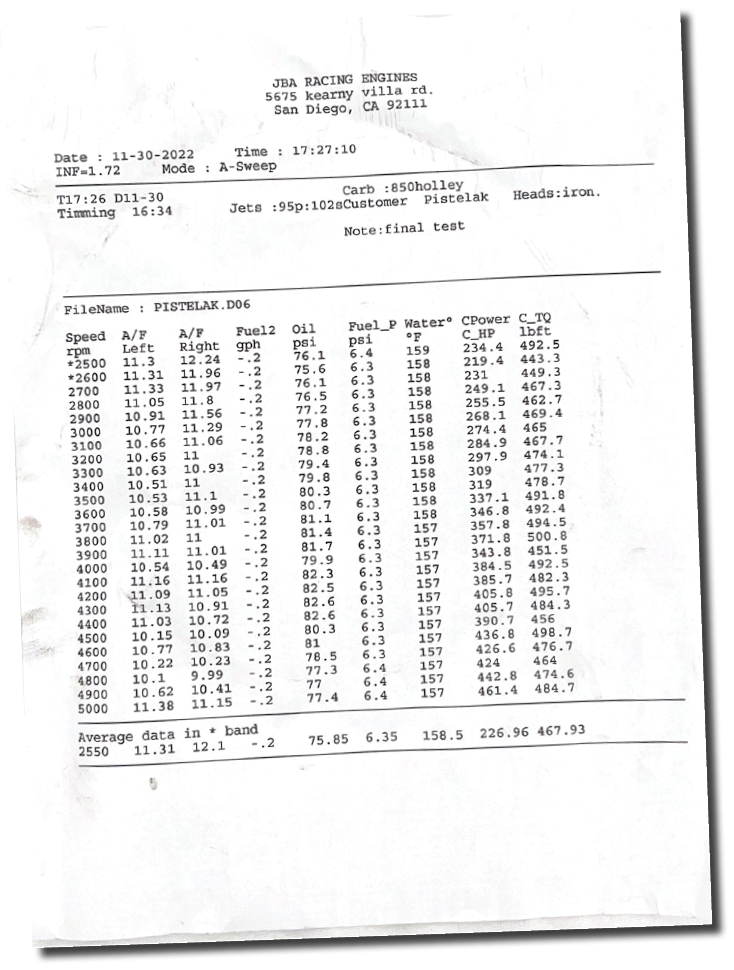 Behind the 468 is a McLeod clutch and a Muncie M-21 close-ratio four-speed, the quintessential four-gear for Chevy hot rods like the Camaros, Corvettes, Chevelles and Novas we've worked on, driven and enjoyed.
The car's classsic American Racing dish mag 15-inch wheels are home to 205/70R-15 tires in front and 245/60R-15s in back. With room for 255/60s or maybe 275/60s in back, the owner is giving that some thought, after maybe melting down the 245s a little bit, under the 468's massive boat loads of torque!
A historical look at this particular '68 via its VIN and camaros.org, reveals good-to-know straightforward factual elements. Breaking down VIN 124378N361653 tells us the following:
1 = Chevrolet
2 = Camaro
4= V-8 engine (3 would be a straight six)
37= coupe (67 would be a convertible)
8= 1968 model year (7 would be 1967, 9 would be 1969)
N= Norwood, Ohio assembly plant, near Cincinnati (L would be Van Nuys assembly plant, near Los Angeles)
361653= vehicle serial number sequence
It's also worth noting that camaros.org says that 75 percent of '67-'69 production was at Norwood, Ohio. The remaining 25 percent came out of the Van Nuys assembly plant, which was in the San Fernando Valley area of Los Angeles. Like many of these factories from the 1960s, it's ancient history today.
So there you have it. A badass big-block '68 Camaro ready to go straight outta JBA Speed Shop. With fresh paint and a nasty 468 along with a Muncie four-gear, we can't think of a better way to build, drive and enjoy a vintage First-Gen for the street, the cruise night or the occasional foray to the strip. We dig it! -- Miles Cook
1968 Chevrolet Camaro