Around the Shop - January 18th, 2023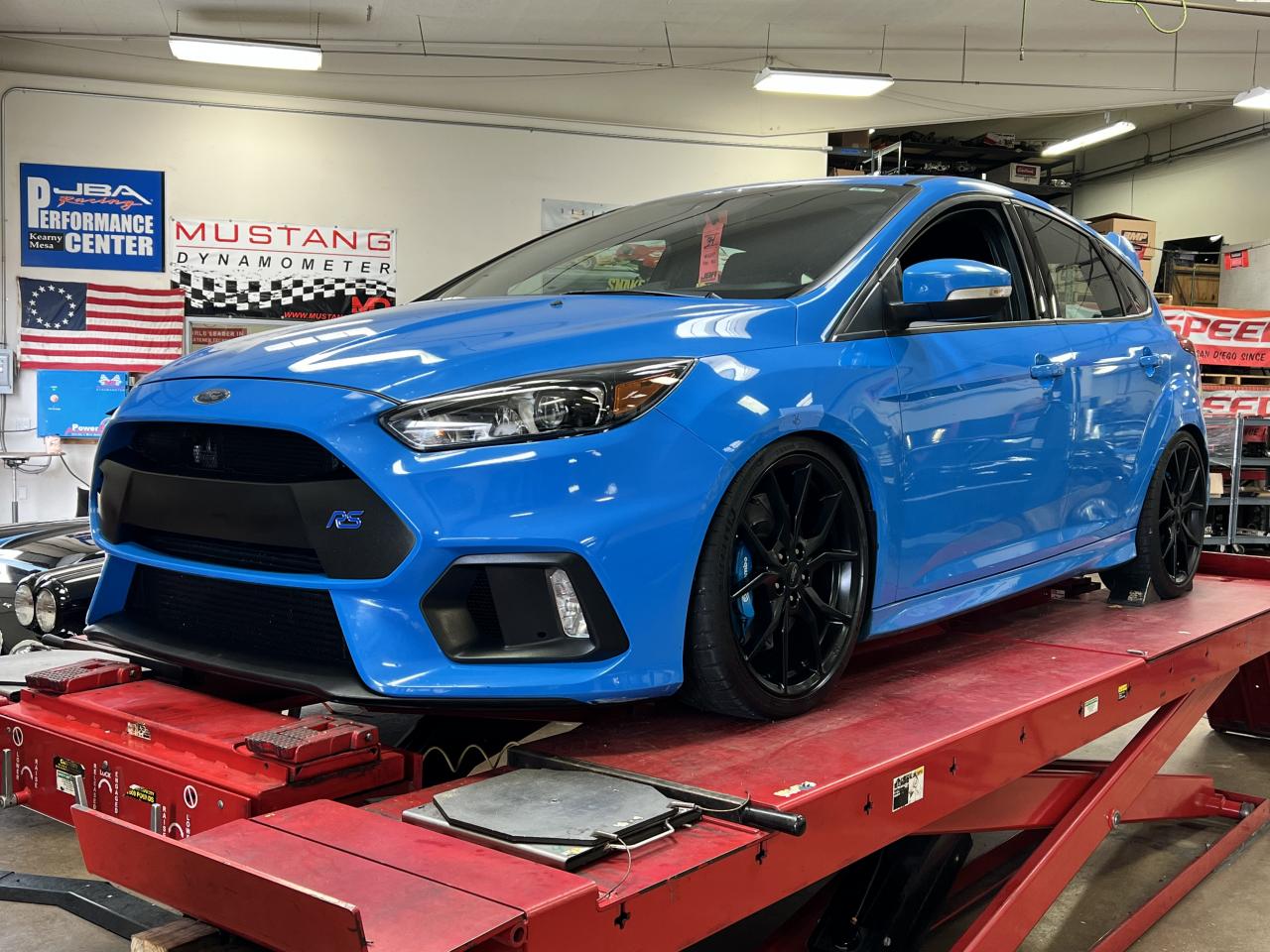 Focus on a Focus?
Introducing Dave Carson's Ford Focus RS,
equally at home on the street or
the track
JBA has a storied history of producing big power and great handling Fords. Whether it's prepping a vintage GT350 for numerous vintage racing victories, or negotiating increasingly draconian emissions regulations while simultaneously developing and installing power adders for late-model Mustangs that will see double duty on public roads and area drag strips, JBA does it all.
When it comes to performance, Ford's Aluminator and Coyote V-8s continue the tradition of the storied Windsors, Clevelands, and FE V-8s. As anyone with even a passing interest in high performance knows, JBA has partnered with Ford to develop and optimize these powerplants for big horsepower and high speed since our inception as a performance shop. Any visitor to JBA will likely witness everything from high-reving 289s being developed and tested on our engine dyno to built 427 big-blocks being hoisted into numbers-matching and original Shelby 289 and 427 Cobras.
While high-power V-8s are the first thing many folks think about when mentioning JBA, Ford and Performance in the same sentence, Windsors, Clevelands, Cammers and FEs aren't the only game in town when it comes to Ford horsepower. While Ford Cobra Jets were racking up wins on drag strips throughout the country in the late 1960s and early 1970s, simultaneously small four-cylinder engined Cortinas were dominating road races on both sides of the Atlantic. Throughout the so-called "Mailaise Era" of the 1970s, Ford with the help of firms like Cosworth, were able to produce fire breathing high reving rally cars on the Escort platform equipped with "lowly" four cylinder engines. While JBA was partnering with Ford to achieve supercar performance with V-8-equipped Dominator Mustangs, turbocharged four cylinders offered a high-performance alternative for V-8 Mustangs, while cars like the venerated RS2000 showed the world the capabilities of Ford Racing's expertise with forced-induction powerplants with less than eight cylinders.
Today JBA continues to be a dominant force in the world of high horsepower. While our expertise is well known among Mopar and GM enthusiasts, JBA has always had a special relationship with Ford and our expertise isn't limited to V-8s either.
Take Dave Carson's 2018 Focus RS. These cars are amazing performers just the way they rolled off the dealership floors. However, after taking part in his first track day, Dave was hooked on racing and came to JBA to see what could be done to make his "hot hatch" even hotter.
We addressed the brake fade he was experiencing through the installation of an integrated brake cooling system that forces cool air onto the rotors and calipers through composite piping and venting. This coupled with track-optimized brake pads and fluid allow the big Brembos to maintain their performance lap after lap.
The Focus RS is an amazing handling car in its stock form--nonetheless it has certain limitations based on the fact that despite its performance and pedigree, it is at the end of the day, a road car built on the bones of a lower-price-point economy hatchback. While the stock RS suspension and alignment are well suited to spirited street driving, a set of performance coil-overs coupled with heavier spring rates and an optimized ride height will certainly improve the car's performance on the race track. A stock Focus RS has active suspension control and the dampers react to the settings of the car's respective driving mode, which are selected by pushing a button. In general, installation of an aftermarket coil-over system would remove this functionality and the ability to adjust damping on the fly would be lost. One would assume some compromise would need to be made to get the on-track handling Dave was looking for.
Dave wanted the benefits of a race-tuned suspension but ideally he didn't want to sacrifice the versatility of the adaptive driving modes. Fortunately, JBA was able to partner with the German suspension giant KW and identified a solution. KW recently developed the DDC Plug and Play coilover kit for the 2016-2018 Focus RS like Dave's. The dampers in this stainless steel coil-over kit are controlled by the car's on board electronics and all the stock functionality is maintained. By replacing just the stock struts and dampers and connecting the KW DDC's plugs, the stock sensors are able to recognize the electronically controllable KW dampers and control them regardless of driving mode. There is no need to intervene in the control unit or bypass any of the vehicle's stock functionality.
With the installation of the KW DDC Plug and Play coil-over system, the stock driving modes are able to live up to their descriptors. In Normal and Sport mode, the Focus retains its sharp handling and performance but is even more planted and balanced while driving aggressively on poorly maintained pavement, chip and seal conditions or dirt fire roads. In Race or Drift mode, the car loses nothing when compared to a dedicated touring car race-suspension setup such as KW's Elite Cup 2 systems. On track, the car now handles and performs like an optimized LeMans GT or professional drift car.
As a finishing touch, JBA modified all four hubs with stiffer and stronger ARP wheel studs, and addressed traction and rotating weight issues through the installation of 18-inch lightweight alloy wheels and high-performance Nitto NT01 tires. (The wheels and tires pictured are the 19-inch stock wheels shod with 235/35ZR19 Michelin Pilot Sports that see duty when the Focus is called upon to provide daily driving duties.) JBA also addressed handling concerns through a precise four-wheel alignment and dynamic corner balancing of the vehicle.
While the performance of Dave's Focus RS is drastically improved both on the road and on the track, there are always improvements to be made. Going forward, JBA is exploring options to allow for an even more extreme camber set up which should improve turn-in and allow for even higher entrance speeds on some of the more technical tracks Dave competes on. Vorshlag caster/camber plates are an option going forward which will allow independent adjustment of the vehicle's camber measurements.
We've worked on, driven, and built numerous amazing handling cars over the years here at JBA. Dave's Focus RS is no exception and represents possibly the most versatile road AND track car we've produced in some time. Who says you can't have your cake and eat it too? Probably the same folks who think rear-wheel-drive cars with pushrod V-8s are the only game in town when it comes to bad ass Ford hot rods. Dave's track-ready Focus RS is proof positive that JBA can do just about anything when it comes to high performance Fords. And we haven't even touched the engine yet!
--Craig Gaulzetti
2017 Ford Focus ST/RS/ Fiesta