Around the Shop - December 18th, 2022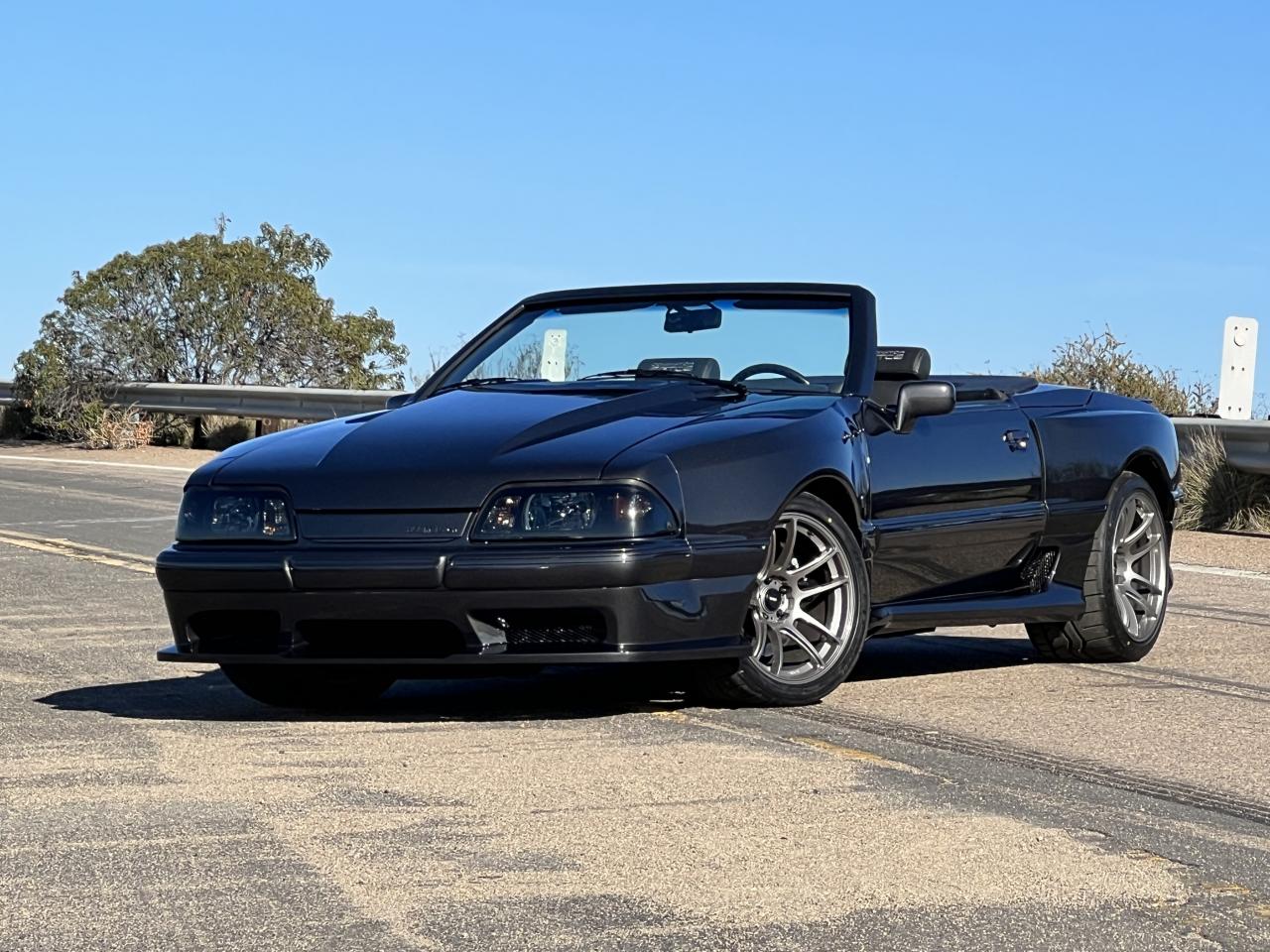 The JBA Dominator Fox-body Mustang line-up is Making its Debut for 2023. If You're a Major '79-'93 Mustang Fan, You Will Want to Take Note
TEAM Dominator Returns! – JBA Dominator GTC
The story is an uncommon one. It is a story that the creators (J. Bittle and his Team) have decided to continue. It will inherently be reverberating for years to come, as JBA again rekindles another segment of the needy American automotive hot rod market, adding to JBA lore while impacting those still involved and building performance Mustangs and making aftermarket history. A contemporary JBA Dominator Fox body Mustang is coming. Not since 1993 has the Fox Mustang platform been the basis of aftermarket wide-body dominance in Mustang design. This relaunch targets fans of the Gen 3 Fox body Mustang just like it did originally from 1989 – 1993 when Trans Am Mustang design dominated Pro-road racing.
Introducing the 2023 JBA Dominator GTC Ford Mustang!
Looking back to 1979, Ford's development of the new Fox body Mustang, under the guidance of then global vice-president of design Jack Telnack, single handedly revived the love of the original Ford pony car following years of squandering the brand so hurt by the second-Generation Mustang.
The Ford Mustang is arguably one of the most successful American sports cars in domestic automotive history. Even after several generations in which the core ingredients seem to have gotten lost in the shuffle. The 1974-1978 Mustang II generation forced the platform change due to many things including the infamous 1970s gas crunch and massive increases in insurance premiums targeting all the performance cars of that generation, in effect, extinguishing the muscle car era.
When the 1979 Fox Mustang hit the streets, people were ready for the return of the original brand and passion and the Fox immediately gained momentum in the market. Following the last V-8 4bbl 5.0 Mustang of 1985 and the Ford launch of the EEC-IV 1986 electronic fuel injected Mustang, clearly Ford Performance had returned to the street. All while impressively, SVO powered road racing IMSA and SCCA Pro Trans Am Mustang teams were winning. It was the dominance of the Mustang on the track and the street that built the widespread reputation of these now modern state of the art, rear wheel drive American V-8 powered pony cars.
Ford and Shelby American dominating American and international racing in the 60's creating a new generation of Ford enthusiasts. In the mid-1980s the next generation was looking to be inspired as Ford re-entered the motorsports world competing and again dominating in the IMSA and Trans Am professional series. During this period a small southern California company began impacting the street performance and regional racing markets inspired by Ford's racing and performance product lines. This company J. Bittle American, Inc. opened in 1985, grew rapidly to become Saleen Motorsports Parts Division and ultimately Ford's number one Motorsports Distributor nationwide, including earning half a decade of Ford Motorsports Top Ten Distributor Awards (1987-1992). It was during this time that J. Bittle looked for new ways to dominate the street Mustang after-market, bringing perhaps the next level in street-performance to this now maturing Fox platform and enthusiasts of Ford Motorsport.
Following several years of very successful after-market Ford high-performance business expansion, "J" Bittle with a history of road racing and drag racing Shelby Mustangs, was no novice in the Ford performance world and in short order developed a Ford Performance sales foundation setting Ford component after-market sales and service records for many high-performance industry companies including legendary manufacturers in the performance aftermarket. JBA was dominating.
A few years later, JBA Headers was born with the invention of the original "Cat4Ward" Shorty-header that took the automotive performance world by storm. While building the iconic exhaust JBA Performance Exhaust brand, J never lost sight of his passion for automotive performance and excellence.
In 1989 J Bittle was granted an opportunity to get his hands on a new 25th anniversary edition Fox Mustang by special request from the ranks at Ford Motor Company with the sole purpose to compete (and Dominate!) in the Road & Track High Speed Shoot out at the Nissan Test Facility later that year. In less than three weeks, J and his performance engineering team built the one-of-one Dominator GTA, most notably known as the only IRS Fox-body car ever built at the time. The JBA Team Dominator Mustang GTA did as promised, and as titled, it Dominated in all areas of measurement including the only naturally aspirated Mustang to run 175 mph recorded to that date!
That, in and of itself, could be called a complete success. But there was more! Following the GTA's success, San Diego's "JBA Speed Shop" created and launched the Dominator GTB program to cater to the fans and owners of '79-'93 Fox-body Mustangs. Now everyone could have a JBA Dominator Mustang and second generation JBA Dominator GTB was born. Like its GTA predecessor, the GTB was built for performance as well as the unique wide-body look. Unlike the "all steel" construction of the GTA, the GTB was released as a complete body kit molded in fiberglass and ready to meet expected production demands. With kits being produced, the JBA Team Dominator GTB #001 was campaigned on the track which included winning in 3 of 6 performance categories (0-60 time, quarter mile and lateral "G") as well as Domination of the new ZR1 Corvette and Dodge Viper in the February 1994 Motor Trend "Trained Assassins" tuners feature.
The Dominator GTB was offered in three performance levels from mild to wild. An entry-level appearance package with a few suspension and handling upgrades, on up to a full-tilt supercar equipped with a high-performance small-block Ford engine making 500-plus horsepower. A full menu of competition suspension upgrades was also included among the many options.
Now nearly four decades later, the JBA Dominator Mustang is making its long overdue and highly anticipated return. The Dominator GTA, originally developed to go toe-to-toe with the domestic and European exotics of the 1980s, participated and outperformed in print-magazine comparison tests such as just mentioned. The Dominator GTB then launched in 1993 as a complete special vehicle development program just as the Mustang shifted into major redesign known as the "SN-95" in 1994. While the Dominator GTB cars were well received by Mustang enthusiasts and won on the Streets, Drag Strips and Racetracks, the timing was just off target.
Now, with the upcoming 60th-anniversary of the Mustang not far away in 2024, an all new upgraded and updated JBA Dominator GTC is poised to help celebrate and participate in this significant Ford Mustang milestone.
The JBA Dominator GTC is offered as a widebody package able to house today's latest large-size high-performance wheels and tires in both 18" and 19" diameters. The body panels are hand-laid fiberglass with optional carbon fiber in modern tooling. The panels attach with high-strength OE-type fasteners. These generously sized fenders, with inspiration taken from Trans Am and IMSA-style racecars, allow the aforementioned Street/Strip hugging wheels and tires to fit. Of course, this instantly improves the handling characteristics of the car. As was done previously, the JBA Dominator GTC will be offered in three performance levels. Complete GTC interior kits are also now available with custom embroidered head rests and optional stitching colors.
The JBA Dominator GTC Mustang is not just an appearance package. The entry level JBA Dominator GTC "Impressor" includes a JBA tuned suspension using JBA selected components which greatly improves handling. This setup provides excellent performance while maintaining good ride quality. Pushrod 5.0 engine power-output is also improved with induction and exhaust upgrades.
Stepping up to the JBA Dominator GTC "Controller" level adds more suspension and handling upgrades as well as JBA headers and custom exhaust system making it ideal for open track events.
The JBA Dominator GTC "Domination" level includes all of the above but continues to fine tune the suspension system for the more competitive driver adding coil-overs, an adjustable swaybar, a bumpsteer kit and a strut tower brace.
A 300-400-horsepower 5.0 engine upgrade, coil-over suspension, [an]optional wheel/tire setup[s] and Wilwood four-wheel disc brakes are also added.
Finally, the Dominator GTC-R Race package adds a custom-built stroker 5.0 engine in a 331-, 347- or 363- cubic-inch size with around 500 horsepower and optional supercharging for beyond the 500-horsepower level. Suspension will include an SLA (short-long arm) front setup and a torque arm in the rear.
Clearly, all levels of the JBA Team Dominator GTC will be built to do what they will do best. Dominate!
Dominator GTC by JBA