Around the Shop - November 17th, 2022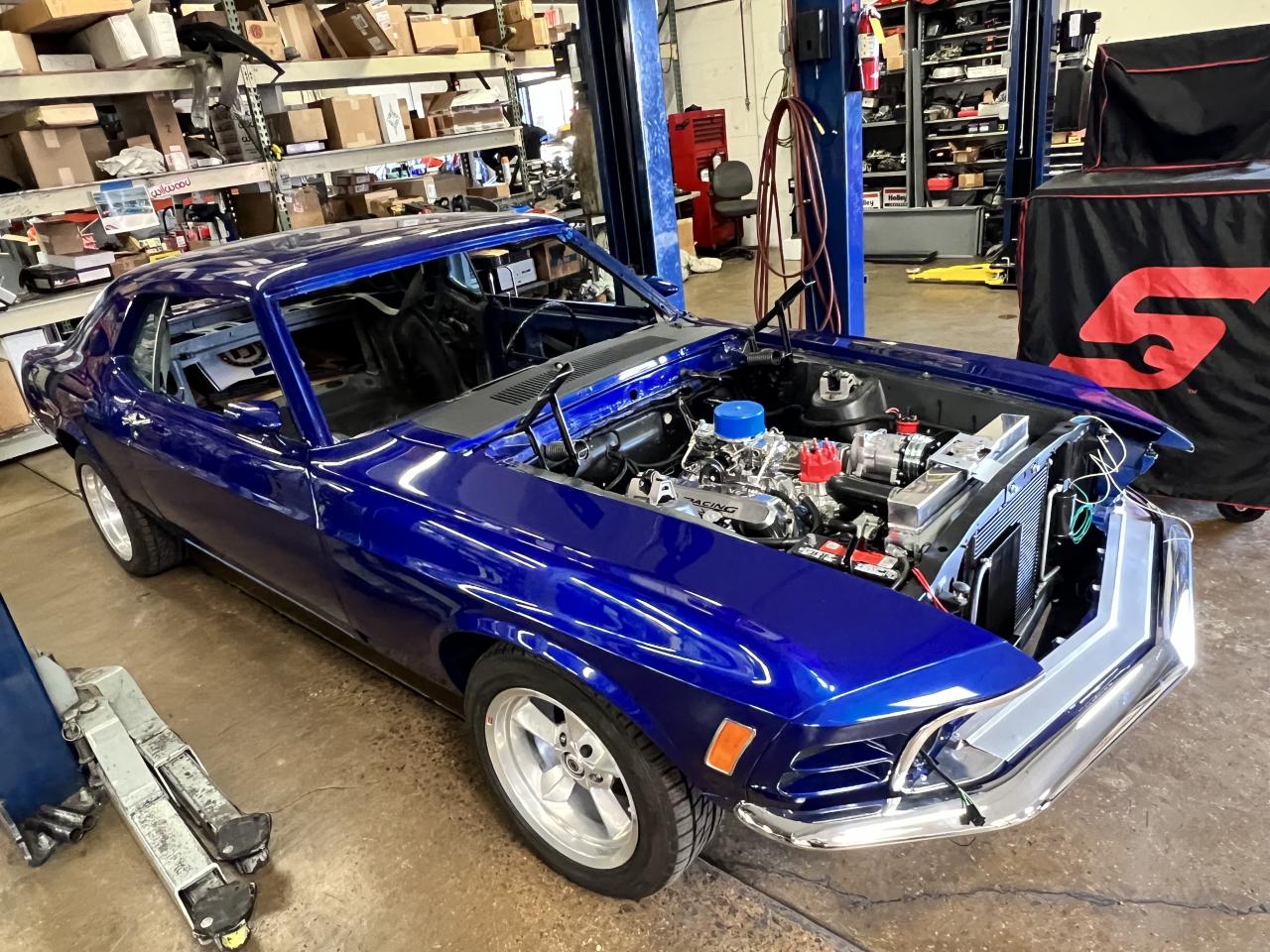 Arriving with fresh paint, we're putting together a '70 Mustang coupe roller that will be a
super-nice street machine once assembled and back on the road
Over the past five or so months, we've written up a good number of "Around the Shop" Web items covering numerous vintage Mustangs, along with some articles on later-model Fox-body, S197 and S550 cars as well. You can see all of these stories throughout our "Around the Shop" series that's posted here in the "JBA Speed Shop News" section.
Those write-ups on early Mustangs have covered mainly those from the '65-'68 model years, as we hadn't really gotten to those equally timeless '69-'70-era cars until now in the form of this very nice '70 coupe that came to us with its spectacular 2003 Ford (Mustang and SVT Focus among others) Sonic Blue finish already in place.
Arriving here as a bare-shell roller, with nothing on or in it besides front suspension and a rear axle, we're taking on the task of turning this '70 into an ostensibly new Mustang with an all-fresh drivetrain, suspension, brakes, interior, wiring and everything else needed to make a whole running and driving car.
A brief look at '69 and '70 Mustangs, shows that the '69 was a major update in terms of styling and overall vibe compared to the '67 and '68 cars. All three body styles (coupe, convertible and fastback--or newly-at-the-time-coined sports roof) had what many consider to be a more rakish appearance that also suggests more speed than the '65-'68 Mustangs. It's sometimes said that some '69s and '70s, especially with a lower ride height, larger diameter wheels and lower-profile tires, "look like they're going 100 mph standing still."
Engine choices for '69s and '70s were also about at their peak for the '65-'73 era in terms of variety ranging from 250 straight-sixes; 302s in both two-barrel and Boss 302 form; two- and four- barrel 351 Windsors and Clevelands ('70 only for the 351C); 390s ('69 only); 428 Cobra Jets and Boss 429s. Automatic and manual transmissions were available with all the engines, except for the Boss 302s and Boss 429s, which were all four-speed manuals only.
And these days, '69s and '70s are also very desirable among vintage Mustang fans. And while '69-'70s are similar to one another, they are more different than the '65-'66 and '67-'68 pairs, which are almost identical in many ways in terms of body panels and overall appearance. As for those '69 and '70 differences, this guide provides a comprehensive look at what makes each of the two years different:
https://www.motortrend.com/features/1811-1969-1970-ford-mustang-spotters-guide/
Getting back to the '70 shown here, it will roll with a 347 short-block topped with a pair of TFS Twisted-Wedge cylinder heads and Trick Flow roller rockers. The carb and intake are a Holley 750 and Weiand Stealth, respectively, while a pair of JBA ceramic-coated headers will be part of the exhaust system. Though the 347 is carbureted, the 4R70-W four-speed automatic overdrive transmission will be electronically-controlled with an MSD atomic stand-alone transmission controller (https://www.holley.com/products/drivetrain/transmission_controller/parts/2760). Also from MSD is one of its Pro Billet distributors as well as a Blaster coil.
Suspension components have yet to be installed and finalized, but a full set of Wilwood four-wheel-disc brakes have already been installed as well as a Wilwood master cylinder. Other procedures also in process include installation of the main wiring harness, a transmission cooler, brake and fuel lines and the exhaust system.
With the body and paint basically complete, as well as the mechanical elements of the build well in hand here at the shop, the interior-assembly part of the car has yet to begin. And as the project progresses, we're planning to have another update here as it moves closer to being a complete roadworthy, running and driving car. We look forward to that day as well as being able to report on it. --Miles Cook
'70 Mustang Coupe