Around the Shop - October 23rd 2022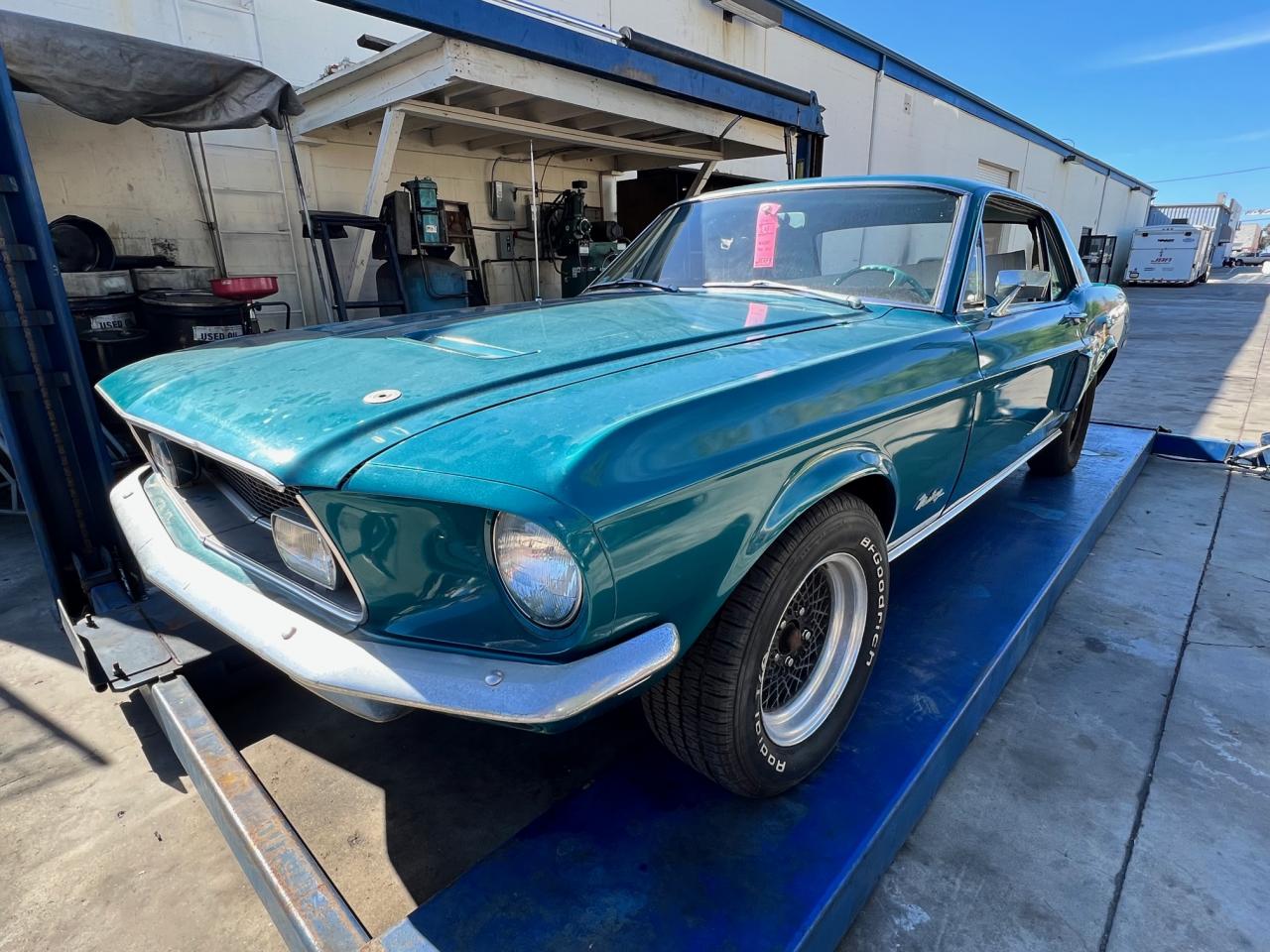 On the Road to Getting Back on the Road, a '68 Mustang California Special Arrives at
JBA Speed Shop to Begin the Journey
For the most part, we usually take a look at cars that are in the shop after work on them has been completed. For this '68 Mustang California Special, we are going to do the opposite.
We began swapping E-mails with the current owner about three months ago and the car has just now arrived via transporter from the San Francisco Bay area. Once here, we got the car on a lift, where it was plain to see this Cal Special had been nicely preserved with rust-free floors and an overall very nice-and-dry condition.
The first E-mail we received from the owner was quite well-written, so we'll give him the floor as follows:
"Hello, I have recently acquired a 1968 Ford Mustang, California Special C-code, 289 two-barrel car. The original color is Gulfstream Aqua and overall it's in pretty good shape.
"The car was garaged for the last 20 years and covered in a carport for seven years prior to that. It has 83,000 miles on it with about 9,000 on the 289, which was rebuilt in 1992.
"Unfortunately, it has not been driven much in the last 10-15 years and it was running and drivable up to that point--I'm sure you've heard that story before.
"I have various short- term and long- term aspirations for this car and it's quite sentimental to me as the previous owner was my best friend from high school and he has recently passed away from cancer.
"In the short term I would like to get the car running, safe, drivable, and restored to a good original appearance. Since it's no longer a 100-percent original car, I am ok with swapping some original parts out for newer modern components, such as better brakes and other safety items.
"To get the car back on the road, I figure the fuel system will need to be flushed and maybe it might need a new fuel tank. Other typical procedures I figure might include flushing the cooling system, changing the oil and swapping out the points and condensor for a Pertronix Ignitor ignition module. A new set of tires would also be a good idea. I have a set of Wilwood front-disc brakes for the car, so that will also be a definite improvement. If this project is something your shop could help me with, that would be appreciated."
We can certainly help and we're honored to do so. A quick historical look at Cal Specials shows it was mainly an appearance package. The GT/CS features included Marchal or Lucas fog fights, twist-type hood pins, side scoops, a pop-open gas cap, a rear-spoiler decklid with end caps and 1965 Thunderbird taillights. Side stripes with the "GT/CS" die-cut logo, along with a rear deck lid stripe were also included, and the stripes were available in white, black, red, and medium-metallic blue.
The Cal Special was available in all standard Mustang colors for 1968 and all engine and transmission combinations, including the C-code 289 two-barrel, the new-for-'68 and one-year-only J-code 302 four-barrel, the oddish X-code 390 two-barrel, the S-code 390 four-barrel and the also new-for-'68 and snarling R-code 428 Cobra Jet, of which only three were produced in CS trim. (https://www.motortrend.com/features/mump-1210-1968-cobra-jet-powered-california-cj-special/)
Transmission choices for all '68 Mustangs were mainly a C-4 automatic for small-block cars, a C-6 for big-blocks or a Top loader four-speed manual for anyone wanting three pedals with small- or big- block FE power.
With the car in the shop and inspection underway, we're looking forward to getting this little gem back on the road. We will also look in on it here again soon, to keep you updated on its progress. Until then, take a look at the photo gallery to see why these one-year-only '68 Cal Specials (including another very nice customer car that we've worked on and you can see at the end of the gallery) are among the most desirable of all '65-'70 Mustang coupes. --Miles Cook
'68 Mustang California Special