Around the Shop - October 20th 2022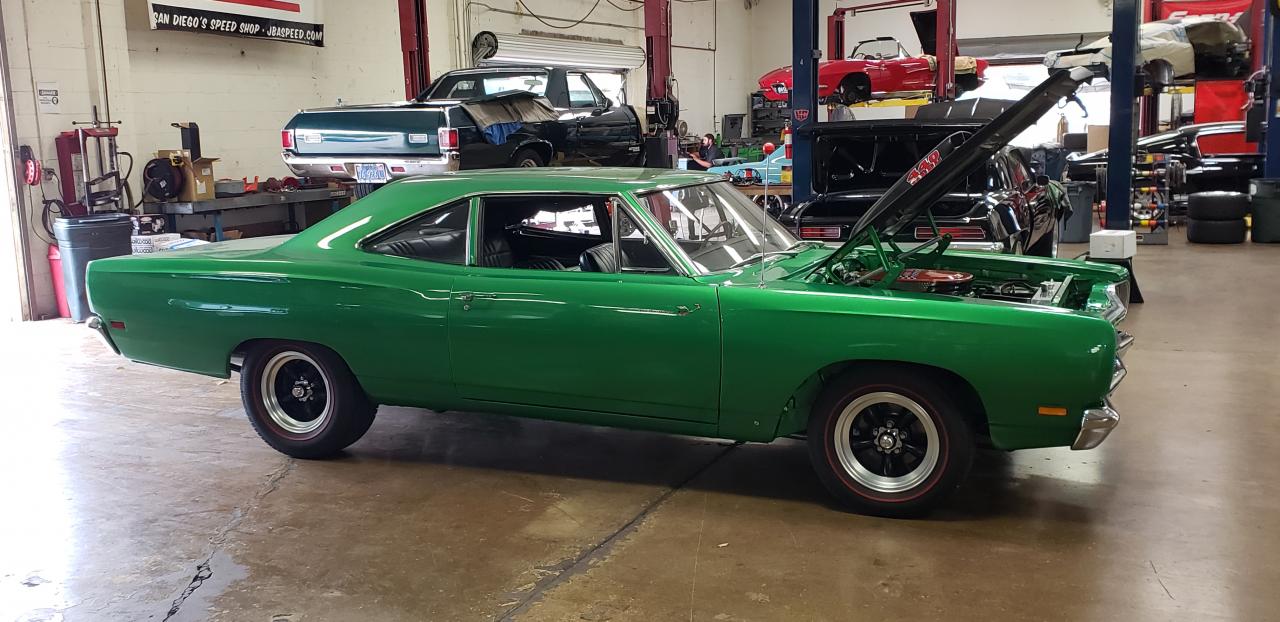 1969 440 Six-Pak Road Runner
A Super-Sweet Six-Pak '69 Road Runner and its Uplifting Feel-Good Story Come to the Shop for Some Fine Tuning
We've been doing our "Around the Shop" blog now for well more than three months. And in that time, our coverage has mainly been cars from the GM and Ford side of this favorite hobby of ours.
We love Dodges and Plymouths just as much as that same 'ol GM and Ford stew, it's just that we don't get as many of them all that often in the shop.
Well, this one makes up for that pretty quickly in our estimation and it's in the form of this super-minty-fresh '69 Plymouth Road Runner. With 440 Six-Pak power, a four-speed with three pedals and an 8 3/4-inch rear end, this car is pretty much perfect everywhere you look from its Rally Green finish on down.
A few historical tidbits as they pertain to these cars include that they were built on the mid-size Dodge/Plymouth B-Body platform. The '69 Road Runner was meant to be a no-frills model with a 383 as standard equipment. Optional engines included the 426 Street Hemi and the A12, 440 Six Pak as equipped in this car. It was available in three body styles including a hardtop, a post coupe (like the car here), and a convertible.
A Carter AFB four-barrel was standard on the 383 while the 440 was fitted with three Holley two-barrels. Meanwhile, the vaunted and rare and super-desirable 426 Hemi ran dual quads, which were a pair of Carter AFB four-barrels. Transmission options available with all three engines included an A-727 TorqueFlite three-speed automatic and an A-833 four-speed manual, like our gallery car.
The brief back story of this car as it relates to us, is that a friend (we'll call him A) of the shop has a good friend (B) who has sort of been going through the wringer with some fairly serious health issues. Friend B, with what's never a fun path as it relates to illness has a favorite car and it's...you guessed it a '69 Road Runner. So the amazing act of kindness and love is that friend A bought the car for friend B and we are genuinely tipped over and thrilled for both of them. It was a special day and we'll always remember it fondly.
So after this un-paralled act of kindness and the ceremonial presentation of the car, we wheeled it around into the shop for a few little tidbits of repair and an overall inspection, which in the case of this car wasn't much, because it's so nice to begin with.
Minor repairs included installing a new clutch-return spring and adjusting a header collector that was hitting a little bit on the transmission bell housing. We also adjusted the door latches and did some slight tuning adjustments on the three Holley carburetors.
In the end, the new owner is, of course, thrilled beyond belief--and we would be too to be able to wheel this pristine Mopar B-body around the highways and byways of life.
Furthermore, the new owner was also pretty excited to take the car to a good-sized show up in the Los Angeles area known as the Fall Fling. This event is put on by Chrysler Performance West (cpwclub.com) and we have been to this show several times. The club's April Spring Fling two-day show is another event CPW puts on and the one-day October Fall Fling is also similar good fun.
JBA Speed Shop knows the Dodge/Plymouth/Jeep (and Chrysler) vintage and late-model Mopar performance vehicles as well as we as we know the Fords and GMs, so we welcome the opportunity work on, repair, maintain and upgrade yours as well. --Miles Cook
'69 Road Runner