Around the Shop - September 29th, 2022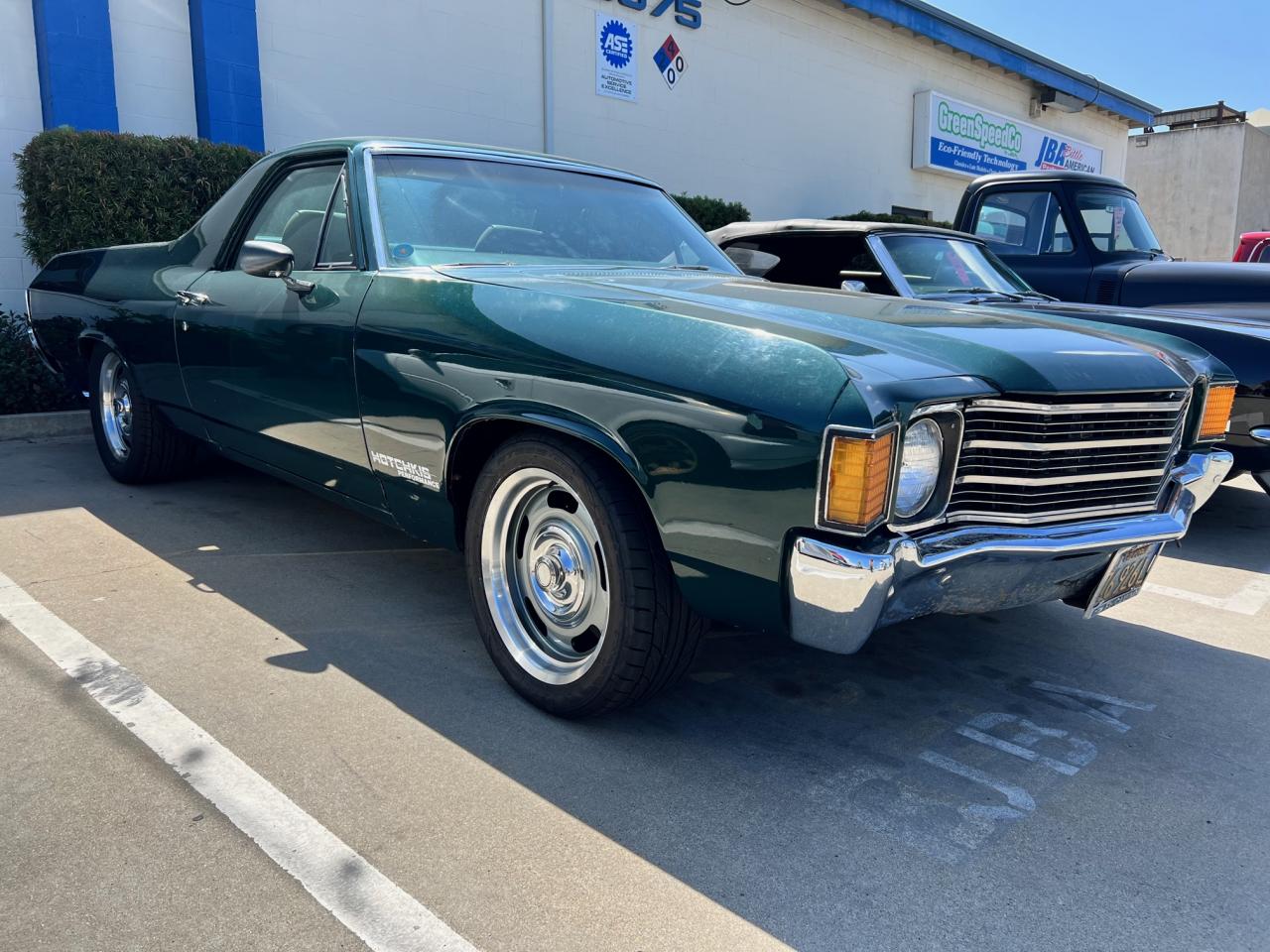 A long-term mechanical and partial cosmetic restoration
project on a '72 El Camino has been completed
We love all sorts of vintage and late-model American makes and models of cars here at JBA Speed Shop. Of course, the usual stalwarts of just about any year include the forever-popular and almost universally-loved Mustang, Camaro and Corvette.
For the Mopar fans, the primary interest with the vintage models are the B- and E- body cars, which are usually 1960s and 1970s Dodges and Plymouths. The E-body cars are 1970-1974 Plymouth Barracuda and Dodge Challenger. There are also Mopar A-body cars which include the Dodge Dart and Plymouth Barracuda, which was an A-body car from 1964-1969, before being moved to the new-at-the-time E-body in 1970. Moving to the late-model LX platform, the Dodge Charger four-door sedan and Challenger two-door coupe fill the bill for late-model Dodge enthusiasts.
Beyond those primary models, there are many derivatives and separate models like Chevy Novas and Ford Falcons, as well as Pontiac Firebirds and Mercury Cougars. Going a little bigger, mid-size GM A-body cars, and mid-size Fords like Fairlane and Torino are often a presence around here, as well as an occasional full-size model like a Chevy Impala or Ford Galaxie.
Also in the 1960s and 1970s mix, but in one sense completely different are what we are showing here and that's a "pickup car" of sorts in the form of a Chevy El Camino. Ford Rancheros are also similar (though they were based on the smaller Falcon platform from 1960-1965 and the larger Fairlane/Torino from 1966-1979). The 1964-1977 El Camino's by contrast were always based on the same mid-size A-body Chevelle/Malibu, before going to the smaller G-body platform for 1978-1987.
Moving forward from the quick history lesson of what we mainly work on here, we wanted to take a look at this very nicely turned-out '72 El Camino that has been with the original owner since new. We had it here in the shop for about a year to remove the body in order to perform a frame and undercarriage restoration. As you can see from the photo gallery, the car had already been painted when we started on this project, so we took special care to keep the finish exactly as when we got it.
Some of the undercarriage work included a full restoration of the perimeter frame and repainting it chassis black. We also did a full cosmetic redo of the car's Chevy 12-bolt rear end as well as installing a whole host of updated Hotchkis suspension components. There are also Wilwood brakes all around and Vision Wheel Chevy-style, 17-inch aluminum Rally wheels. The Nitto NT555 tires are 245/45ZR17s in front and 255/50ZR17s in back. A new fuel tank was also fitted.
Beyond that, we also built a 383 small-block for the car with a Scat rotating assembly (crank, rods and pistons) for the short-block and topped it with Flotek aluminum heads, along with a Howards hydraulic roller cam. On top is an Edelbrock 2701 Performer RPM intake and a Holley 650cfm carburetor with vacuum secondaries. Ceramic-coated JBA headers are also part of the under-hood picture as is an MSD distributor and a Blaster coil.
Behind the 383 is a custom-built 4L60-E that's controlled by an MSD Atomic stand-alone electronic transmission controller (https://www.holley.com/products/drivetrain/transmission_controller/parts/2760), that works with carbureted engines like this car's small-block. This piece is a really great setup and works with electronically controlled GM and Ford transmissions.
MSD says: "There is no longer any reason to settle on just three gears or the kick-down linkage of an automatic transmission with the number of electronically controlled four-speed automatics that are available these days. MSD takes the mystery out of setting up or programming an automatic transmission with the Atomic Transmission Controller. The TCM is based off the popular Atomic EFI series with the same goal of making installation and setup simple. The TCM (trans control module, part number 2760), includes a harness kit to match your application and those are available for most GM and Ford four-speed automatics. Once connected, you'll be able to modify the operating parameters of the transmission such as the shift points, torque-converter behavior, shift firmness and more. The Atomic TCM allows simple parameter adjustment using the supplied hand-held monitor. The hand-held connects to the Atomic TCM and can be left in place in the car to monitor the transmission in real time, or disconnected once the configuration is complete.
"Once installed and connected, you need only specify a few basic parameters that are listed in the initial setup menu. First and foremost, select the type of transmission you are using, such as a GM 4L60-E or Ford 4R70-W. Other required fields under initial setup include the number of engine cylinders, rear end gear ratio (and transfer case ratio, if applicable), and tire height. Once the initial setup has been completed, you can start and drive the vehicle while taking advantage of the advanced setup menu items to dial-in the transmission to your liking. From the advanced setup menu, you can control shift points and characteristics like shift feel and torque converter operation. There are also options allowing adjustment of the desired wide open throttle (WOT) shifting, vehicle speed sensor configuration, and more. Data available for viewing includes engine speed, vehicle speed, throttle position, transmission fluid temperature, shifter position, current gear and more."
All in all, this classic El Co came out great and is a super-cool street machine, with the added utility value of a generously-sized pickup bed mixed in. And we are glad to see it through to completion. --Miles Cook
'72 Chevrolet El Camino