Around the shop, July 18th, 2022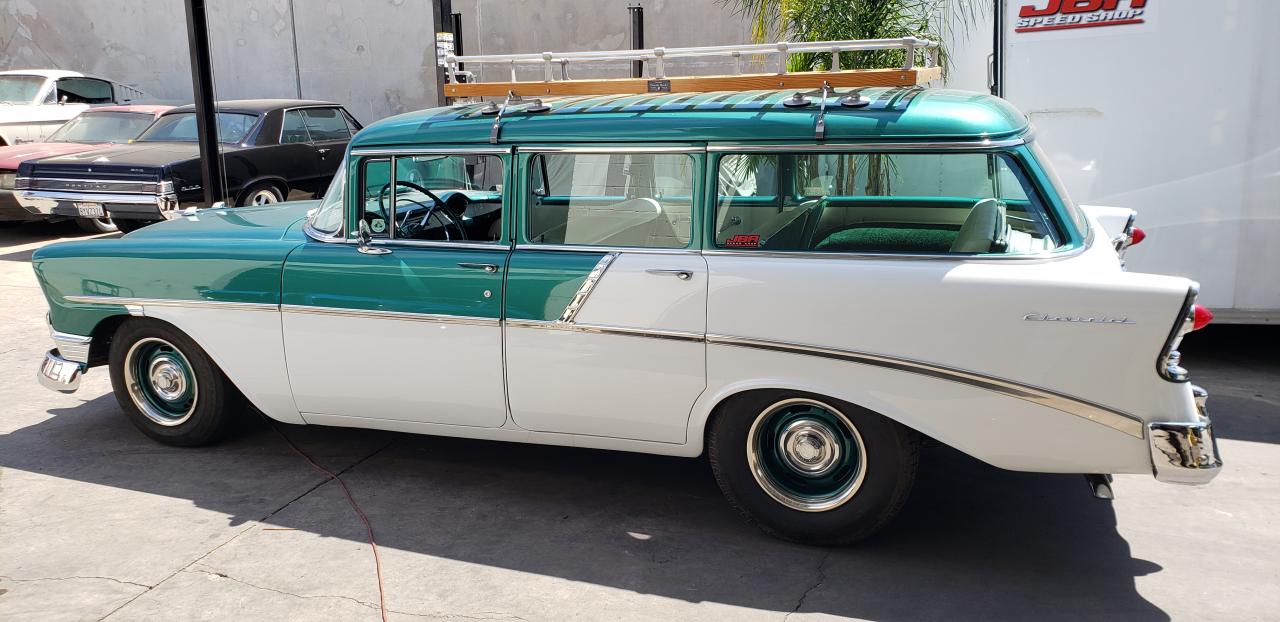 Repairs and Upgrades on a Pair of GM cars
We work on a large helping of vintage and late-model Ford cars here at JBA Speed Shop. But Fords aren't the only make we help customers out with on a daily basis. With that in mind, we walked out to the shop looking for some GM iron to show you and we found a pair of sweet rides that we think most Chevrolet and Pontiac fans will find as cool as we do.
Shoebox Chevys are about as timeless as it gets--just about any '55, '56 or '57 is super desirable these days and this minty-fresh '56 Bel Air wagon fits the bill in spades. Close enough to a two-door Nomad wagon, this super-straight more-door now sports a JBA-freshened-up 350 small-block underneath its Edelbrock (edelbrock.com) aluminum heads and Performer RPM intake. On top is a Holley (holley.com) EFI system that brings this '50s classic into the 21st Century in terms of air/fuel management.
Besides the new motor, there are a number of other great touches on this car that are worthy of mention. Of course what Chevrolet car (Corvette, Camaro, Chevelle or Nova for added examples) doesn't look great with a set of 15-inch Rally wheels painted body color, complete with one-year-only '67 flat center caps? We also dig the really cool Classic Racks (classicracks.com) wooden roof rack.
Besides those goodies, the car is also fitted with a Classic Instruments (classicinstruments.com) gauge cluster that is worlds beyond what was offered in 1956. All in all, this '56 is super nice and ready for surf city or the local cruise night.
Besides Chevys, we all know there's another whole world of popular GM cars out there and we're talking of course about all the BOP (Buick, Olds, Pontiac) special-interest vehicles and muscle cars produced through the 1960s. Pontiac fans will want to take note of this lovely '67 GTO. Are Tin Indian Goats the GOAT (Greatest of All Time) of 1960s American Muscle? Some would say emphatically, yes. We say they are certainly up there in that realm.
Whatever the case, this particular car is powered by the first-year 400-cube real Pontiac V-8, noting that prior to 1967, GTOs were motivated with a 389, some of which had a factory Tri-Power setup. By 1967, the 400 was the go-to for big-inch (not big-block, as all traditional Pontiac V-8s are externally the same from 326-455-cubic-inch sizes) Pontiac performance. The 400 in various Ram-Air iterations was fitted to some '67-'72 Firebirds/Trans Ams as well.
All two-door GM A-body cars are certainly a big deal these days as they have always been and they include models from Chevy, Pontiac, Oldsmobile and Buick, (Chevelle/Malibu/SS396, LeMans/GTO, Cutlass/442 and Skylark/GS, respectively) but to many the GTO is often at the top of many GM A-body-enthusiast lists.
This car was in our shop for a couple of repair and upgrade procedures that consisted of chasing down and fixing an oil leak and the fitment of a Pertronix Ignitor (pertronixbrands.com) ignition module. The Ignitor is a great way to upgrade numerous GM and Ford distributors by eliminating the dinosaur-era points and condenser. Another interesting note about this car is its somewhat unusual column shifter and console-delete setup that's very cool as well.
No service or upgrade work is too small or too big for JBA Speed Shop as these two great GM cars illustrate. So whatever your vintage or late-model GM, Ford or Dodge needs or whatever you'd want to upgrade, we are up to it and welcome your inquiry. --Miles Cook