Around the shop, July 8th, 2022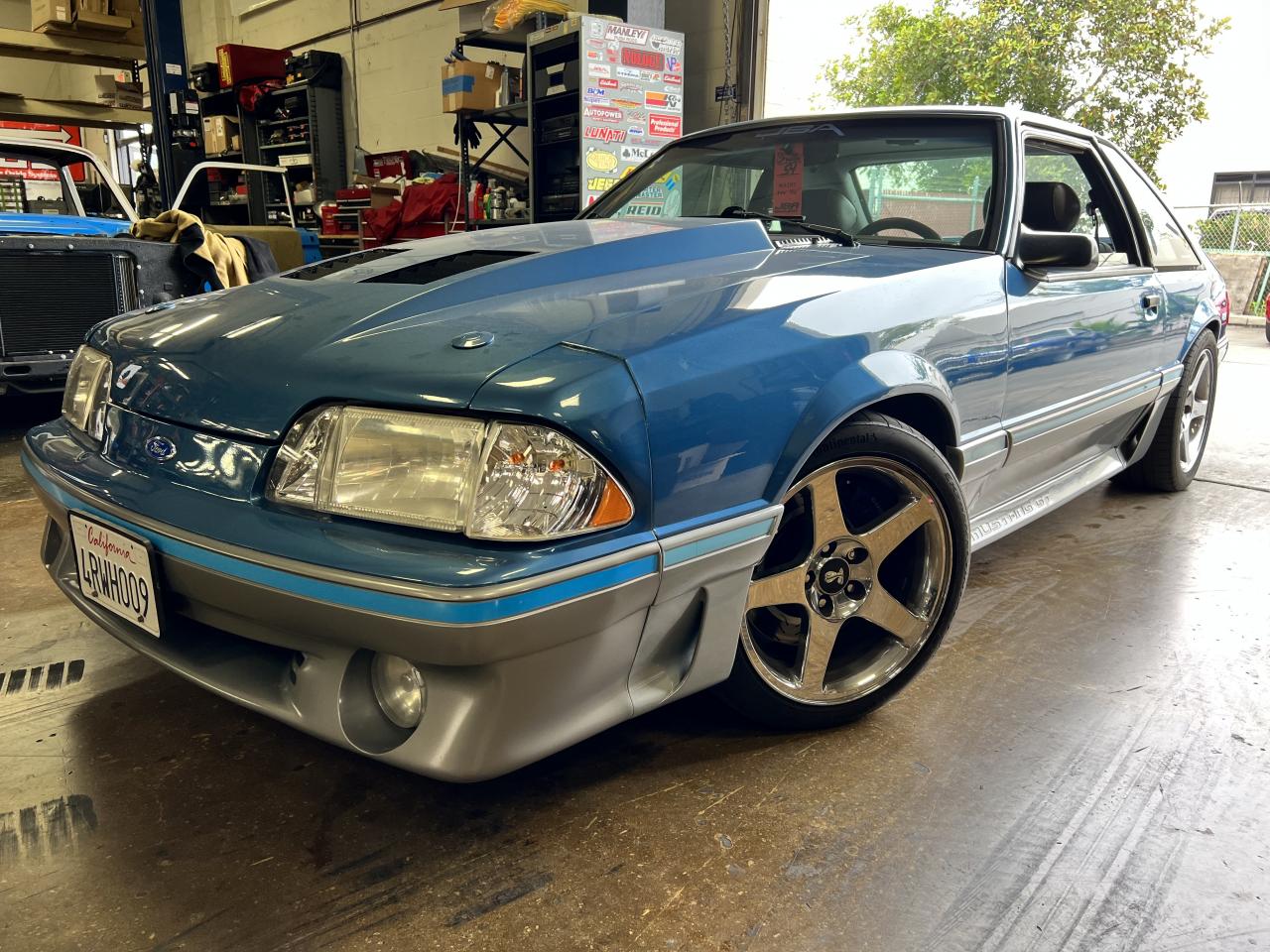 Replacing Late-Model Mustang Manual Transmissions
In our last post we focused on a couple of vintage Mustangs in for several performance- and safety-enhancing upgrades.
Today, we're going to the late-model Mustang side of the spectrum with two customer cars that are, coincidentally, both here at JBA Speed Shop for major manual-transmission improvements.
First up is a Fox-body '88 GT that's been fitted with Tremec's (tremec.com) newest five-speed manual known as the TKX and it replaces this car's worn-out T-5 five-speed. A great option for retrofiment into numerous makes and models, Tremec says:
"The new TKX is a five-speed manual transmission (https://www.youtube.com/watch?v=EOqkR3K-Oz8) developed solely for the aftermarket. For the development of the new transmission, engineers took a forward-looking approach to finding the best solutions including universal packaging, excellent shifting performance and extreme durability."
One of the key features worth noting relative to packaging, is the more rounded case of the TKX that also allows it to fit in more transmission tunnels with little or no clearance modifications needed.
A good example are '65-'66 Mustangs, which have smaller tunnels than other '67-and-newer cars of that era (such as Camaro and Mustang). Furthermore, the TKX is available with a number of First-gear and Fifth-gear-overdrive-ratio options in four Ford and three GM applications.
For both the GM and Ford TKXs there are versions with both 2.87:1 and 3.27:1 First-gear ratios. For Fifth gear, the GM and Ford variations are likewise available with three ratio choices, including .68, .72 and .81. The Fourth-gear ratio is 1:1 in all seven versions of the TKX.
Along with a new McLeod clutch and hydraulic acuator system that replaces the old cable, this very nice Fox 5.0 is back on the road with its state-of-the-art drivetrain upgrades.
As for the '09 GT, it has been fitted with a T-56 Magnum six-speed manual that will reside behind this car's 4.6-liter three-valve engine and replace the original TR-3650 five-speed. Of course, the burly T-56 will lead an easy life behind a mostly stock 4.6 three-valve. And it will still easily survive any added updates like a supercharger for example. Another option for these earlier bodystyle '05-'09 S197s is to do a 5.0 Coyote swap. We've seen it done with a few of these cars and a T-56 is the ideal way to go with such a project.
If you have any interest in these sort of manual-transmission upgrades for any vintage or late-model Mustang or other Ford and GM cars, please let us know. These are very popular projects that we work on just about every day. --Miles Cook