The Grey Mamba 1000
CSM#09SS0500 Super Snake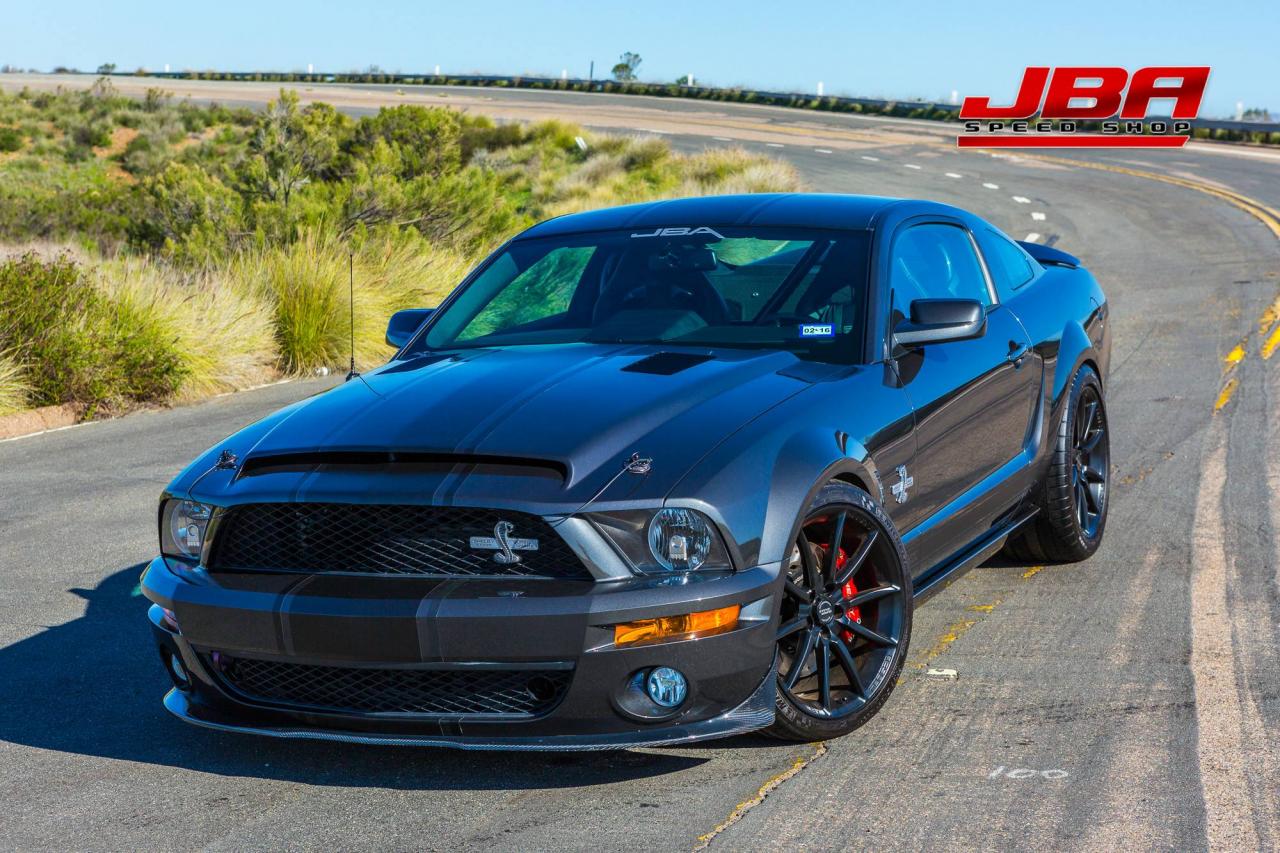 This highly detailed and award winning GT500 Super Snake was originally custom built for a friend of Carroll Shelby from Houston, Texas. It was designed, engineered, and built for high-speed competition and has a history of blistering half-mile passes.
This Super Snake was engineered by Shelby American to exceed all 2009 GT500 builds. Outfitted by Shelby with an MMR 5.8-liter aluminum V8, stage 3 heads with titanium valves, springs, retainers; Jessel roller rockers, and a cryo-treated Cobra Jet crank. The full return style fuel system engineered and built by JBA Speed Shop will exceed the fuel demand required 1000+HP while the 4.2-liter Kenne Bell supercharger pumps out 16 psi of boost. In top gear maximum speed will surpass 200MPH. In street trim with catalytic converters and a mild tune, the engine produces over 1100HP.
The Shelby installed but JBA tuned full competition Griggs Racing coil-over suspension includes a three-link rear with panhard bar. The competition prepped 6 piston Shelby/Baer Super Snake brakes are accompanied by drilled and slotted 14" rotors. Forged Alcoa Shelby Super Snake 19" wheels have been widened and are wrapped with new Michelin Pilot Super Sport tires.
The car has found a new home in Minnesota and is sure to be enjoyed for years to come.
Engine: Aluminum 5.8-liter MMR 1500HP Bottom End

Heads: CNC Ported Stage 3 Heads, Jessel Roller Rockers, Titanium Valves/Springs/Retainers

Power Adder: 4.2L Kenne Bell Supercharger

Transmission: Manual, 6-speed

Exterior: Alloy Clearcoat Metallic, Color Sanded and Ceramic Coated

Interior: Charcoal Black Leather, Rear Seat Delete, Autopower Custom Roll Bar, Carroll Shelby Signed Dash

Suspension: Full Griggs Racing S197 GR40ST Suspension Kit

Wheels: 19" Forged/Widened Shelby Super Snake Alcoa's

Mileage: 3,463