James L Bittle, DVM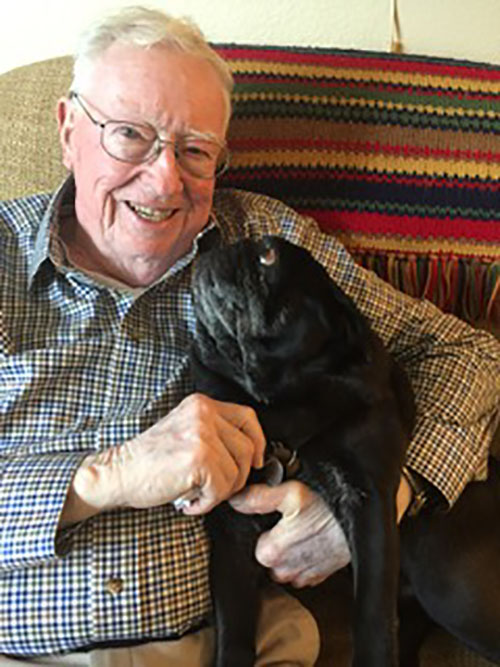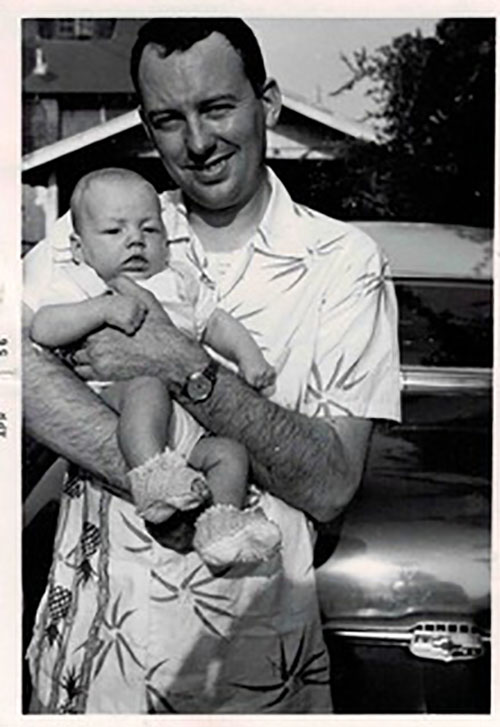 On Monday, August 24th, 2020 James L. Bittle, DVM, passed away peacefully at his home with his family. Looking back, he would say he had 93 wonderful years of life on God's earth. Dr.B, Jim, Dad, Grandad will forever be remembered for his kindness, wisdom and continual preparation for facing an unknown future with great confidence and humor. His strong faith and lifetime of love for Ruthie, his beloved wife of 53 years, were indeed family treasures finally rewarded with a rejoined love in God's paradise. His care angels, Barbara and Natacha, graciously having never left his side from the moment he returned home, were smiling with Grandad out of the hospital and home with all of us to find peace.
A Businessman, Adventurer, Veterinarian, Microbiologist, the former Director of Research, and a Division President of Johnson and Johnson (retired, 1989) he could converse with his smile on virtually any subject. We were all blessed that Dr.B culminated his 35-year research career in La Jolla, CA., where he coordinated with Richard Lerner his final J&J program - The Scripps Research Institute. Retirement kept Dad busy as he participated frequently with the J&J Retirees, UC Davis Alumni, his golf game and long deep conversations with family and friends about sports, politics, and his deep Faith in God. Following retirement, when he was not sitting on Board's or doing Fellowship work, he traveled with his Ruthie on cruises and visits to Seattle to spend time with daughter, Barbara, Pascal and grandkids, Natacha and Ian, in their home on Lake Washington.
From his earliest days in the lab, Dr.B's main life interest proved to be vaccine development, both human and animal. This came about following a 3-year Army career during the Korean War at Ft. Detrick's Biological Warfare Center, after which he returned to his roots of small-animal hospitals in Southern California. This stint with his own small business may have prepared him for future decades to come understanding family business. Dad sold his Huntington Park Animal Hospital in 1958 returning to industry joining Pitman-Moore as a Virologist. Two years later he moved his family to Pearl River, NY, where he became Director of Biological Quality Control at Lederle Laboratories overseeing Sabin's Oral Polio Vaccine production.
A Little Music To Swing To – Jim's Favorites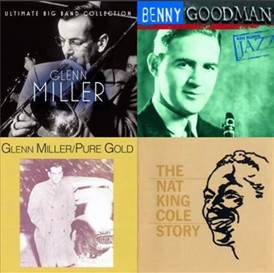 In 1965, Jim returned to Indianapolis as head of Infectious Disease Research for Dow Chemical Company. In 1969 he joined the Animal Health Division (Pitman-Moore) of Johnson & Johnson. Despite many faculty-research opportunities (Vet schools at Cornell, Florida, Kansas) his best friend Dr. Cornelius (Corny) failed each time to divert him from the product driven industry to which he was so committed. It was during these days Jim built his Foxcroft home in Doylestown, PA, for Ruthie and his kids. There his rose bushes and his manicuring of his home were his weekend relaxation. The research world changed again when he chose to go to California this time taking J&J with him. The reason to go west was Richard Lerner and Scripps Research Institute. By then, son JJ (named for Dr. JJ Stubbs) graduated in Aggieland and after Vickie graduated from Texas A&M they married. It was then when Jim noticed his son's entrepreneurial journey beginning, with his high-performance (Texaco) automotive services business.
While on the East Coast, Jim frequently traveled for holidays and long weekends to visit his P-51 WWII fighter pilot brother's family. Jack and Fran, and their Bittle family outside Gettysburg, PA, where hunting, outdoorsmanship, local battlefield knowledge and sports talk was never ending. Jimmy, John and Steve Bittle were close nephews along with first niece Beverly that really maintained the Bittle Emmitsburg, PA legacy. Always a major league baseball fan for 80+ years Dad could still name the entire starting lineup of the 1935 Detroit Tigers' World Championship team and watched his Tigers every day on MLB network. His outdoor adventures began with the Boy Scouts of America around Barton Flats, CA culminating in the High Sierra Mountains back-packing with his Cal-Davis best friends Jack and Roy.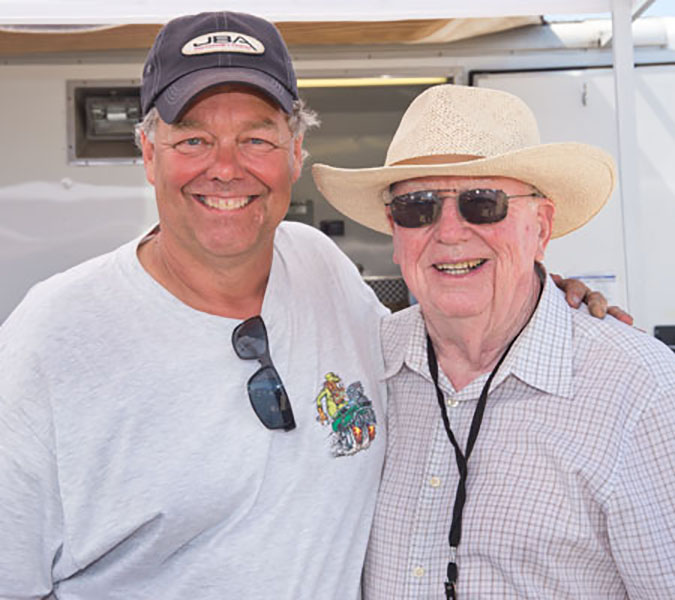 The University of California, Davis, School of Veterinary Medicine awarded their first ever Alumni Achievement award in 1989 to Dr. Bittle for his outstanding personal and professional contributions to veterinary sciences. In addition, Dr. Bittle was also a member of the American Society for Virology, the Society of Experimental Medicine and Biology, the American Association of Industrial Veterinarians, and the United States Animal Health Association. He was also a member of the Council of Biologic and Therapeutic Agents, AVMA, and was a board-certified diplomat for the American College of Veterinary Microbiologists. A proud member and officer of American Legion Post La Jolla 275, his support for the Soledad Cross Military Memorial (plaque holder) was evidenced by decades of back and forth letters to the local Union Tribune editorial staff.
Jim Bittle was born in Norristown, PA, in 1927 to Thomas Clifford and Nelle Long Bittle. At six-months of age, the family moved west, traveling by train to begin their new lives in Culver City California, where Jim and Jack got a new sister, Beverly arriving in late 1928. Hollywood was booming and right away "Jim" was discovered and employed as a child actor by MGM, debuting in an early talkie, "Baby Mine" with Karl Dane. He was already earning and helping his family from his earliest days. Surviving the Great Depression decade left an indelible mark on Jim and the family. Like times in "The Grapes of Wrath" the Bittle family was forced to travel multiple trips east to west and back by both train, bus and car to find a better life. A trans-continental road-trip via Rt66 and Rt40 was a long journey traveling in their Dad's '32 Willy-Knight touring sedan.
Sister Beverly Bittle, today a retired teacher and school administrator, from Studio City, CA, recalls the 1932 Long Beach earthquake and the effect on the family. Later that summer they travelled across the desert eastward on Rt40 with no air-conditioning, returning to Pennsylvania. Jim's story recalled water bags drooped over the radiator on that trip and all the family's belongings being stolen one night out of a motel's parking lot, in Albuquerque. Brother Jack enlisted in the Army Air Force to fly fighters and Jim decided to finish high school in LA. It was during these war years working his way through school at his Uncle's veterinarian hospital he chose his next journey to the College of Veterinarian Medicine at UC Davis.
Dr. Bittle attended Los Angeles City College from 1945-1947. He received a B.S. and D.V.M. from the UC Davis School of Veterinary Medicine in 1951 and 1953 respectively. He was also a Meyer Fellow of Chancellor's Club and lifetime member of the Cal Aggie Alumni Association at UC Davis. Always a student of American History, Jim continued his study of great conflicts and US politics, writing his own published and unpublished papers, scientific and historic. This included his times watching the practices for the great air races as his Uncle Dave Elmendorf competed (finishing 3rd in the 1936 National Air Race). Jim even flew with Uncle Dave in his custom-built Keith Ryder R-5 Special at Mines Field. His love of mechanical things also covered his personal transportation including motorsports interests and taking his family to live in Speedway, Indiana, from 1958-1959 and again from 1965-1970. He relished his season tickets to the Indy 500, living in the neighborhood, watching his favorite driver Lloyd Ruby, and even taking J.J. to see his hero, A.J. Foyt, defeat the Turbine car of Parnelli Jones in 1967, at the Brickyard. He subsequently enjoyed decades of J.'s racing and consulting for the family automotive business JBA Speed.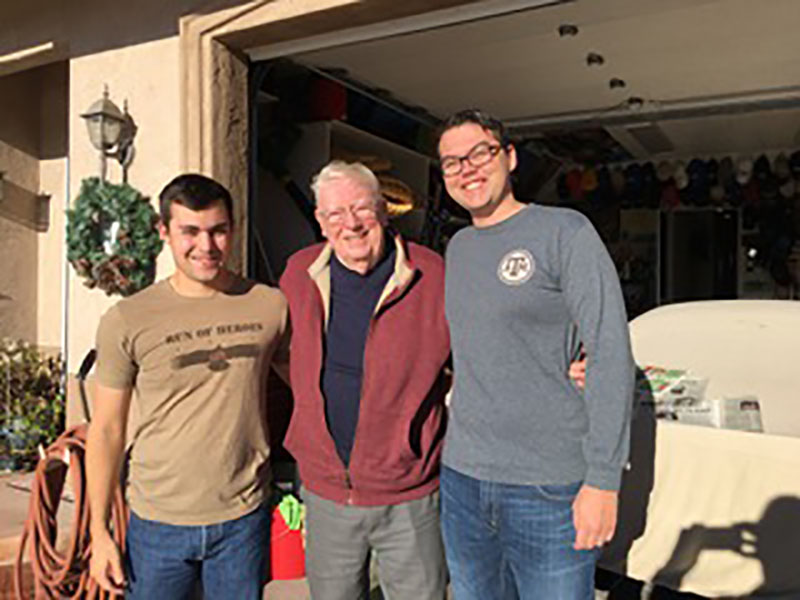 As a retiree for Johnson and Johnson Dr. B never lost his self-expectations of scientific or business excellence. The leisure home he and Ruthie built in 1990, referred to as The Cabin, was at 9,000 ft outside Bishop, CA. This was where he taught his grandkids 4x4ing in his Bronco, fishing, shooting and the great outdoors of the high Sierras. Austin helping him reel in 3lbs. rainbow trout, Stewart steering his lake boat, climbing the neighboring quarry, shooting targets, climbing in and out of the old Wilshire gold mine, hiking high country trails and onward up there, were his passion.
Vickie, he and Muzzy entertained whenever the six-hour drive allowed it, often over special holidays with the entire family and friends. It was a perfect escape from the routine of daily city life for Vickie and her three boys. The mountain home's weather was always a fall-winter-gamble at that altitude with deep seasonal snow enough to require serious snow challenges, especially for short legged black pugs as experienced by his best canine friend and companion Sparky when he tried to watch the sledding and outdoor mountain walks with Grandad and Muzzy along the Aspendell hilly slope of the access road.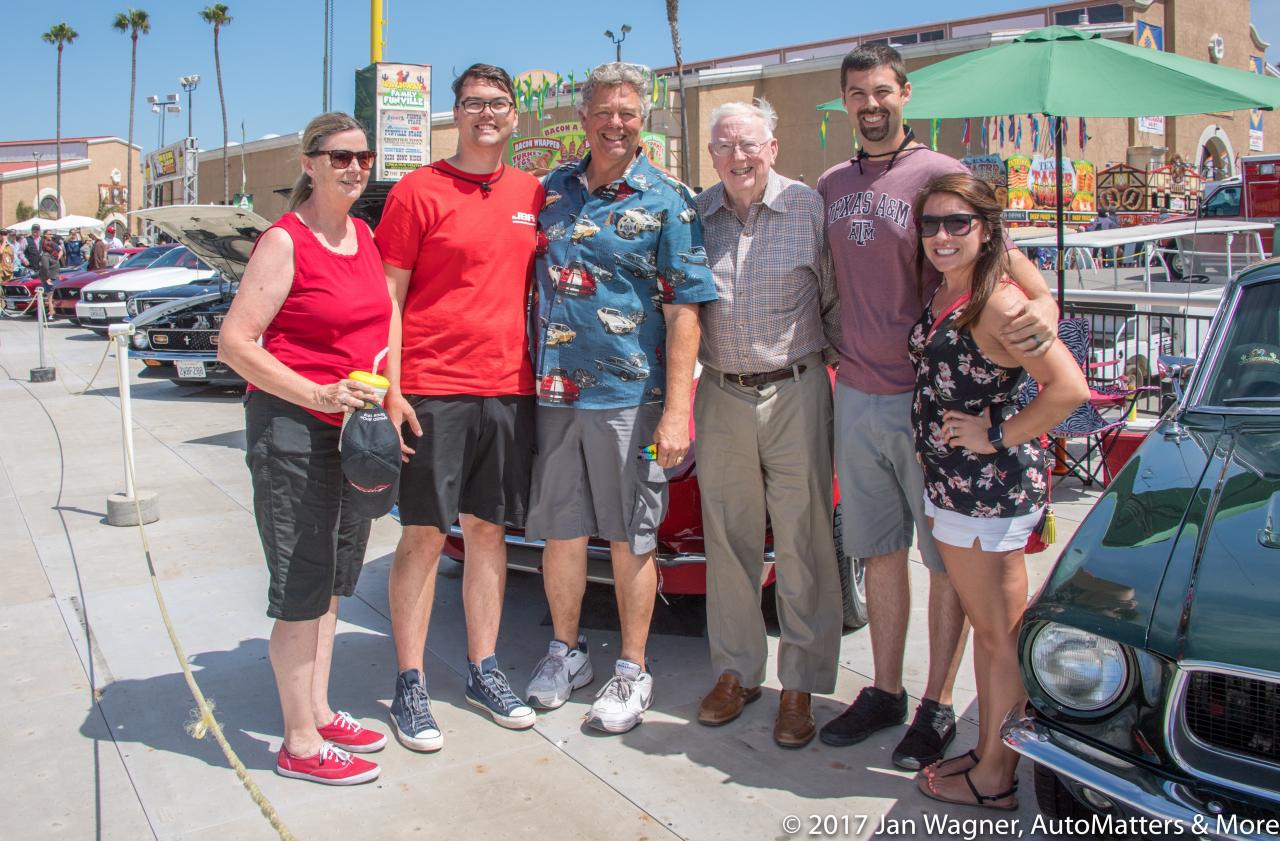 Jim continued to support Scripps, many fledgling Bio-tech companies and continued his academic and industry relationships for the next two and a half decades with gusto. His opportunity to consult with his son J. and son-in law Pascal was a continued enjoyment even with the variety of industry his sons represented. However, it was his constant optimism and efforts at understanding the stock market investment that intrigued him most. The market and the Detroit Tigers spring training and season distracted him when he was not trying to organize evening events for his La Jolla American Legion Post or the worry about his St. Paul's Lutheran church service safety as lead of his 3rd Sunday Usher crew. Such a great life that effected so many. God Bless.
This great American is survived by his sister, Beverly Bittle, children, James (Vickie) Bittle and Barbara (Pascal) Stolz, and grandchildren Austin (Courtney) Bittle, Natacha Stolz, Ian Stolz, and Stewart (Tina) Bittle.
---
In lieu of flowers, memorials may be made to:
Scripps Health Foundation and Wounded Warrior Homes