Around the Shop - April 4th, 2023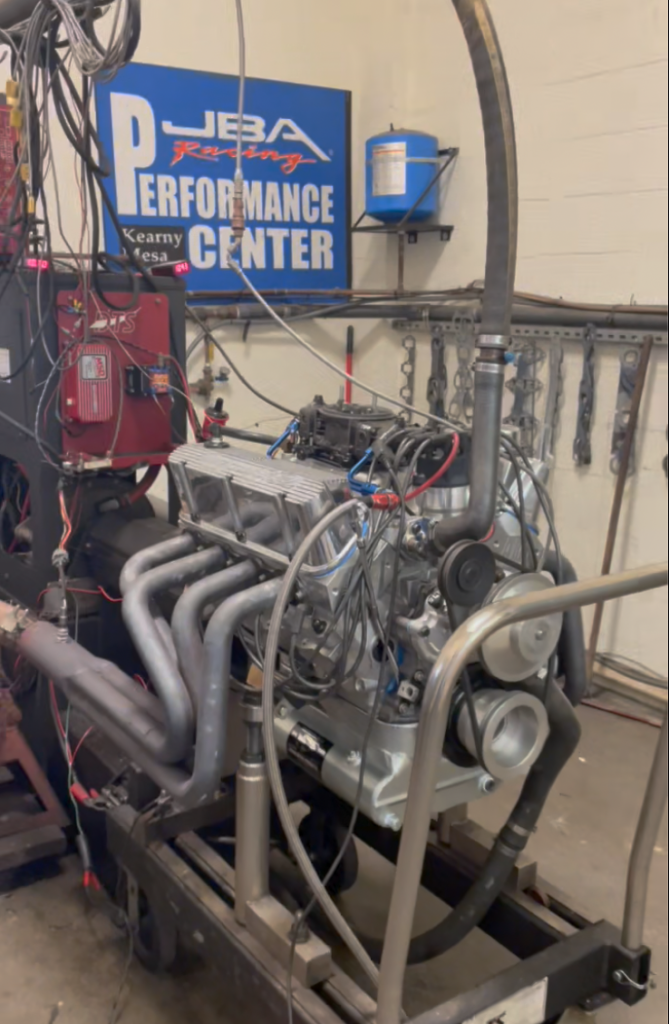 JBA SPEED SHOP'S MOST RECENT 427 WINDSOR BUILD TWISTS THE SHOP ENGINE DYNO WITH NEAR 550 HORSEPOWER.
IT WILL CERTAINLY MAKE ITS COBRA ROADSTER
HOME A TRUE THRILL RIDE
FE Torque, Tunnel Port Redlines, and Cammer Horsepower out of a Windsor? JBA Builds a Bad Ass Small Block World Beater.
About two months ago, we detailed a Ford 427 Windsor build. Based on the proven design architecture of the storied 351 Windsor, JBA's latest custom mills like this can offer true big block power and displacement within Ford's proven small block design. Working with modern materials and technologies, the smaller footprint, lower weight and storied reliability of a Windsor can produce Fe big block torque, and Cammer level horsepower all at 302 Tunnel Port level redlines.
You can read about the 427W combo in detail here:
https://jbaspeedshop.com/n-12688-around-the-shop-january-25th-2023.html
The backbone of these JBA powerplants is either an over bored heat-treated T6 machined aluminum block or an equivalent iron version as weight requirements and budget dictate. In either case, 351 Cleveland spec mains decrease parasitic drag loss, and a 9.5 inch deck combined with a 4.16 bore coupled with screw-freeze plugs and four bolt billet steel splayed main caps ensure reliability no matter how much power is demanded. Either a wet or dry sump oiling system is available- although in most instances a blue-printed standard volume pump will provide adequate oiling while reducing wear on distributor gears. Given the 351 Windsor architecture, a standard ready to run MSD distributor installs and functions perfectly- but of course any 351W compatible distributor works.
JBA's chosen rotating assemblies are efficient enough for competition use yet robust enough for regular daily driving. A standard weight forged neutral balance crankshaft, matched steel rods and custom pistons allow for a compression figure consummate with the desired use and fuel supply the engine will see.
A Scat 4340 crank is often spec'd on these big cubic inch builds as their non-twist forged steel construction is heat treated, stress relieved, shot peened, Ti Nitride coated and 100-percent magnafluxed. For an application like this, there's no better crank.
Scat 4340 Connecting Rods incorporate an H-beam shape and are made of forged steel for a phenomenal strength to weight ratio and along with ARP 2000 cap screws, are often specified in these high horsepower, high RPM builds. The specific 427 Windsor in question uses rods with a pin diameter of .927 which accomplishes the desired rod to stroke ratio of 1.56.
Mahle 4032 low -expansion forged alloy pistons were spec'd for the 4.125-inch bore and a 1.24 compression height resulted in a 58cc chamber that efficiently runs on 91 Octane pump gas at a conservative 10.2:1 compression. By individually match balancing the constituent parts and using heavy metal to internally balance the rotating assembly, JBA is able to insure efficiency, reliability, and big power even when spun up to rpms rarely seen in pushrod V8 engines.
Topping this short block are JBA's 205 Renegade cylinder heads produced by our partners at Air Flow Research. The 205cc intake runners and 58cc combustion chambers work well with the low rise intake manifold required in the small engine bays typical of early Mustang and Cobra builds. As with all JBA builds, all guide clearances are checked, cleaned, and inspected prior to head assembly. Spring height, travel, and load are also verified and set in order to achieve the proper spring pressure for JBA's custom Lunati camshaft.
These big-dog AFR heads are kept in place with ARP ½ inch, 12 -point head studs and a Fel-Pro gasket. Fel-Pro also supplies the rear main-seal set as well as all the other required gaskets.
Given the manual transmission and desired big torque numbers and high rpms, JBA chose an hydraulic roller cam with 236/244 at .050 specs along with Howard lifters, a Lunati built timing set and heat treated chrome-moly roller rockers. Of course, different engineered camshaft solutions are available depending on the desired use. There are options for high-vacuum street applications and even nastier more aggressive profiles for road course and drag racing applications.
Carburator choice is also dependent on the intended use and desired application. For this build, a an Edelbrock Performer manifold is matched with a Holley 850-carb. As the dyno sheet indicates, this thing makes over 540 horsepower at 4,700 rpm and just keeps building up and over a measured 6,000 rpm. The torque curve is equally impressive indicating impressive driveability with a 560 ft lb peak and over 500 ft lbs basically just off idle.
The days where you needed to invest in fragile high strung race engines to achieve this type of performance are long gone. JBA has pioneered the creation of reliable, powerful, high-reving big displacement engines built upon the robust and proven 351 Windsor architecture. Whether you want an engine for street, strip or any other performance application, JBA delivers the most bad ass engines out there.
Photo Gallery