Event:

• Carroll Shelby's Centennial Celebration & Car Show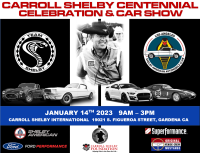 Description:
Carroll Shelby Centennial Celebration & Car Show
Date: Saturday, January 14, 2023
Time: 9:00AM- 3:00PM
Location: 19021 S. Figueroa St. Gardena, CA 90248
Join the official Carroll Shelby Centennial Celebration hosted by Carroll Shelby International on Saturday, January 14, 2023, in So Cal. We will honor the 100th birthday of the legend with a morning filled with great cars and prestigious people.
Don't miss meeting Carroll Shelby's grandson, CSI board member Aaron Shelby, and Shelby American President Gary Patterson as they unveil a special anniversary Shelby vehicle. You can tour the Snake Pit, Shelby HQ and the Original Venice Crew Shop, park your car in the cruise-in, and enjoy free coffee and donuts as you gaze on the amazing vehicles. The Carroll Shelby Foundation will conduct a silent auction and several Shelby legends are expected to attend.
LA SAAC invites Shelby and Ford-powered performance vehicles to be part of their judged car show. A portion of the proceeds from the car show will benefit the Carroll Shelby Foundation and participants will receive a commemorative gift package.
You will not want to miss this once-in-a-lifetime event!