Event:

• Radwood SoCal - Celebration of 80's & 90's Auto Lifestyle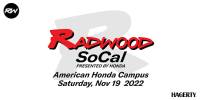 Description:
RADwood Returns to the American Honda Campus for 2022!
RADwood is a celebration of '80s and '90s automotive lifestyle. The car show that blends period correct dress with automotive awesomeness. An event for cars, trucks, and bikes from 1980-1999 that captures the essence of a bodacious era. Wear your best '80s and '90s clothing and bring your rollerblades or BMX bike, because it's going to get RAD!
This year we've partnered with Honda to celebrate the legendary Type R brand and 50 years of the "Civic" nameplate. Have a Type R (NSX, EK9, or ITR) you'd like to include in the official showcase? Shoot us an email at radwood@hagerty.com to be considered (Royalty ticket purchase required).
This event is celebrating Honda, however as always, all makes are welcome!
NOTE: Only purchase vehicle display tickets if you agree to stay till the end of the event. The awards ceremony begins at 3pm.
Register for the event with your 1980-1999 car for $30 or motorcycle for $20. (Entry for cars not pre-registered will be $35 at the gate if spots are still available).
"RADwood Royalty" cars represent the ultimate essence of the era and are subject to organizer approval. Tickets for "Royalty" are $100 and get showcase parking + a limited edition RADwood t-shirt.
General admission is $15 per person, kids 12 and under get RAD for free! (Entry for General admission not pre-registered will be $20 at the gate and day of).
And remember, Hagerty Driver's Club members receive 25% off all RADwood tickets! Not a member? Sign up HERE to receive discounts on Hagerty events, special pricing on automotive products, exclusive experiences and more!
Follow @radwoodofficial on Instagram. #RadwoodSoCal #Radwood
Please note we will be following all COVID regulations. Bring a mask and remember to social distance.