Event:

La Jolla Concours d'Elegance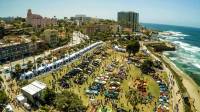 Date: Friday, April 22, 2022 to Sunday, April 24, 2022
Time: All Day
Location: Ellen Browning Scripps Park
Address: 1133 Coast Blvd.
La Jolla, California
Website: http://www.LaJollaConcours.com
Description:
The La Jolla Concours d'Elegance takes place at Ellen Browning Scripps Park, a 5.6-acre gem located about 12 miles north of downtown San Diego along the Pacific coast.
La Jolla, California has long been the destination for the finer things in life including breathtaking coastlines, exceptional cuisine, exquisite shopping, world-class hotels and the annual La Jolla Concours d'Elegance. In addition to attracting top auto enthusiasts and media coverage, this event has evolved to become a weekend destination for both attendees and entrants by offering an array of elite automotive inspired events starting on Friday and ending with the La Jolla Concours d'Elegance on Sunday,
Attendees will once again see the return of the La Jolla Motor Car Classic at the Concours as an extension of the La Jolla Concours d'Elegance, expanding the show from the Ellen Browning Scripps Park into the La Jolla Village, remaining a free and open area for the public to enjoy a variety of cars and entertainment.
The funds raised at the La Jolla Concours d'Elegance will benefit Monarch School Project, which educates students who have been impacted by homelessness and the La Jolla Historical Society, which preserves the history of La Jolla, both organizations are 501c3 non-profit organizations.
Event Details
Adult:
$75 ($65 advance)
Student:
Ages 11-17 - $30
Youth:
10 & under - free
Other:
military - $40