Event:

Ramona Senior Center Car Show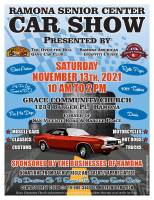 Date: Saturday, November 13, 2021
Time: 10:00am to 2:00pm
Location: Grace Community Church
Address: 1234 Barger Pl
Ramona, CA
Description:
RAMONA SENIOR CENTER CAR SHOW
SPONSORED BY THE BUSINESSES OF RAMONA, PRESENTED BY THE OVER THE HILL GANG CAR CLUB & RAMONA AMERICAN GRAFFITI CRUISE
The next Ramona American Graffiti Cruise / Ramona Senior Center car show will be held Saturday, November 13, 2021 from 10am to 2pm at the Grace Community Church at 1234 Barger Place in Ramona. All donations go to support the Ramona Senior Center.
Contact Leroy Clubb @ 619-980-3647 for more information.