Event:

San Diego Automotive Museum - ALL REVVED UP!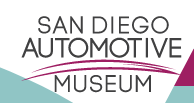 Description:
Please join us to celebrate the re-opening of the updated and upgraded world-class San Diego Automotive Museum! This will be a fun & elegant outside event on the newly renovated Pan American Plaza in Balboa Park.
HONORING:
Bill & Susan Hoehn
CO-CHAIRS:
Reena Horowitz and Jeanne Jones
HONORARY COMMITTEE:
Jessie Knight & Joye Blount
Bill & Lori Walton
Dr. Steve & Lynne Wheeler
Dr. Perry & Judith Mansfield
Bob & Pat Whalen
Jim & Eileen Bartell
Jack & Patty Queen
Stephanie Brown
Dr. Myron & Doreen Schonbrun
Richard & Jeri Rovsek
Ramin Pourteymour
Brad & Gigi Benter
Vince Heald & Clinton Walters
Dave Stall
MASTER OF CEREMONIES:
Paul Rudy and Lauren Phinney, Morning Anchors for KUSI TV
ENTERTAINMENT:
Frankie Moreno and his 10-piece band straight from Las Vegas!
Silent-guitar_compressed.jpg