Event:

All American Car Show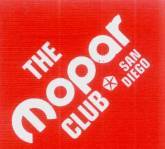 Description:
All American Car Show
Sponsored by The Mopar Club San Diego
Mopar Club's All American Car Show has returned!
The All American Car Show is the signature event put on by The Mopar Club San Diego each year. All show proceeds are donated to a designated local charity selected by the club. Since 2009 we have donated show proceeds to the USO San Diego. In 2015 we added both Wounded Warrior Homes and Warrior Foundation Freedom Station as recipients of show proceeds. Last year, we were able to donate $11,000 to our these beneficiaries. We could not be successful in this endeavor without the generous help of sponsors and participants, spectators and the hard work of our members.
$25 per vehicle entered through August 20, 2021
$30 from August 21, 2021 including day of show
Show Flyer