Event:

SAN DIEGO AUTO - SWAP & Car Show!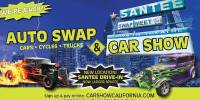 Description:
AUTO - SWAP RETURNS! IN OUR NEW LOCATION! SANTEE DRIVE-IN ! Be part of one of the biggest returns in San Diego Auto Swap History!
About this Event
We have resurrected a San Diego Staple - Bigger & Better than Ever! Be part of one of the Biggest San Diego Auto Swap Come Backs! Hundreds of Automotive related Vendors Plus hundreds of Cars in the Car Show to browse, Shop, Buy & Sell! Music! Food! Trophies & FUN! This Memorial Day May 31st 2021! BUY YOUR SPACE NOW! And Visit our website carshowcalifornia.com for a "2 for 1" Shoppers Coupon! (Print it & Bring it)
questions at 619-201-8207
Car show open to ALL Year and Makes including bikes - Sign Up Today!
Show Registration