JBA Speed Shop -
Patriot Exhaust Products

Patriot Exhaust manufactures superior exhaust systems for the Street Rod, Custom and Muscle Car aficionado. Developed by enthusiasts, Patriot drives the product line with an eye on quality and a mindfulness for value surpassing the competition in our lane. Patriot builds headers for both Universal Applications (like Street Rods) and Specific Vehicle Fitments. The style of header is influenced by application and intended vehicle use. Patriot Headers offer several types of headers designs as described. Everyone wants to have a strong finish when it comes to their headers. Our preferred finish, Metallic Ceramic Thermal Barrier Coating (MCTBC) protects and extends the life of headers by creating a thermal barrier which significantly lowers under the hood temperatures and protects the substrate metal from thermal fatigue. After MCTBC is applied, it is polished with a vibratory finishing process that produces a high luster aluminum appearance. The polishing process compresses and activates the coating creating a surface which is harder and 60% more corrosion resistant than an unpolished surface. The coating is easy to maintain and will last for years under normal operating conditions.
Select a Sub-Category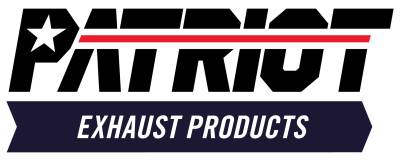 Patriot Exhaust products continue to offer the best value for the dollar of any header brand in the industry. Known for years as the primary exhaust supplier to the Street Rod, Custom and Muscle...
More Details »