1965 Ford Falcon - Track Car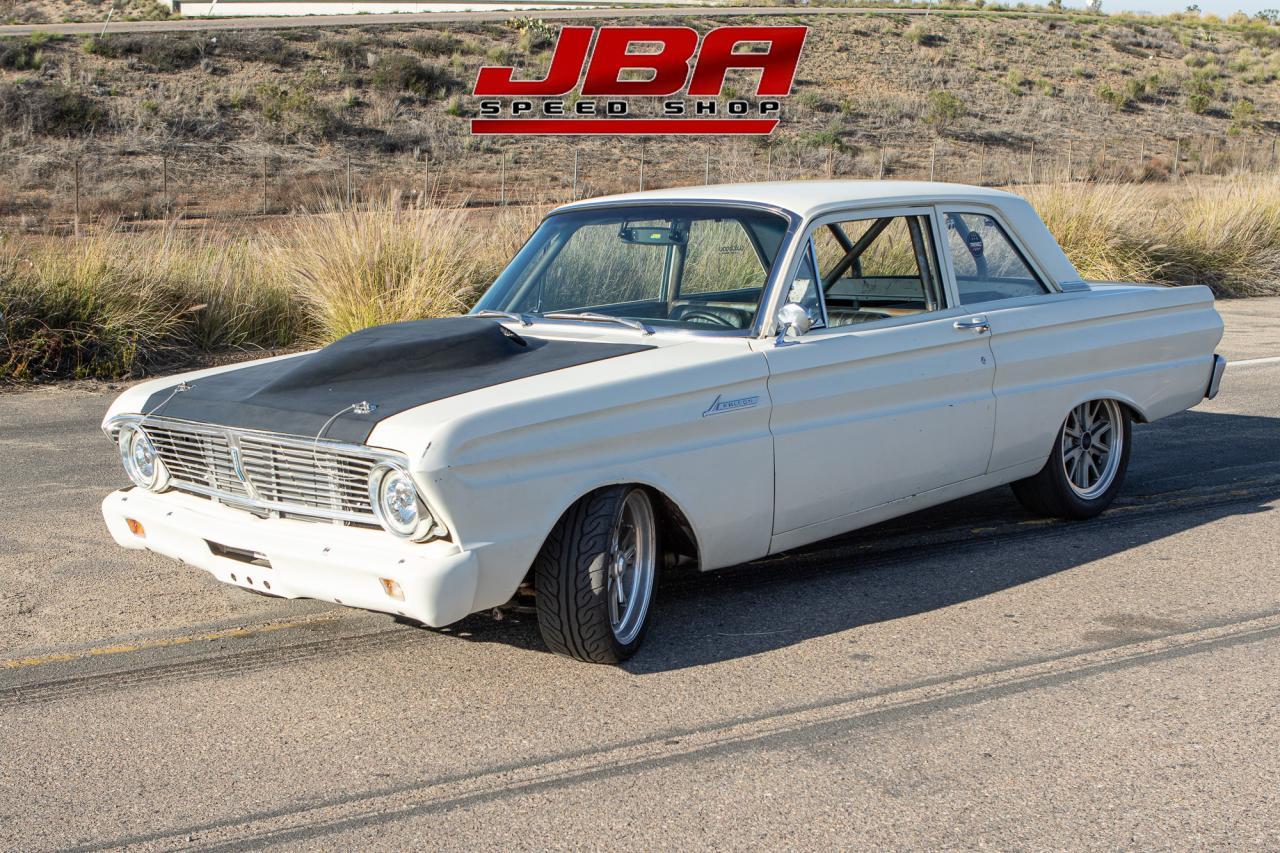 1965 Ford Falcon Futura Two-Door (post) Sedan
This a serious canyon-carver/open-track type of car, but it's still fully streetable. Built using a lightweight, rigid, rust free and dry Falcon two-door post body, it's powered by a full-tilt 351W stroker motor that now has a 408 cubic-inch displacement
The 408W short-block is topped with AFR 205cc Renegade aluminum heads that have 72cc combustion chambers, an Edelbrock Super Victor intake and a Holley 850cfm HP carb
Other engines pieces include a seven-quart road-race oil pan and a complete MSD ignition system with an MSD distributor, 6AL-2 box and a Blaster HVC II coil
Long-tube headers connect to a full three-inch exhaust system
Four-row radiator with dual electric fans
The 408 made 476 rear-wheel horsepower on the JBA Speed Shop Mustang chassis dyno
Transmission is a Tremec TKO 600 five-speed manual with a Tilton internal hydraulic throwout bearing, LW steel flywheel, a McLeod performance clutch and pressure plate, and a steel scatter shield
Ford 9-inch rear end
Front suspension is TCI Mustang II coil-over front setup (deletes shock towers)
Rear suspenion is a TCI coil-over four-link with a Panhard bar
Car has power rack-and-pinion steering with a KRC racing power-steering pump and resevoir
Brakes are Wilwood four-wheel disc with six-piston front and four-piston rear calipers, and a Wilwood tandem aluminum master with a remote-brake bias adjuster
Interior has a full roll cage with low back seats
Car has a custom fuel cell with external Holley blue fuel pump
New interior carpet not installed, but included
All in all this is a killer super-sleeper Falcon street/open-track type of car with probably a curb weight of around 3,000 pounds and a stroked 408 Windsor with 550 horsepower at the flywheel. Drive as is for big fun, or continue the build by finishing the interior and possibly doing a refurbishment of the paint and body.
Call J Bittle for $
---
For more information on these incredible machines,
call J. Bittle at 858.495.3395
OR J. Bittle's direct number 619.607.0070 today.
---
Photo Gallery