JBA Speed Shop -
1300 Series ORB Swivel Seal Hose Ends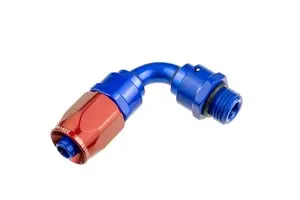 1300 Series ORB Swivel Seal Hose Ends
Our 1300 Series ORB Swivel Seal hose ends help save space and money by eliminating the need for an ORB adapter. They are perfect for threading into fuel rails, pumps, regulators, in-line filters and anything else that has ORD ports.
Our 1300 Series ORB are made with the same love and care as our standard hose ends. We start with detailed CAD drawings and then cut each component from 6061 T6 Aluminum on our CNC machine turning centers providing superior thread strength and smooth assembly.
RHP's custom designed hose nipples enable a quick, easy and consistent hose end assembly and our double swivel seal design makes for easy re-clocking. Our double viton O-Ring seals provide leak free performance when used with a wide range of racing fuels and fluids and RHP's color consistent anodizing and unique pressure testing adds the final touch of quality and protection that professional engine builders have come to expect from Redhorse Performance AN hose ends.
Browse 1300 Series ORB Swivel Seal Hose Ends
Products