JBA Speed Shop -
Non-Swivel Hose Ends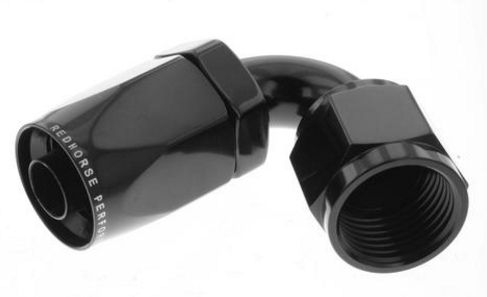 RHP non-swivel AN hose ends are cut from 6061 T6 aluminum alloy on our CNC machine turning centers providing superior thread strength and smooth assembly. RHP's custom designed hose nipples enable a quick, easy and consistent hose end assembly. RHP's exclusive hand polishing, color consistent anodizing and unique pressure testing adds the final touch of quality and protection that professional engine builders have come to expect from Redhorse Performance. RHP non-swivel AN Hose Ends are engineered for use with RHP 200, 205, 230, and 235 series hoses. For high performance race applications, Redhorse recommends using the 205 and 235 series e85 compatible hoses.
---
More About
Non-Swivel Hose Ends
RHP hose ends can be easily assembled with the help of our custom made tools. If you have further questions about how to assemble the lines or would like us to assemble your lines for you, just let us know.