1964 Pontiac GTO
1964 Pontiac GTO Coupe

This gorgeous, special order January 29, 1964 Gran Turismo Omologato (GTO) was built in Pontiac, Michigan and ordered with the 389 CID V8 equipped with 4bbl carb and automatic transmission. All original GTO's were ordered as an option on the LEMANS Sport Coup model. So, this original muscle car was ordered with the addition of the coveted 382 GTO Option Package—which cost $295.90. Today, restored in Viper Red with black interior, this combination stands out as an ultimate Muscle car combo.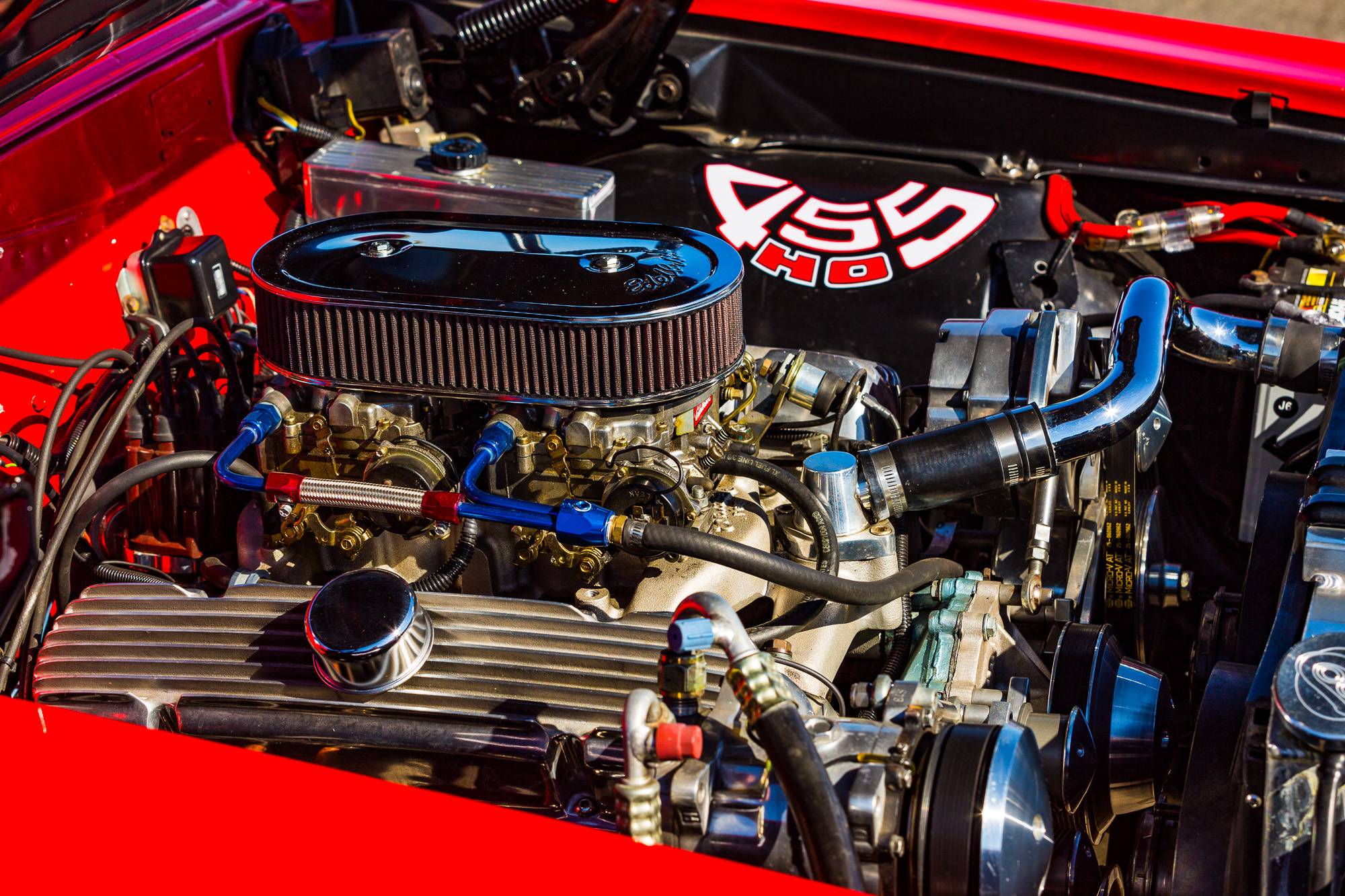 A very clean example of a great muscle car build, this GOAT (as Pontiac enthusiasts fondly refer to them), exceeds even the original tri-power option in performance cruising on today's 91 octane fuel in overdrive! The original 389 has been upgraded to a Pontiac 455 bored and stroked to 468 CID at JBA Speed Shop. The engine is balanced and blueprinted, then dyno'ed at 505 horsepower and 556 foot pounds of torque. Installed and tuned by JBA Speed Shop in San Diego, CA. It brings this GTO back to being relevant, especially for driving distances on today's highways both cool (AC equipped) and comfortable--even in heavy traffic conditions. As this GTO was intended for driving and enjoying, the lack of original options of power brakes and power steering made it an easy decision to upgrade while maintaining the original GTO roots and glory. Built originally and painted in Starlight Black with a red interior, someday this rare option car can always be remade if a return to glory of that rare livery is desired.
The 1964 GTO has long been credited as the original muscle car that introduced the Muscle Car century and it was one such as this 1964 GTO that Mr. Jim Wangers innovated for Pontiac Motor Company. From the full-size passenger car, two-door models like the Big Three's performance built 409/406/421/413's came the midsize two doors now powered with high performance engines over 350 cubic inches. Here, this GTO still storms to the open road, long after the GM Corporation, Pontiac, that built it, passed on. Before you is a verified real GTO mechanically, meticulously restored to be relevant, enjoyed and driven as it is now and into the future 2020, the next decade of muscle cars and internal combustion engines (ICE).
A beautifully done labor of love, this GTO began its life also as a optioned up LEMANS GTO as the data tag and PHS paper work has outlined the numbers matching options 2227, 77J, 382, 392, 404, 421, 441, 442, 444, 471, 481, 482, 484, 491, 492, 494, 601, and 702. From there, it has been upgraded to a top California cruiser Resto-Mod featuring top level performance with over $100k invested. Driven sparingly (3,450 miles driven since its restoration) on weekends, this amazing machine today features a perfect Viper Red 92 (PPG) acrylic urethane base with clear coat by Best of Show Coachworks of Escondido, CA. The body and chassis were fully restored, assembled and detailed by Super Rides by Jordan including the perfectly detailed interior and trunk featuring the optional instrumentation and an amazing amplified 5-way speaker sound system featuring an Alpine head unit with Bluetooth.
The performance in 1964 of the GTO was cutting edge as the midsize Pontiac set all the records for high performance delivered by an American produced production car. As was popular in the 1960's performance boom, there were many options based on choices available--all as extra cost options. Today, this GTO features state of the millennium features and benefits such as 16" wheels and four-wheel disc brakes combined with electronic vacuum assisted, power boosted, master cylinder. A complete Global West performance tubular upgrade suspension front and rear creates a stunning ride quality along with Bilstein shocks, while allowing the GTO to handle like a Corvette on freeway off-ramps and on-ramps. The polyurethane body/chassis mounts tie the car together also adding quality ride and handling.
This JBA Speed Shop built 455 Pontiac features a complete new rotating assembly with new steel crankshaft and connecting rods and Mahle pistons. With the advantage of new aluminum high flow Edelbrock cylinder heads and a performance Comp Cams hydraulic roller camshaft, the highly efficient engine makes exceptional smooth power. The Edelbrock dual quad carburetors are a significant performance upgrade over the optional GTO three two-barrel set up now combined with a state-of-the-art new, serpentine accessory-drive for the Vintage Air new AC unit with all new dash controls. It is also designed to work best with a high flow aluminum radiator and electric fan assembly. The 2x4 carbs looks stunning on the street and work with ease; as cold the choke allows the engine to roar to life and warmed, the JBA tune provides an ease of starting and idling. The tuning on the JBA dyno has allowed for exceptional drivability, including transition from light cruise to sport to full throttle--whenever the demand for the 550+ ft. lbs. of torque is needed to motivate this classic.
The high performance Pontiac Turbo 400 is built by Mike's Performance Transmissions and features a 2400 RPM stall converter and Gennie Shifter for the OD, mated to a Gear Vendors Overdrive. With the overdrive unit installed, the automatic shifter has effectively six-speeds, as the driver can select an overdrive above 3rd gear (4th) but the same feature works for 1st and second as well. Some consider it a six-speed automatic, as it has 1+, 2+, 3+ gearing along with the 9" rear end assembly featuring new Strange axles, posi-traction and 3.50-1 gearing.
Finally, sounding so amazing is the Doug Thorley big tube headers and full dual exhaust with factory routed tail-pipes.
For more information on this incredible machine, call J. Bittle at 858.495.3395 OR J. Bittle's direct number 619.607.0070 today.
Engine:
Built in 2013 by JBA Speed Shop – San Diego, CA
455/468 cubic inch Pontiac, 505 horsepower, 556 ft. lbs. torque
Balanced & Blueprinted, 10.1:1 compression ratio, Clevite H main and rod bearings
Eagle forged 4340 steel crank and rods, ARP rod bolts, Mahle forged aluminum pistons
Double roller timing chain and gears, high performance oil pump
COMP hydraulic roller cam and lifters .502/.511 valve lift, 224/230 duration @ .050
Crower stainless steel roller rockers, Manley stainless steel valves
Edelbrock aluminum 87cc Performer heads, MSD ignition
Edelbrock 600 CFM dual quad carburetors and intake manifold
Be Cool oversize aluminum radiator with dual electric fans
Doug's headers, flow master exhaust system
Serpentine belt system
Valvoline 2050 VR1 Synthetic Racing Oil
Paint & Body:
Jon Lindstrom (Best of Show Coachworks) – Escondido, CA
Viper Red-Chrysler Cod 92, PPG #DBC73840T, acrylic urethane basecoat/clearcoat
Transmission:
Built by Mike's Transmission – Lancaster, CA
6-speed automatic – GM TH400 with Gear Vendors under/overdrive
2400 RPM stall, Gennie shifter
Rear End:
Ford 9-inch by Currie Enterprises – Anaheim, CA
Strange Traction-Lok differential, 3.50:1 ratio
Suspension, Brakes, Wheels:
Global West suspension, handling and steering system – San Bernardino, CA
4-Wheel disc brakes with ABS electronic power boost, Bilstein shocks
16X8 Vintage Wheel Works V45 wheels, BFG G-Force Sport COMP-2 tires
Polyurethane body/chassis mounts
Sound System:
Alpine 149BT CD/HD Radio/Bluetooth/Pandora/SiriusXM tuner
Pioneer subwoofers (2), JL Audio amplifiers (2), Boston Acoustics speakers (4)
Alpine iPod/iPhone interface
Air Conditioning and Heating by Vintage Air
Viper Security System
---
For more information on these incredible machines,
call J. Bittle at 858.495.3395
OR J. Bittle's direct number 619.607.0070 today.
---
Photo Gallery
---
For more information on these incredible machines,
call J. Bittle at 858.495.3395
OR J. Bittle's direct number 619.607.0070 today.